| | |
| --- | --- |
| | Biography of Colonel Joseph Snider |
---
Joseph Snider was born in Monongalia County on February 14, 1827, the only child of Elisha and Edith Snider. He lived on the family farm and was educated in the common school. Upon his father's death, he inherited the farm but soon sold it and moved to Wheeling, where he worked in the hotel business. He later divested his interests and returned to Morgantown, where he worked a farm.
Snider was a Democrat until 1860 but opposed secession. On June 4, 1861 Joseph Snider was elected as a delegate to the second Wheeling Convention, which passed an ordinance calling for the "reorganization of the State Government." He was a member of the Legislature of the Reorganized Government of Virginia, and made a stirring speech against delaying the formation of West Virginia.
On August 22, 1862, he was appointed colonel of the 7th (West) Virginia Infantry. Snider led his regiment in several of the war's crucial battles. At Antietam, Colonel Snider had his horse killed under him, while at Fredericksburg, he was severely wounded. He also participated in the Chancellorsville campaign.
By July 31, 1863, Snider had been promoted to command of the First Brigade, Third Division, Second Army Corps, but his regiment was sorely depleted. As a result, the 7th was consolidated into four companies and the colonel was mustered out of service.
On November 27, 1863, Snider was appointed to command of the newly formed 4th West Virginia Cavalry, which served in the Third Brigade of the Second Division of the Department of West Virginia. The primary mission of the regiment was the defense of the B & O Railroad. By the end of December the regiment was at full strength, but the troopers were upset due to the failure of Union leaders to provide them with horses. Regarding the potential for the re- enlistment of his men, Snider wrote: "I doubt verry [sic] much if all the powers that be, can reenlist this Regt. I am makeing [sic] every possible effort. The men has been promised everything and nothing fulfilled, and hence feel sour, and disappointed." He again complained in late January from New Creek: "In all candor, is it any wonder the men feel sore over these things and refuse to re-enlist...who ever heard of cavalry, serving on foot, only in cases of emergency, and with Belgium Rifles, too[?] On January 30, 1864 Snider was commanding a force escorting a supply train when they were attacked at Medley, near Moorefield Junction.
After the war, Snider remained active in state and local affairs. In October 1871 he was one of two elected delegates from Monongalia County to serve in the Convention of 1872. Snider ran for the House of Delegates in 1871, but was narrowly defeated. He was elected delegate in 1872 and re-elected in 1875. He served as postmaster for Fort Martin, and was chosen to serve as marshal for the 1876 4th of July celebration, which marked the nation's centennial. In 1879 he was elected president of the Monongalia Agricultural Association, and in 1881 he became president of the Board of Education of Union District, a post which he filled for many years. He was elected to the State Senate in 1887 and 1889, where he served as Chairman of the Committees of Claims and Grievances, and of Militia, and a member of the Public Printing, Immigration and Agriculture, Railroads, Public Buildings and Humane Institutions, and Judiciary committees.
Colonel Joseph Snider died on January 8, 1904 in Point Marion, Pennsylvania and was buried in Mount Union Cemetery in Monongalia County, West Virginia.
---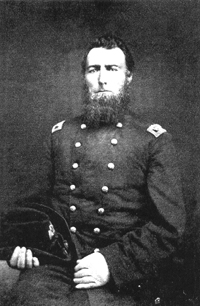 Colonel Joseph Snider Letters Index
History Center