West Virginians
Awarded the Medal of Honor
by Boyd B. Stutler
This article, which was presented by Stutler at the Annual Meeting of the West Virginia Historical Society on October 1, 1955, appeared in the January 1956 edition (Volume XVII, Number 2) of West Virginia History.
---
Living men who have earned the right to wear the cherished Congressional Medal of Honor--the highest award bestowed for gallantry in actual combat with a national enemy--are scattered very thinly over the country. They are men who in battle risked all in the performance of acts of conspicuous gallantry and intrepidity above and beyond all call of duty--acts which sometimes border very closely on the unbelievable. Theirs was an inspired courage. More of their comrades, whose heroism will serve to quicken and excite the imagination of generations yet to come, did not survive their glory on the battle field, on ships at sea, and in the air. Theirs is the most select military fraternity in the world whose bits of bronze with its pale blue, star-spangled ribbon is comparable to the Victoria Cross of Great Britain, and to no other.

West Virginia has furnished the names of 62 men to this roll of national heroes--men who covered themselves with glory in winning this highest decoration. Of the 62, only a few are living today--less than a half dozen veterans of the Second World War, and perhaps two or three who distinguished themselves in earlier campaigns.

In the 94 years since the Medal of Honor was created by Act of Congress, these 62 West Virginians, or men serving with West Virginia military units, won their honors in five major wars, and in a number of minor campaigns, punitive expeditions and incidents. West Virginia has done very little to perpetuate the names and fame of this gallant little company--there are memorials named in honor of Medal of Honor winners; among the few are a hospital and a school at South Charleston, and two bridges on the newly constructed West Virginia Turnpike. Indeed, except for an occasional article or news item in a local newspaper, these men have been forgotten--their wars are over, but their deeds will live forever. Few of this generation know of the individual gallantry, courage, and self-sacrifice of the men who made up the first group of 39 West Virginians who had their hour duringthe Civil War. Who remembers Francis M. Cunningham, 1st West Virginia Cavalry, whose runaway mule carried him into the Confederate lines at Saylers Creek, there to earn his Medal? Who remembers John N. Eckes of Weston, who was one of the volunteer party on May 19, 1863, to storm the almost impregnable walls of Vicksburg? True, Eckes was serving with the 47th Ohio Infantry. In the same assault which was as reckless and as daring as the charge of the Light Brigade at Balaklava, was another West Virginian who was given the accolade--Thomas J. Ward, a Union refugee from Romney who had enlisted in the 116th Illinois Infantry. Standing by--and cut to pieces in a similar assault three days later--was the 4th West Virginia Infantry, leading Lightburn's Brigade. Six of the 4th's survivors of this assault received the Medal of Honor.

What person can name the two sets of brothers who earned the honor and thus achieved a unique record for the State? Or who can name six of the ten heroic West Virginia medalists of World War II? Or who knows of the eight Medals of Honor won on West Virginia soil during the Civil War, three of whom are included in the roll of West Virginians? But more of individual records later.

Broken down by wars and incidents, the West Virginia awards are: Civil War, 39; Custer Campaign, 1876, 1; Spanish-American War, 1; Philippine Insurrection, 1; Mexican Expedition, 1911, 1; Mexican Expedition, Vera Cruz Landing, 1914, 3; World War I, none; World War II, 10; Korean action, 4; and peacetime awards by the Navy, 2.

And now, something about the decoration itself. In the early years of the Republic the American people frowned upon military orders and decorations as smacking too much of the customs of European royalty. These early individualists fought their wars without pomp and ostentation, unburdened by imperial whims and demands. Some medalic honors were granted by special Acts of Congress to naval or military commanders or to commemorate a successful campaign or battle--but such medals were large in size and were not intended to be worn as personal decoration, or for general award to the participants in the campaign or battle. The first of these medals was struck for General Washington to commemorate the evacuation of Boston by the British in 1776.

In 1782 Washington did establish a personal award for gallantry--a Purple Heart patch of cloth, but after four awards had been made the decoration was permitted to lapse--it was not revived for 150 years. The Mexican War of 1846-47 brought the creation of the Certificate of Merit for enlisted men, which entitled the holder to an additional $2. per month pay while in the army. Though long disused, this Certificate was not discontinued until 1918, when the Distinguished Service Cross was established.

It was not until the Civil War that a decoration was authorized for award to enlisted men for personal bravery--the Medal of Honor for the Navy was established on December 21, 1861. Under the terms of the original Act the decoration was restricted to enlisted men--this restriction was not lifted until 1916, when officers were permitted to receive it.

The creation of the Army Medal of Honor followed closely after that of the Navy--President Lincoln's approval of an Act of Congress authorized the decoration on July 12, 1862. As in the regulations governing the Navy Medal, the awards were at first restricted to enlisted men, but in March, 1863, the Act was amended to include officers.

And so today we have two Medals of Honor--both comparable to the Victoria Cross of Great Britain--ranking as the highest military award for personal bravery and gallantry in all the world. So jealously has the honor been guarded, and so rigid and inflexible are the regulations governing it, that of the millions of men who have served in the armed forces of our country in wartime, only 3,157 Medals have been issued in 94 years. Of this number, 2,196 have been awarded by the Army and Air Force, and 961 by the Navy and Marine Corps.

The two American decorations are different in design and are awarded under somewhat different regulations, though both require a proven act of gallantry or distinguished service "at the risk of life, above and beyond the call of duty." The Army-Air Force Medal is granted only for action against an enemy in actual combat in time of war, and is thus strictly a combat decoration. The Navy Medal is also a combat decoration, but there is an added provision that permits its award for gallant or distinguished service "in line of duty or profession" in time of peace. But these peace-time awards have been so carefully screened that in the 94 years only 182 Medals have been given for non-combat service. Thus, when Congress voted the Army Medal of Honor to Col. Charles Lindbergh for his flight across the Atlantic to mark a new milestone in aerial navigation, it was in violation of the law and regulations, however much the aerial trail-breaker deserved the distinction. But it was perfectly proper under the law and regulations for the Navy to grant the Medal of Honor to Admiral Richard Byrd for his flight over the South Pole.

Our State can claim two of the Navy's peace-time awards--Commander Claude Ashton Jones, USN, who died recently at his home at Charleston, won his Medal of the USS Memphis on August 29, 1916, when he risked his life to rescue men when the boilers burst while his ship was laboring through a tropical hurricane. The other was Chief Gunner Robert Edward Cox of St. Albans, for extraordinary heroism on the USS Missouri on April 13, 1904, in an explosion and fire that threatened loss of the ship and its crew.

Conditions of the award were not so rigid during the Civil War when the Medal of Honor was the only decoration available for personal award, but there were remarkably few instances of political or undeserved issuance. A review board headed by General Nelson A. Miles purged the roll of those considered undeserving or illegal--the names of Buffalo Bill Cody, civilian scout, and Dr. Mary Walker, contract surgeon, the only woman to hold the Medal, were stricken off. None of the West Virginias was affected by this purge.

The theory of award has also been modified by the creation of a number of lesser medals to be granted for varying degrees of gallantry in battle and distinguished service "in line of profession." During the Civil War and down through the Spanish-American War, the theory prevailed that dead men wear no medals, so posthumous awards were very rare. That trend was reversed in the First World War, when many posthumous awards were made, and this continued through the Second World War and the Korean action. Down to the Second World War, all Medals of Honor bestowed on West Virginians were given to living men, but of the ten who won the decoration in World War II five were posthumous. In the Korean action none of the four men survived the hour of their gallantry which entitled them to be enrolled in the hall of fame of American heroes.

Two sets of brothers hailing from West Virginia have won the Medal--a record that stands unique. Colonel Henry Capehart, 1st West Virginia Cavalry, was decorated for saving the life of a wounded soldier in Greenbrier River, West Virginia. His brother, Major Charles E. Capehart, of the same regiment, had previously been awarded the Medal for an act of gallantry in an engagement with Confederate troops retreating from Gettysburg. In later years, Antoine A. Gaujot, of Williamson, then a Corporal in Co. M, 27th Infantry, swam a river under heavy fire at San Mateo, Philippine Islands, on December 19, 1899, to obtain a canoe for the relief of his comrades. Twelve years later, his brother, Captain Julian E. Gaujot, also of Williamson, won his decoration at Augua Prieta, Mexico, on April 13, 1911. The specific act for which the award was made was no less distinguished than that of his brother; it was in the cause of mercy and humanity. Captain Gaujot crossed a field of fire to obtain permission from the rebel commander to receive the surrender of the surrounded forces of Mexican Federals , and to excort them, together with five Americans held as prisoners to the American line. His action prevented a complete massacre of the Mexican Nationals.

On June 25, 1876, Sitting Bull overwhelmed and slaughtered the greater part of the 7th U. S. Cavalry, under General George A. Custer, in an action on the Little Big Horn in Montana. Not a white soldier survived the massacre, but there were survivors in the companies sent to other sections before the battle opened, under the commands of Major Reno and Captain Benteen. These detached commands were also hotly engaged and escaped only with greatly depleted ranks. Benjamin C. Criswell of Marshall County, then a Sergeant in Co. B, 7th Cavalry was one of the outstanding heroes of the engagement and won his bit of bronze for rescuing the body of Lt. Hodgson from the lines of the enemy, for bringing up ammunition, and for encouraging the men on the most exposed positions under heavy fire.

Perhaps the most publicized Medal of Honor winner from West Virginia was Marine Sergeant John H. Quick of Charles Town--the State's sole medalist of the Spanish-American War. Sergeant Quick stood on the crest of a ridge at Guantanamo, Cuba, under the direct fire of the Spanish forces and signalled the gunboats to direct fire to cover the landing of the Marines. That he survived the heavy fire seemed almost miraculous to observers. The incident was witnessed by Stephen Crane, who was with the troops as a war correspndent for the New York World, who wrote of Quick's heroism in his dispatches which he later re-wrote as a magazine article and was also included as a chapter in Crane's Wounds in the Rain. As Sergeant Major he had a distinguished part in the relief expedition in Samar, Philippine Islands, to cover the survivors of the massacre of Co. C, 9th Infantry at Balangiga. And still later, in World War I, Thomas Boyd, author of many books, saw Sergeant Major Quick's heroic action in driving an ammunition wagon up through the wheat field at Chateau Thierry to supply the hard pressed Marines. Quick was awarded a Distinguished Service Cross for this gallantry--and further immortality through Boyd's writings. He died at St. Louis, Missouri, soon after the end of World War I.

Of the nearly five million men who fought World War I--65,000 West Virginians with the combat forces--only 123 Army and Navy Medals of Honor were granted, none of which went to West Virginians. In World War II with 16,000,000 men and women in the American forces---some 200,000 of them from West Virginia--a grand total of 431 Medals were awarded, ten to heroic sons of our Mountain State. Five lived to wear the star-spangled, pale blue ribbon so rarely seen; five were killed in the execution of the deed that brought them immortal glory.

On this roll of World War II national heroes, whose gallantry and self-sacrifice was above and beyond all call of duty, are the names of Marine Sergeant Herbert J. Thomas, Jr., of South Charleston, who deliberately flung himself upon a live grenade to save the lives of his comrades in an action on Bougainville Island in the South Pacific, and Staff Sergenat Jonah Edward Kelley, of Keyser, 78th Infantry Division, who had his brief hour at Kesternich, Germany, when he, though sorely wounded, blasted a way to victory for his command through self-sacrifice. Second Lieutenant Robert E. Femoyer of Huntington, met every qualification when, caught in heavy anti-aircraft fire in a raid on Merseburg, Germany, and though mortally wounded stayed at his post long enough to set his battered and stricken bomber down at his base in England, and thus saved the lives of his eight fellow-crewmen. Technical Sergeant Clinton M. Hederick of Riverton, Pendleton County, an airborne infantryman, covered the retirement of his squad at Lembest, Germany, but was cut down under heavy fire through German treachery. Then there was Private First Class Walter C. Wetzel, born at Huntington but entered service at Roseville, Mich., who threw himself upon grenades tossed by German attackers at Birken, and absorbed the full blast as they exploded. These five men died in the highest tradition of bravery, heroism, and self-sacrifice.

More fortunate was intrepid Marine Sergeant Hershel Woodrow Williams, of Fairmont, who carried a one-man war to the enemy defenses on Iwo Jima, blasting a line of pill-boxes with flame throwers to break the line of the Japanese inner forces, or Technical Sergeant Bernard P. Bell, of Point Pleasant, 36th Infantry Division, who survived the African and Italian campaigns to win his accolade for a most thorough job on the German forces at Mittelwihr, France. Technical Sergeant Stanley Bender, of Scarbro, also fought in the African and Italian campaigns and as a battle-wise veteran single-handedly broke a German line in France. Staff Sergeant Junior J. Spurrier, of Bluefield, 35thInfantry Division, working as a one-man army, took the town of Achain, France, and left a string of Nazi dead in his wake. And there is also Corporal Melvin Mayfield, Salem born, but now living at Nashport, Ohio--6th Infantry Division--who made a clean sweep of a string of Japanese emplacements in Northern Luzon to save his comrades and two Filipino companies from a perilous position and possible annihilation. Williams, Bell, Bender, Spurrier, and Mayfield came back to take up the battle on the civilian front--and these five West Virginian Medal winners are all that can be traced as certainly living today.

In the most recent war--the affair in Korea--four West Virginians were awarded the Medal of Honor, all posthumous--not one of the men lived through their fiery ordeal to receive their decorations from the hands of the President. Second Lieutenant Darwin K. (Gus) Kyle, of South Charleston, 3rdInfantry Division, led a bayonet attack with 15 men when surrounded by enemy Chinese, covering his men with a hail of grenades thrown into enemy positions. A new school at South Charleston has been named in his honor. Private First Class Ralph E. Pomeroy, of Quinwood, a machine gunner, died using his weapon as a club in a hand-to-hand combat with an enemy unit which had over-run his position, thereby covering the withdrawal of his comrades.

Marine Staff Sergeant William E. Shuck, Jr., of Ridgely, though twice wounded, refused to leave his men for treatment until all his dead and wounded were evacuated. In the instant that he stooped to pick up the end of a stretcher to carry out the last wounded Marine, Shuck was hit and killed by a communist sniper's bullet. The fourth hero was Sergeant Cornelius H. Charlton, 25th Infantry Division, born at East Gulf, but entered service from New York City. He took command of his platoon when the commanding officer was wounded and led three attacks which swept the enemy from the crest of a hill. He was mortally wounded while single-handedly knocking out the last enemy emplacement. A Negro soldier, he was the 44th man of his race to win the Medal of Honor. One of the bridges on the new West Virginia Turnpike bears his name, and the U. S. ferryboat which plies between New York City and Governors Island is the "Sergeant Cornelius H. Charlton."

Truly, it is a gallant little company. West Virginia cannot do less than to emblazon their names on tablets of bronze for placement in the rotunda of the State Capitol.
---
West Virginia Medal of Honor Recipients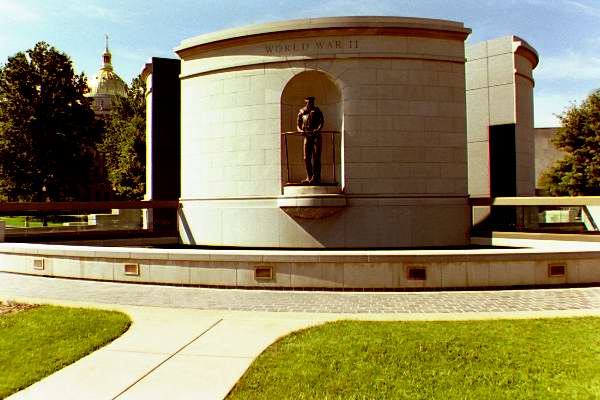 West Virginia Veterans Memorial
History Center