Remember...

James Charles Allen
1895-1918

"Influenza and pneumonia killed more American soldiers and sailors during the war than did enemy weapons."

Carol R. Byerly
James Charles Allen was born to Benjamin D. and Lillie Bird Dawson Allen on October 22, 1895. Sources vary on his birth county, but the 1900 census taker located the family in Roane County, not quite five years after James Allen was born. However, his military registration card says he was born in Calhoun County, while the adjutant general's report says he was born in Stumptown, which is in Gilmer County.
In 1900, Benjamin Allen was said to be a teamster. With him was his wife Lillie and their children, Oscar, Haden, Letha, John, James, Brooks, and Doyle. No one other than Mr. Allen worked outside the home, and several of the children were said to be at school.
In 1910, the family was found in the Glenville District of Gilmer County. Mr. Allen had a portable sawmill, and his occupation was given as sawmilling. With him in Gilmer County was Mrs. Lillie Allen, and children Oscar, Letha, Haden, John, James, Brooks, Doyle were still listed with the family. They were joined by two more daughters, Esta and Laura, and another son, Benjamin. The sons were in the family sawmill business, except Doyle, who was a farm laborer.
On June 5, 1918, James registered for military service in Weston, Lewis County. His address was given as Camden, Lewis County, where he was single with no dependents and working as a farmer and a lumberman.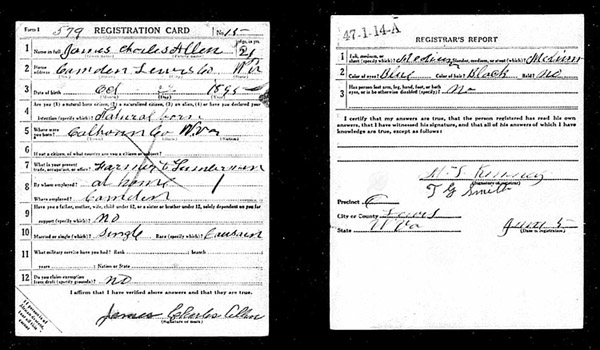 James Allen was inducted into military service at Weston on July 13, 1918. After that, he moved twice in September and again October. His service in the Army was listed as follows: 6 Company, Baltimore Coast Artillery Corps in Ft. Howard, Maryland, to September 17, 1918; Headquarter Coast Defense of Sandy Hook at Ft. Hancock, New Jersey, until September 18, 1918; Battery F, 37 Regiment in Camp Eustis at Newport News, Virginia, until October 11, 1918; Battery 48 Artillery, Coast Artillery Corps, Camp Stuart, until October 22, 1918. In the fall of 1918, another entity than the troops moved during such transfers, on board ships, trains, vehicles, and even on foot and on horseback. It stayed with the troops in crowded camps, and it moved with them wherever they went. In crowds, it grew and flourished. This cohort was influenza.
During World War I, Camp Stuart was one of five U.S. Army Embarkation Camps. The purpose of the camps was to house and train troops as they prepared for travel to the European Theater of the war. ("Camp Stuart (4)," accessed 17 May 2018, http://www.fortwiki.com/Camp_Stuart_(4).) James Allen was assigned to one of several Coast Artillery Corps, which were stationed at ports and harbors in forts or other fortified installations, in the U.S. and overseas. No record could be found that indicates whether James Allen was preparing to ship out with troops destined for overseas duty or whether he was permanently stationed in Newport News as part of a unit whose mission was to protect the harbor and embarkation camp.
There is a record of general camp conditions as they relate to managing outbreaks of influenza in "Extracts from Reports Relative to Influenza, Pneumonia, and Respiratory Diseases: Influenza." (U.S. Army Medical Department, Office of Medical History, accessed 17 May 2018, http://history.amedd.army.mil/booksdocs/wwi/1918flu/ARSG1919/ARSG1919Extractsflu.htm#B.%20BASE%20HOSPITAL,%20FORT%20RILEY,%20KANS.)
The following report was made from Camp Eustis, where James Allen was stationed until October 11:
Q. CAMP EUSTIS, DIVISION SURGEON'S REPORT
No epidemics of infectious disease have occurred except that of influenza, which began in this camp about September 26, 1918, and of which special report has been made. From the date of its appearance to December 31, there were 2,243 cases of influenza admitted to hospital; during the same period there were 110 deaths from influenza and 26 from pneumonia. When influenza appeared in this camp the entire camp was placed under quarantine and no passes were allowed; the congregating of men except for drill and necessary fatigue duty was forbidden; increased attention was given to ventilation of barracks, to arranging of beds alternately head and foot, to the proper washing of mess kits, and to instructions relative to "covering the cough," etc. Attendants on the sick were required to wear face masks.

R. CAMP EUSTIS BASE HOSPITAL REPORT

On September 22, the first case of influenza was admitted. From this date, the epidemic progressed rapidly, so within 10 days practically every ward in the hospital was equipped and running. Equipment for the wards was on hand, and construction was at a point where all wards practically were sufficiently finished to be occupied. Whenever there was a deficiency in construction, rush work in the wards enabled the medical service to keep even with the urgent demand for bed space. The months of October, November, and December were months of influenza. There were 2,288 cases of influenza admitted to the hospital. Maximum admissions were during October and the beginning of November. Of this number 412 were definitely diagnosed as having a complication of broncho-pneumonia. Death (138) occurred associated with this complication of broncho-pneumonia. Only 12 cases of empyema developed. The remaining broncho-pneumonia made a satisfactory recovery. Deaths were principally of two types. One in which there was an overwhelming infection, the patient dying in one to three days with marked dyspnea, cyanosis, and a lung picture showing a massive edematous broncho-pneumonia excluding all aeration to the lungs. The other type, less fulminating, showed an increasing toxemia, in which a terminal toxic nephritis was present associated with a bronchopneumonia, which frequently progressed to a lobular pneumonia, seldom to a lobar pneumonia. The jaundice frequently seen in cases where the streptococcus hemolytica is present, was terminal in many of these cases.
Then, from Camp Stuart, where Private Allen was stationed after his duty in Camp Eustis:
U2. EMBARKATION HOSPITAL, CAMP STUART
Influenza became epidemic at this port about the middle of September. During the height of the epidemic, September 20 to October 20, 2,523 cases were treated, which, together with those cared for before and after these dates, brought the total up to over 3,000. These cases, of course, represented the more severe infections, as temporary hospitals maintained at the various camps cared for less serious cases. Between the dates above noted, 623 cases of pneumonia came under the care of the medical service. The mortality rate was 25.8 per cent. Of the many complications to be expected, empyema was noticeable for its small incidence, only three cases appearing. The Pfeifer bacillus was found in only 1.6 per cent of 1,148 examinations. Of the secondary infections, the streptococcus hemolyticus showed only 0.6 per cent incidence and to its absence the low empyema rate can probably be attributed.
Pvt. Allen contracted the flu and developed lobar pneumonia as a consequence. He was treated for the illness beginning October 17. He died October 22, 1918, at 5:20 pm on his 23rd birthday, according to his death certificate. He was removed from the Embarkation Hospital, where he died, to Weston, West Virginia. He was buried in the Sand Fork Cemetery, also known as Harmony Baptist Cemetery, in Sand Fork, Gilmer County, on October 24, 1918. Though the application for a military headstone indicates that James Allen died in France, there is no document that supports information that he was deployed to France. The death certificate indicates that he died in the Embarkation Hospital at Camp Stuart.
According to a public health report authored by Dr. Carol R. Byerly, "The U.S. Military and the Influenza Pandemic of 1918-1919" (Public Health Report 2010, 125 [Suppl 3]: 82-91, accessed 17 May 2018, https://www.ncbi.nlm.nih.gov/pmc/articles/PMC2862337/), 20 to 40 percent of Army and Navy personnel were sickened with influenza or pneumonia during that time, and the illness resulted in the deaths of 30,000 Army soldiers before they got to France.



James Allen's headstone carries the first verse of the hymn "Safe in the Arms of Jesus" by Frances Crosby on its reverse side:

Safe in the arms of Jesus,
Safe on His gentle breast,
There by His love o'ershaded,
Sweetly my soul doth rest.
Article prepared by Cynthia Mullens
October 2017
Honor...

West Virginia Archives and History welcomes any additional information that can be provided about these veterans, including photographs, family names, letters and other relevant personal history.
---
West Virginia Veterans Memorial