Remember...

Arlen Richard Baldridge
1921-1944

I walk back through the fields,
I trod upon the sod.
You fly through the sky, my son,
You touch the face of God.

Arlen Baldridge
Arlen Richard Baldridge, known to family as Dick, was born on June 19, 1921 in Charleston, West Virginia to Arlen and Helen Baldridge. Dick grew up with his two sisters, Helen Joyce and Nancy Ray, and two brothers, William Ray and John. As a child, Dick loved airplanes and even made model ones that he flew around his house. He spent all of his free time watching the planes land at the airport in Charleston. When he grew older, his love for planes did not fade. After graduating from Charleston High School on May 31, 1939, he spent a year at Morris Harvey College. He enlisted in the Army Air Force on June 1942 and received his wings at Foster Field in Texas. He became a member of the 368th Fighter Squadron, which the army sent to England in October of 1943. While in England, Lieutenant Arlen Richard Baldridge earned the Air Medal award and Distinguished Flying Cross.
| | |
| --- | --- |
| While in the service, Dick wrote to his family often and told them of his experiences in England. He kept his family close to his heart by posting, on the squad's bulletin board, a poem his father wrote for him. He told in one letter home how on May 5, 1943, he jumped from his plane after his engine cut out, which earned him the prestige of becoming a member of the Caterpillar Club, a club for those who bailed out of planes. On May 21, 1944, Dick departed from England on a strafing mission to Germany. They destroyed 20 German fighters on that mission, but they also lost 35 American fighters when they failed to return. One of those fighters belonged to Lt. Arlen Richard Baldridge. The enemy shot his plane, which caused it to crash near Bad Doberan, Germany. | Arlen Richard Baldridge |

Pilots with the
Hawker Typhoon
A telegram arrived at the Baldridge house, where 16-year-old Billy was home alone. He read the telegram stating that his brother was missing in action. Unable to give the horrible news to his mother, young Billy gave the telegram to his father that night. For months, the family waited and hoped for Dick's safe return. Then on January 26, 1945, another telegram arrived with the news the family had been dreading. The government reported Lt. Arlen Richard Baldridge as killed in action on May 21, 1944. His body was eventually brought back to West Virginia and buried on July 21, 1948 in Cunningham Memorial Park in St. Albans. The government posthumously awarded him the Purple Heart for his fearless efforts in the war.
The family spent years trying to find out the truth to what happened to Dick over in Germany. After years of searching, including a trip to Bad Doberan, the family finally felt that they found the truth behind Dick's death. After his plane went down, Dick managed to land safely and jump out of the burning airplane. He tried to run from the plane, but a German soldier cut off his escape route. A Military Policeman and an SS man arrived and took Lt. Baldridge to a German jail, where he was tortured. The soldiers shot Dick in the heart, broke his arm and knocked out his teeth. He was buried at first in a local cemetery in Bad Doberan. Before going to Germany, Charlotte Baldridge, the wife of John Baldridge, wrote to the mayor of Bad Doberan. The mayor was very helpful to the family and even ran an article in the newspaper about their search. While in Germany, the family talked to eyewitnesses that were there on that day and saw Dick running from the plane. Their trip to Germany confirmed their beliefs that Lt. Arlen Richard Baldridge was a victim of an atrocity of war.
Honor...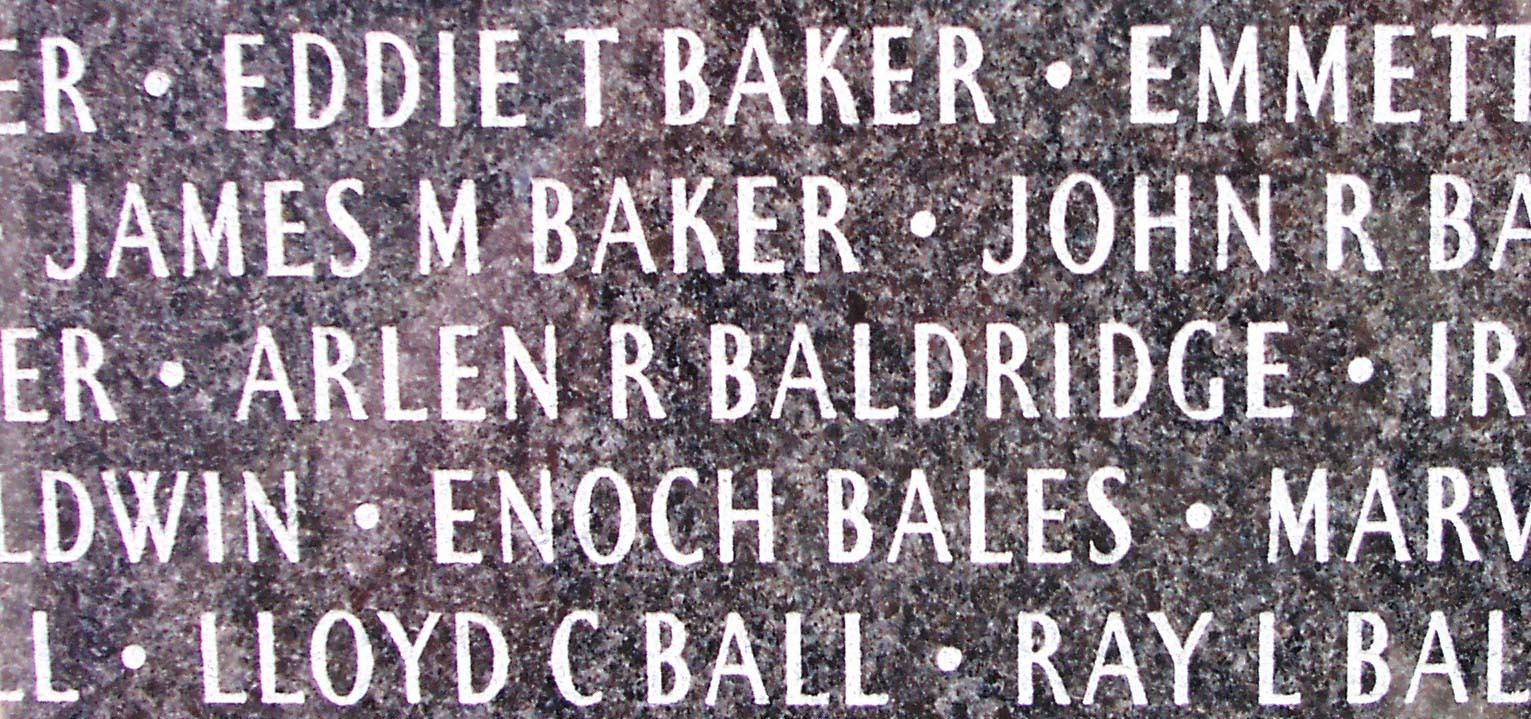 West Virginia Archives and History welcomes any additional information that can be provided about these veterans, including photographs, family names, letters and other relevant personal history.
---
West Virginia Veterans Memorial