Remember...

Blaine Benjamin Boggs
1891-1918

"At eleven o'clock this morning [11 November 1918] came to an end the cruellest and most terrible War that has ever scourged mankind. I hope we may say that thus, this fateful morning, came to an end all wars."

David Lloyd George
Blaine Benjamin Boggs was born in 1891 in Pendleton County, West Virginia. While Pendleton County birth records show a birth date of November 6, other sources (a death notice and the 1900 Federal Census) indicate an October [27] birth date. This discrepancy may simply be a matter of when the birth was recorded. His parents, John A. Boggs and Adina Rebecca Armentrout Boggs, were married in Pendleton County on March 30, 1882.
John and Adina Boggs raised three sons and two daughters. They were: Clarence Hiram, Cecil Kennie, Blaine Benjamin, Lena R., and Mabel C. (married name: Bradshaw). At the time of the 1900 United States Census, the Boggs family lived on a farm in Union Township in Pendleton County. By 1910 John and Adina had relocated to West Berlin, Worcester County, Maryland.
When the United States declared war on Germany on April 6, 1917, Blaine was still living at home and working on his father's farm near Showells, Maryland. Brothers Clarence and Cecil resided in the Baltimore area and were working as carpenters.
Blaine registered for the World War I draft on June 5, 1917, the date of the first registration for men between the ages of 21 and 31. His registration card describes him as tall and slender, with gray eyes and black hair. He stated that at the time he was single, and he claimed no exemptions to the draft.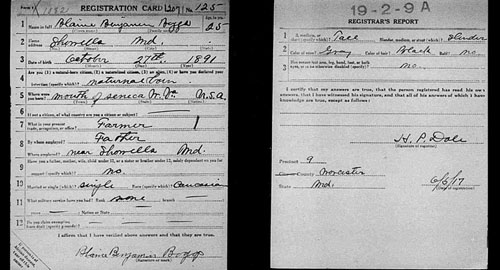 Both Clarence and Cecil Boggs registered on September 12, 1918, for the draft for men between the ages of 18 and 45. While living in Philadelphia in 1942, Cecil also registered for the World War II draft.
When Blaine was called for service in the U.S. Army, he was assigned to Company C of the 312th Machine Gun Battalion, 158th Infantry Brigade of the 79th "Liberty" Division. The 79th was organized at Camp Meade, Maryland, on August 25, 1917. The officers and enlisted men were recruited from eastern Pennsylvania, Maryland, and the District of Columbia. Later, men were added from New York, Rhode Island, West Virginia, and Ohio. On July 10, 1918, the 312th Machine Gun Battalion departed from New York harbor aboard the La France, and they arrived at Brest in northwestern France. After three months of training around the Prauthoy and Champlitte area, the 79th relieved a division at Montfaucon on September 16.
The 79th Division made its first offensive action on September 26 at Meuse-Argonne. On September 30 they were relieved from this sector. They participated in the second phase of the Meuse-Argonne offensive commencing on October 26. On October 30, 1918, with the Armistice less than two weeks away, Private Blaine B. Boggs was killed in action.
Some World War I troops were buried several times:first in battlefield graves, then in U.S. cemeteries in Europe, and finally in the United States. At the conclusion of the war, France resisted removing bodies for reburial, but in 1920 the French agreed to the return of American soldiers to the United States. The remains of 46,000 war dead were returned to the U.S. at a cost of over $30 million.
| | |
| --- | --- |
| | Private Blaine B. Boggs was returned to the United States for reburial on July 21, 1921, in the Arlington National Cemetery, where his grave is located in Section 18, Plot 3031. |
Despite the fact that Blaine B. Boggs was living in Maryland at the time and entered the service from that state, his bonds to West Virginia remained strong, as evidenced in a death notice in the Grant County Press ("In Memory of Blaine Boggs," 24 Jan. 1919). Note that the rhetoric of the day offers a much different picture of the individual, the war, and the enemy than does current reality-based, politically correct rhetoric.
It is with a sad heart and a melancholy feeling that we are forced to announce the death of Blaine Boggs, one who made the supreme sacrifice on the powder stained and shell torn fields of France. He made the great sacrifice on the Verdun front, one of the hard fought battles of the war. He gave his life blood freely that we who are left behind might enjoy the freedom we were used to and that Old Glory would still continue to float over the Land of the Free and the Home of the Brave. He fell facing the retreating Huns, while chasing them back across the Rhine where they belong.

How sad! He was just in his springtime, a model character, just expanding into usefulness and his pure countenance, his smiling unclouded eye and his healthy form when last we saw him gave us little thought that cruel hand was near, but life is but a phaeton rushing through the air only to leave the chariot empty, a bubble which gaily dawns a moment upon the stream and sinks to nothingness. It steals upon us like the dreams of the blessed and floats away upon its visioned pinions to the voiceless grave.

He was an excellent mechanic and always succeeded in everything he started to make and his work was always in great demand wherever he had been.

Blaine was adorned with every amiable quality and all this community mourns the loss of so noble and such a promising helpful young man. He was born Oct. 27, 1891, near Mouth of Seneca, died Oct. 30, 1918. Some years ago his parents moved to Showell, Md. He remained with them there until May 27, when he was called to the colors. He was a member of the M.E. church and always took an interest in church and Sunday school work. He was secretary of Sunday school for a number of years. He loved his home and the family circle, but that fireside circle is broken now..

He leaves a mother, father, and two sisters, who reside at the old home place, and two brothers C.K. Boggs of Berlin, and Clarence of Baltimore. He was preceded to the grave by four sisters and one brother some years ago. [Note that this account includes three sisters and one brother not accounted for in family records or the census, so they may have died in childhood.]

It is hard to say good by to Blaine.
Article prepared by Leon Armentrout, with assistance of Patricia Richards McClure.
July 2015
Honor...

West Virginia Archives and History welcomes any additional information that can be provided about these veterans, including photographs, family names, letters and other relevant personal history.
---
West Virginia Veterans Memorial