Remember...

Clayton Bosworth Brandon
1896-1918

"World War I claimed an estimated 16 million lives. The influenza epidemic that swept the world in 1918 killed an estimated 50 million people. One fifth of the world's population was attacked by this deadly virus. Within months, it had killed more people than any other illness in recorded history."

The Deadly Virus: The Influenza Epidemic of 1918, National Archives and Records Administration
Clayton Bosworth Brandon was born on April 16, 1896, to Frank Vankirk and Laura Catherine Zinn Brandon. His hometown was Philippi, Barbour County, West Virginia. The 1910 census taker in the Philippi District found the family still living in Philippi. The family included Frank and Laura, with sons Clayton, Arthur, and Herbert, and a six-month-old infant, Olive. Frank was a barber and the owner of his own shop. According to a Find A Grave posting, by 1913 the family would be joined by Virginia Ruth Brandon. Baby Olive Brandon is not mentioned again. A 1911 death certificate (West Virginia Archives Vital Records) indicates the baby died of whooping cough. Another daughter, Virginia, would join the family in 1913.
Clayton Brandon is in the public records again on June 5, 1917, when his signature appears on a draft registration card for World War I. Clayton was described as a slender and tall twenty-one-year old, with blue eyes and medium dark hair. He was a student and worked as a clerk in the Geneva Hotel ("Soldier Clayton Bosworth Brandon Dies At Sea," Philippi Republican, October 31, 1918). He was single and his home address was in Belington.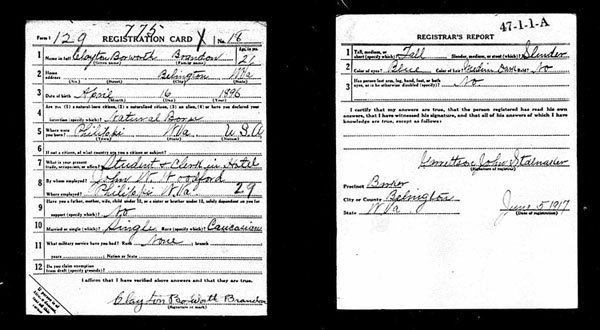 Most of what is known about Clayton Brandon now comes from obituaries. He died before reaching the field of battle, on his way to France, in an unnamed ship.
The Barbour Democrat ("Died at Sea," October 31, 1918), describes Clayton Brandon as "truly an exemplary young man, one respected and admired for his splendid character and attainments." Clayton Brandon was a graduate of Philippi High School and Broaddus Institute; he had intended to continue his education, but when World War I began, the paper reports, "his patriotism was strong and he volunteered into the service."
The Philippi Republican death notice reports that Clayton Brandon was a favorite with the young people of Barbour County. He was honored with a banquet in May before his departure. The newspaper states: "His example is worthy of emulation, and his death will be regretted by a host of friends who will always hold him in fond memory. His parents have the unqualified sympathy of the whole community. There is for them this consolation: Their son died in a holy cause:the cause of liberty:the cause of humanity."
Clayton Brandon enlisted in the Coast Artillery Corps and left for Fort Howard, Maryland, on May 24, 1918, where he trained. He was on his way to France when he was stricken with pneumonia, and it should be noted that most cases of pneumonia among young people at the time arose from complications from the flu. His war record states: "Battery 'E' 74th Coast Artillery Corps, 4th Company C.A.C. Baltimore to May 25, 1918, 1st A. A. Btry. to Sept. 9, 1918."
On the same pages as the announcements of Private Brandon's death in both papers were other death announcements. In the Democrat appeared the sorrowful announcement of the death of an eight-year-old girl, following the same fate as her mother, and the devastation left for her father, as both died of pneumonia. In the Republican, the death announcement of a 31-year-old woman followed that of Private Brandon. She died of "influenza pneumonia." Earlier the same month, in Orlando, West Virginia, a community mourned Lucinda Rose, a young and accomplished Red Cross nurse, as it learned that she died as the ship on which she was a passenger entered a port in England. (David Parmer, "Lucinda Rose: Angel of Mercy," Orlando, West Virginia, accessed 2 November 2016, http://orlandostonesoup.blogspot.com/2009/03/lucinda-rose-angel-of-mercy.html.)
In cemeteries across West Virginia, and in cemeteries around the world, reported deaths in 1918 for young people occurred at a much greater than expected rate. Influenza, pneumonia, influenza pneumonia, or "La Grippe" was frequently cited on death certificates as the cause.
Carol R. Byerly, in The U.S. Military and the Influenza Pandemic, writes:
The American military experience in World War I and the influenza pandemic were closely intertwined. The war fostered influenza in the crowded conditions of military camps in the United States and in the trenches of the Western Front in Europe. The virus traveled with military personnel from camp to camp and across the Atlantic, and at the height of the American military involvement in the war, September through November 1918, influenza and pneumonia sickened 20% to 40% of U.S. Army and Navy personnel.. Influenza and pneumonia killed more American soldiers and sailors during the war than did enemy weapons..

The Army and Navy medical services may have tamed typhoid and typhus, but more American soldiers, sailors, and Marines would succumb to influenza and pneumonia than would die on the industrialized battlefields of the Great War. The story of the influenza epidemic in the military is often lost in the historical narrative of the Great War, included merely as a coda to that four-year horror, coinciding with the final battles and the Armistice..

Influenza sailed with American troops across the Atlantic and when it exploded in late August and September in Europe and the United States, medical officers found themselves on the front lines of an epidemic worse than any of them had ever seen or imagined. Many were among the most knowledgeable and skilled physicians in the country and had just recently entered military service. They did their best to save those stricken by influenza, but could do little more than provide palliative care of warmth, rest, and a gentle diet, and hope that their patients did not develop pneumonia.

One of the tragedies of the influenza epidemic is that by the 1910s, the medical profession held many of the scientific and epidemiological tools to understand the nature and extent of the damage influenza and pneumonia were wreaking on their patients, but lacked the tools to effectively fight them.

The deadly second wave of the epidemic lasted about four weeks in individual camps and ran its course in the Army in about eight weeks, roughly from September 15 to November 15, 1918. (Public Health Report 2010, 125[3]: 82-91, accessed 2 November 2016, https://www.ncbi.nlm.nih.gov/pmc/articles/PMC2862337/.)
Although the death toll attributed to the 1918 influenza epidemic is often estimated at 20 million to 50 million victims worldwide, other estimates run as high as 100 million victims. The exact numbers are impossible to know due to a lack of medical record keeping in many places. What is known, however, is that few locations were immune to the 1918 flu:in America, victims ranged from residents of major cities to those of remote Alaskan communities.
West Virginia, also, was not immune to the effects of the pandemic. When the Public Health Service finally began collecting data about influenza in September of 1918, the disease was already in the state. The government website dedicated to "The Great Pandemic" reports the impact in West Virginia:
West Virginia University was closed during the epidemic and a fraternity house on campus was turned into an emergency hospital.. At the West Virginia School for the Deaf and Blind in Romney, about two hundred pupils and employees were stricken..

The disease hit coal mining areas harder than other regions. By October, so many West Virginians were either ill themselves or caring for those suffering from influenza that a local committee estimated that only 20% of people were able to attend to their normal duties. Only two mail carriers, for example, were available in Martinsburg. Grave diggers there also found themselves overwhelmed. For several weeks, the diggers found themselves facing a backlog of at least two dozen graves which needed to be dug each day. (U.S. Department of Health and Human Services, "West Virginia," The Great Pandemic: The United States in 1918-1919, accessed 2 November 2016, http://www.flu.gov/pandemic/history/1918/your_state/southeast/westvirginia/index.html.)
Though the number of flu (and its companion pneumonia) cases peaked in the fall of 1918, including among its numbers Private Clayton Bosworth Brandon on October 1, the flu continued claiming victims into the winter of 1919, changing many families forever, if not destroying them entirely. The Brandons received word in an October 28 telegram:
Regret to advise the death of Private Clayton B. Brandon at sea on October 14 [sic], 1918, from pneumonia. Owing to the existing conditions, it was impossible to bring remains back to the United States, and at sunrise, Private Brandon was buried at sea with full military honors.
(Signed) Judson, Brigadier General
| | | |
| --- | --- | --- |
| | Though buried at sea, Clayton Brandon is memorialized with a cenotaph in Mt. Vernon Cemetery, near Philippi, and on the Tablets of the Missing in the Suresnes American Cemetery in France. | |
Article prepared by Cynthia Mullens, with editorial assistance from Patricia Richards McClure
September 2016
Honor...

West Virginia Archives and History welcomes any additional information that can be provided about these veterans, including photographs, family names, letters and other relevant personal history.
---
West Virginia Veterans Memorial