Remember...

Clifton Chapman
1895-1918

"Success is not final, failure is not fatal: it is the courage to continue that counts."

Winston S. Churchill
Clifton Chapman was one of twelve children born to Charles Allen Chapman and Alice M. Gillespie Chapman. Charles and Alice were united in marriage on December 1, 1887, at the home of the bride in Putnam County, West Virginia. Their children, six sons and six daughters, were Otis Peyton, Alric L., Clara C. (married name: Gardner), Charles Ross, Lizzie M., Clifton, Ida Louise (Mrs. James Jackson Sharp), Ona (Mrs. J.C. Pemberton), Mary Rilla, Lucy F., William Parker, and Homer Virgil.
Clifton was born on January 19, 1895, at Hurricane in Putnam County, West Virginia. Early census records and his birth certificate identify him as "John C." or "John Clifton."
When he registered for the draft on June 2, 1917, Clifton was living at Pliny, West Virginia, and employed by Pitts and Morris as a railroad construction worker. He was single and he claimed no exemptions from the draft. His registration card shows he was of medium build and medium height, with blue eyes and red hair.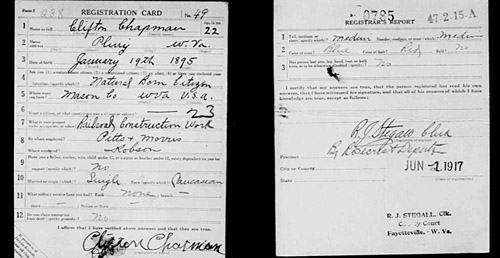 Clifton's older brother, Otis, also registered for the draft. He was a physician living in New York City. Otis stated he was single at that time and was described as tall and slender, with gray eyes and light-colored hair. Another brother, Charles Ross Chapman, registered for the draft on June 5, 1917. He was married and working in Akron, Ohio, for B. F. Goodrich as a tread cutter. Charles was of medium build and medium height, with brown eyes and dark brown hair.

Clifton Chapman was called to serve in A Company, 119th Infantry Regiment, 60th Brigade Infantry, 30th Division ("Old Hickory") of the 1st Army Corps. The 30th Division was organized on September 19, 1917, at Camp Sevier in Greenville, North Carolina. The division was formerly the 9th National Guard Division, with men from Tennessee and North Carolina. Men who were later drafted from North Carolina, South Carolina, Tennessee, Indiana, Illinois, Iowa, Minnesota, and North Dakota were assigned to the 30th Division.
| | |
| --- | --- |
| | Following a period of training in preparation for combat duty in France, the 30th Division traveled by train to Hoboken, New Jersey. They boarded the USS George Washington and departed on May 8, 1918, for France. The Washington was formerly a German ocean liner that had been seized by the U.S. Navy in April of 1917 and converted into a troop transport. During the Atlantic crossing it was escorted by anti-submarine destroyers until arriving at the Brest harbor on May 18, 1918. The Division was then sent to the Pas-de-Calais region for training and was ordered on July 4th into Belgium in support of two British divisions. |
On August 17 the Division took over the Ypres-Comines Canal sector from Ypres to Voomezelle. On August 31 and September 1, it was involved in a battle to dislodge German forces from the top of Mount Kemmel. It was during this battle that the Germans used poisonous gas for the first time during the war. The Germans evacuated their position on Mount Kemmel and were replaced by British troops.
On September 29 and 30, the 30th Division, under the command of the 4th British Army, participated in the Battle of Bellicourt, which resulted in the total devastation of the town of that name. On October 6 the 119th Regiment took up positions previously occupied by the Germans on the Hindenburg Line. During the next three days they advanced about 17,000 yards. On October 10 the 119th Regiment, battle-worn and weary, was to have been relieved by the 108th Regiment. However, because the 108th had become fragmented, relief was not accomplished until the next morning.
Private Clifton Chapman was killed in action on October 10. He was most likely buried in a battlefield grave and later reinterred in a U.S. cemetery in France. When the war was concluded, France resisted removing bodies for reburial. However, in 1920 the French agreed to the return of American soldiers to the United States. The remains of 46,000 war dead were returned to the U.S. at a cost of over $30 million.
| | |
| --- | --- |
| Private Clifton Chapman's parents requested that his body be repatriated to the United States. He was reburied in Arlington National Cemetery on April 14, 1921. | |
Article prepared by Leon Armentrout
July 2015
Honor...

West Virginia Archives and History welcomes any additional information that can be provided about these veterans, including photographs, family names, letters and other relevant personal history.
---
West Virginia Veterans Memorial