Remember...

Guy Benton Christopher
1892-1918

"They shall grow not old, as we that are left grow old:
Age shall not weary them, nor the years condemn.
At the going down of the sun and in the morning,
We will remember them."

Laurence Binyon
Guy Benton Christopher was born in Preston County, West Virginia, on October 25, 1892, to Isabell and Jehu Christopher. The 1910 Federal Census records indicate that Jehu Christopher was a farmer, living in the Grant District. Other documents make it clear that they lived in the Pisgah community. At the time, the Christopher children living at home were Sylvester, Hosea, and Elizabeth, in addition to Guy. There was also a granddaughter living with the family. Guy and Hosea were also farming at home. Sylvester was working in the timber industry and Elizabeth was a cook at a hotel.
The Christophers' children were born between 1872 and 1895. One had passed away before Guy was born, and another died of a chronic illness not long after Guy was born. From family links found through Find A Grave and Ancestry.com, it is likely that the children who lived at home in 1910 were not all of the Christopher children. Guy's other siblings, who had already left home or died by 1918, included Lester, Shiloah, Siota, Lester, Rutherford, [Virginia] Maude, [Hosea] Thurman, and Jehu, who died in infancy. In addition, Mr. Christopher was also gone, having passed away in 1916.
On June 5, 1917, Guy Christopher registered for military service. His draft registration indicates he was working for Federated Glass at the time. He enlisted on May 25, 1918. From that date, he served as a member of the 9th Training Battalion until June 19, 1918, when he was transferred to the 6th Provisional Company at Camp Lee. He was then transferred to the 1st Division (The Big Red One), 16th Infantry, M. G. Company A, the American Expeditionary Force.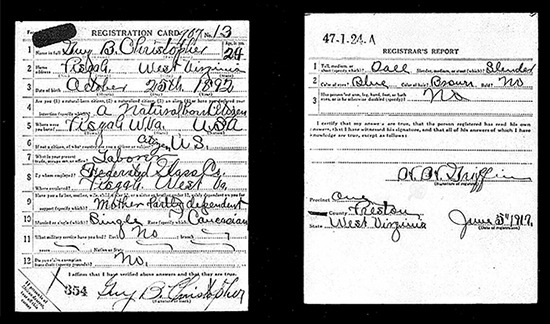 A passenger manifest for the ship named the Czaritza indicates that Guy Christopher was on-board on July 18, 1918, at noon when the ship set sail from Newport News, Virginia. Guy Christopher was a private and was going to be a part of the infantry replacement troops. The 1st Division had been in France since June 1917 and had already fought in France and sustained many casualties. In September, the 1st was fighting in St. Mihiel. The details of the events that led to Guy Christopher's death are not known, but he died the week of September 20, 1918. His name is listed in Soldiers of the Great War among those who died by accident. The adjutant general's report said that he was accidentally killed by a comrade. Information in the report, however, gives two death dates. One is recorded as September 20 and the other as September 25. The death registry for Preston County was completed with the former as the date of death. No further details could be found.
| | |
| --- | --- |
| Guy Christopher was buried first in France and reinterred in West Virginia. The Preston County Journal reported on June 30, 1921, in an article entitled "Body of Hero Brought Home," that "the body of Guy B. Christopher, Pisgah, world war hero, who was killed in action in France, September, 1918, was brought home and laid to rest last Sunday with full military honors. He was the son of Mrs. Isabella Christopher of Pisgah, and was born October 18, 1892." | |
Guy B. Christopher was buried in Fairview Cemetery in Pisgah in June 1921.
Article prepared by Cynthia Mullens
July 2021
Honor...

West Virginia Archives and History welcomes any additional information that can be provided about these veterans, including photographs, family names, letters and other relevant personal history.
---
West Virginia Veterans Memorial