Remember...

Jay E. Compton
1892-1918

"The [year] 1918 has gone: a year momentous as the termination of the most cruel war in the annals of the human race; a year which marked, the end at least for a time, of man's destruction of man; unfortunately a year in which developed a most fatal infectious disease causing the death of hundreds of thousands of human beings. Medical science for four and one-half years devoted itself to putting men on the firing line and keeping them there. Now it must turn with its whole might to combating the greatest enemy of all:infectious disease. . . ."

Journal of the American Medical Association (28 December 1918)
Jay E. Compton was born on November 19, 1892, at Montrose, Randolph County, West Virginia. His parents were John Compton and Louvena Murphy Compton, who were married on February 28, 1892, in Randolph County at the home of the bride.

John and Louvena's children were Jay E., Chester, Troy William, Nora B. (Mrs. Gay Calvin Bartlett), Edward Ray, and Laura Nettie (Mrs. Roger Leo Myers).

Jay's mother, Louvena, died in 1942. His father, John, died in 1954. Both were buried in the Primitive Baptist Church Cemetery at Montrose, Randolph County, West Virginia.

Jay registered for the World War I draft in Randolph County during the initial registration on June 5, 1917. At that time, he stated he was single and a farmer working for his father, and he claimed no exemptions from the draft. His registration card describes him as being of medium height and medium build, with dark brown eyes and light brown hair.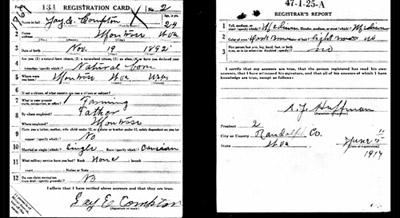 Jay's brother Chester registered for the World War I draft at the third registration on September 12, 1918. He gave his occupation as farming, and he listed his mother as his nearest relative. He was described as short and slender with gray eyes and red hair.
When called to serve, Private Jay Compton was assigned to Company L of the 71st Infantry Regiment. This regiment was activated briefly during 1918-1919 and attached to the 11th Division.
The 11th Division (nicknamed the Lafayette Division) has an interesting and convoluted history during its brief World War I activation. The U.S. Army activated it twice during World War I, first in 1917. By the end of that year it became the 32nd Division. In 1918, the Army reconstituted the 11th, constructing it around the 17th and 63rd Infantry Regiments. A number of non-commissioned officers and privates from these were assigned to the 71st and 72nd Infantry Regiments. The division trained at Camp Meade, Maryland. Its entry into the war came quite late; thus, the soldiers, despite their intensive training, never saw combat. The advanced school detachment departed for England on October 25, 1918, and landed at Liverpool on November 8. Although the unit was fully prepared to move to France, the armistice was signed on November 11. The division was disbanded on November 29, 1918. (Source: New River Notes, "Order of Battle:American Forces:World War I," accessed 16 Apr. 2015, http://www.newrivernotes.com/topical_history_ww1_oob_american_forces.htm.)
Pvt. Jay E. Compton died of bronchial pneumonia on October 8, 1918, at Camp Meade in Anne Arundel County, Maryland, several weeks before the deployment of his unit. He was buried near his parents in the Primitive Baptist Church Cemetery at Montrose in Randolph County. His next-oldest brother Chester Compton died that same year at the age of 20.
Article prepared by Leon Armentrout, with editorial assistance from Patricia Richards McClure
March 2015
Honor...

West Virginia Archives and History welcomes any additional information that can be provided about these veterans, including photographs, family names, letters and other relevant personal history.
---
West Virginia Veterans Memorial