Remember...

Nason French Conaway
1892-1918

"This book is not about heroes. English poetry is not yet fit to speak of them. Nor is it about deeds, or lands, nor anything about glory, honour, might, majesty, dominion, or power, except War. Above all I am not concerned with Poetry. My subject is War, and the pity of War. The Poetry is in the pity."

Wilfred Owen
Army Private Nason French Conaway was born in Pullman, Ritchie County, West Virginia, on October 15, 1892, the elder son of Joshua Baines Conaway and Helen Virginia Wilson Conaway. His five known siblings included Lenah Pearl (b. 1893; married names: Cunningham, Glaze) and Lelah Jane Conaway (b. 1894; married name: Grimm). Much later Lelah Jane was followed by Thyra Wilson Conaway (married names: Null, Neusbaum), who was 12 years younger than Nason, and finally came Kermit A. Wilson Conaway (b. c. 1908). This information was gleaned from 1880, 1900, 1910, and 1920 Federal Census records, which do exhibit some inconsistencies. Helen Wilson Conaway married Phillip Sheridan Alloway on September 15, 1926 in Iowa; because Joshua Conaway was still living, it can be inferred that there was a divorce sometime after 1920.
Though the Conaway and Wilson families had long been established in Ritchie County, Joshua and Helen Conaway were living in Plumb, Weld County, Colorado, in 1900. It is unclear what lured the Conaways to Colorado, and by 1910 they were back in their home territory. Throughout this time Joshua listed his occupation as "farmer"; apparently the family felt more comfortable on their Ritchie County farm, where they could be near extended family, despite the fact that such farms provided a meager living, at best.
Nason French Conaway registered for the initial World War I draft on June 5, 1917, at Harrisville, the Ritchie County seat. Employed by the county, he stated that his position was that of deputy sheriff. He claimed no dependents, no exemptions, and no prior military service, indicating he was single at the time. His draft registration card notes that he was of medium stature and slender build, with blue eyes and light hair:physical qualities that can be seen even in his black and white photo.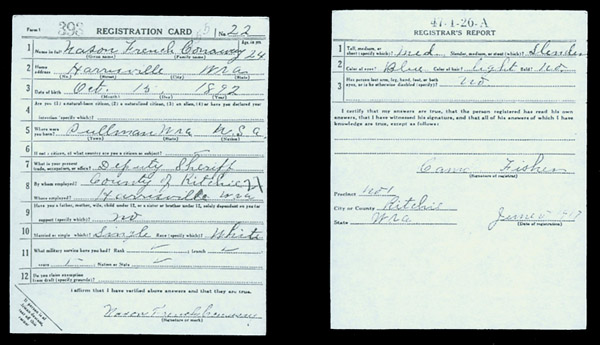 | | |
| --- | --- |
| | In the following year his marital status changed when he married Bertha Ellen Westfall on March 25, 1918. Find A Grave postings provide a great deal of detail regarding Nason and Bertha, as well as his parents, although, as noted above with census records, there are some inconsistencies in dates and surnames. |
Pvt. Conaway was assigned to Company B of the 119th Infantry, 80th Division, that had been activated in August 1917 and sent overseas in June 1918. That unit's major operations were at St. Mihiel and Meuse-Argonne. Nason was killed on October 1, 1918, in the Battle of the Argonne Forest, the last major offensive of World War I.
The operation in which Pvt. Conaway was killed can be found in the comprehensive World War I account, American Armies and Battlefields in Europe: A History, Guide, and Reference Book:
When the decision was made to attack in the Meuse-Argonne region the American First Army was busily engaged in preparations for the St. Mihiel offensive, planned for September 12. However, because of the limited time available, the assembly of American divisions not scheduled for the St. Mihiel attack was begun immediately and detailed plans for the larger battle [Meuse-Argonne] were at once prepared..

On most of the Meuse-Argonne front French soldiers remained in the outpost positions until the last minute to prevent the Germans from seeing or otherwise securing information of the presence of large numbers of American soldiers in the region and thus receiving advance warning of the impending offensive.

In all, about 220,000 Allied soldiers were moved out of the area and approximately 600,000 Americans were moved into it. The planning and execution of this gigantic movement of concentration was an intricate and arduous task..

On the night of September 25-26 the First Army stood on its new front ready for the momentous battle that was to begin at dawn the next day. .

[A map on page 172 shows the plan of attack of the First Army on September 26.] The III Corps was on the right with the 33d, 80th and 4th Divisions in line, in that order from right to left, and the 3d Division in reserve..

The general plans provided first for an advance of 10 miles which would break through the hostile first, second and third positions and force the Germans to give up the Argonne Forest. This was to be followed by a further penetration of about the same distance which would outflank their defenses in the Bois de Bourgogne and along the Aisne in front of the French Fourth Army, and thus open the way towards Sedan and M zi res. These attacks of the First Army were to be coordinated by General Pershing and General P tain with those of the French Fourth Army west of the Argonne..
A major difficulty of this plan was capturing and securing Montfaucon. This feat occurred on the second day of the offensive (September 27), although the amount of ground captured was not as great as on the first. On September 28 and 29, the Americans made small but significant advances but met fierce resistance from the Germans, and the First Army ordered a reorganization of troops for renewal of the battle. While the Army had sufficient air power, it desperately needed tanks to advance the ground offensive. The History continues:
While the attack on the first day had surprised the Germans and resulted in important gains at comparatively small cost, the fighting all along the front from that time on was of the most desperate character..

[A map on page 176 shows the progress made by the First Army from September 25 to October 4.] By the end of the fifth day [October 1:the date of Pvt. Conaway's death] seven more German divisions had been rushed to this crucial region and had entered the battle.

The great progress of the First Army attack and Allied pressure on other parts of the front caused the German High Command on September 29 to urge its Government to forward immediately an offer of peace to the Allied Governments and this was done on October 6. (Source: American Battle Monuments Commission, General John J. Pershing, Chairman, American Armies and Battlefields in Europe [Washington, DC: Government Printing Office, 1938]: 171-76.)
It was in this frenzied, chaotic series of intense clashes that Nason Conaway lost his life.
Some World War I troops were buried several times:first in battlefield graves, then in U.S. cemeteries in Europe, and finally in the United States. It is likely that Pvt. Conaway was first buried in the St. Mihiel American Cemetery. At the conclusion of the war, France resisted removing bodies for reburial, but in 1920 the French agreed to the return of American soldiers to the United States. The remains of 46,000 war dead were returned to the U.S. at a cost of over $30 million.
| | |
| --- | --- |
| Nason French Conaway's remains were brought back to his homeland, and he was interred on October 21, 1921, in Arlington National Cemetery, where he rests in Section 18, Plot 3690. Bertha Conaway would survive him, marry Victor Groves, and have a child, Helen Delores Groves (married name: Hudson). Bertha, the beautiful, young, hopeful bride of 1918 would live on until 1972, when she died in Clarksburg. She is buried in the Harrisville IOOF Cemetery. | |
Article prepared by Patricia Richards McClure
November 2015
Honor...
West Virginia Archives and History welcomes any additional information that can be provided about these veterans, including photographs, family names, letters and other relevant personal history.
---
West Virginia Veterans Memorial