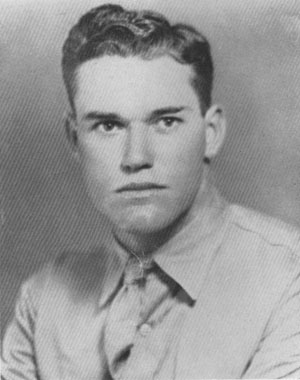 Irvin Franklin Conley
1919-1944
On July 13, 1944, in the vicinity of _____, France, when the platoon led by Sgt Conley was pinned down by heavy enemy machine-gun fire from strongly fortified positions, Sgt Conley, exhibiting great courage and coolness under fire, advanced toward the nearest machine-gun emplacement, fired his rifle until the weapon jammed, and then continued the attack with hand grenades, including several enemy grenades which he threw back before they exploded. Upon reaching the hedgerow, behind which the enemy machine-gun was emplaced, he leaped into the enemy position and killed the remaining members of the crew with the butt of his rifle. Determining that his platoon was still unable to advance, he returned to his own lines with the enemy machine-gun, thus weakening the network of enemy fire. Although wounded in the leg during the action, Sgt Conley remained in active command of his platoon, and through his courageous leadership, inspired his troops to the subsequent capture of the strong enemy positions in the area.

Distinguished Service Cross citation, The Times Record, April 5, 1945.