Remember...

William H. Corkrean Jr.
1922-1944

"He stands in the unbroken line of patriots who have dared to die that freedom might live, and grow, and increase its blessings."

Franklin Delano Roosevelt
Lieutenant William H. Corkrean Jr. ("Billy") was born on June 7, 1922, to William H. and Mary M. McCann Corkrean in the small town of Ronceverte, Greenbrier County, West Virginia, which, historically, has been known for its railroad and lumber heritage and natural beauty in the late 19th and early 20th centuries. (Source: "City of Ronceverte," accessed 26 May 2016, http://www.cityofronceverte.com/.)
Raised in a Catholic family, Corkrean lived with his parents, his sister Elizabeth, and some members of his mother's family:Lillie and Rose McCann. When the family moved to Washington, D.C., in 1939, Billy and his sister Betty stayed behind in Greenbrier County with Mrs. Corkrean's sister to complete their high school education. After their graduation, they joined their parents in Washington.
| | |
| --- | --- |
| In the 1930s, West Virginia was no less impacted by the Great Depression than any other state. In Corkrean's home of Greenbrier County, public works projects were undertaken, most notably the mural in the post office in Lewisburg, painted in 1938 by Robert F. Gates. (Source: Department of Geography, University of California, Berkeley, "Post Office:Lewisburg WV," The Living New Deal, accessed 14 February 2016, https://livingnewdeal.org/projects/post-office-lewisburg-wv/.) | |
It was during these years that Corkrean received his primary and secondary education, the latter at Greenbrier High School, where he was a member of the school's band, and graduated in the year 1940. During this time, Corkrean was employed by the Hecht Company, a large chain department store, and, after receiving permission from his father, became a member of the West Virginia National Guard at age 15.
While West Virginia largely supported the war effort by manufacturing supplies, it was also the state that sent the fifth highest percentage of servicemen during World War II. The historic Greenbrier resort, not too far from Corkrean's home in Ronceverte, served as a holding place for German and Italian diplomats until U.S. diplomats overseas were exchanged in 1941, and in 1942 it was purchased by the U.S. Army and transformed into a hospital for soldiers. (Source: "History Timeline," The Greenbrier: America's Resort, accessed 14 February 2016, http://www.greenbrier.com/HomePage-Sub-Pages/About-The-Greenbrier/History.)
| | |
| --- | --- |
| | Like many of his fellow West Virginians, Corkrean also went to war; in 1941 he enlisted in the U.S. Army Air Corps, where he was trained to pilot B-17 bombers. On January 6, 1942, Corkrean enlisted in Washington, D. C. He served as a pilot in the 8th Air Force in the 390th Bombardment Group, which trained in Spokane, Washington. When the group split into smaller squadrons (the 568th, the 569th, the 570th, and the 571st), Corkrean was assigned to the 570th and was a pilot for Crew 49. By the time he was twenty-one, Corkrean had risen to the rank of lieutenant. |
A letter in the The West Virginia News [date unknown] provides some insight into the man and his interests, as well as the effects of war:
Somewhere in England
March 31, 1944

Dear Dad:

I have been putting off writing until I had some spare time and something to write about, but it looks like I'll never have any spare time, so will dash this off before going to bed tonight.

As of today, I have had twelve raids, some of them pretty hot trips. I have been shot at more than a Republican revenue man at a Democratic Convention in Harlan county, Ky.

They seem to have more ratings than they know what to do with, so before his 22nd birthday little Will Jr. put on his first lieutenant's bars. I figured I would finish the duration and six months thereafter as a "yard bird" 2nd lieutenant.

Also enclosed is a citation for the Air Medal. Everyone that flies five missions gets one, and an Oak Leaf cluster for each additional five missions. Am well on my way to my third Cluster. This takes care of the military news.

I have an exceptionally good Flying Fortress:was new when I received it. My crew have shot down three fighters and had them confirmed. We haven't done so bad.

See if you can't find a good street corner to sell pencils and shotstrings [shoestrings] on. I'll be so slap-happy when this is over that all that I will want to do is cut out paper dolls and roll up balls of string:but as yet I get quite a kick out of it. As for "Herman's aim":it seems to be as bad as the English weather, because I haven't been touched yet, and I'm knocking on wood when I say that.

My bombardier is out of the hospital and back with the crew. Our chief engineer, Sgt. Kelly, lost his hearing on a raid and had to be replaced. Outside of that there's been no excitement to speak of. It isn't a bad war at all, but I don't mind saying I don't like the flak (anti-aircraft fire). If I never see another shell burst, I've seen enough and I am not half through.

BILL
With his crew, Corkrean flew over multiple cities in Belgium, France, and Germany. The crew's main jobs were to bomb enemy territory and to destroy other planes. For nineteen out of twenty-three missions, he flew a Boeing B-17 Flying Fortress called Bomboogie. On the fateful day of May 11, 1944, Corkrean's twenty-third mission, he, along with his ten-man crew, was shot down in a plane called Twenty-One or Bust (similar to the Bomboogie) over Gilz-Rijer, Belgium. It was the 103rd mission for the 390th Bombardment Group. Corkrean was able to keep the plane aloft long enough for his crew to parachute to safety, while he and his co-pilot, John T. Rutherford (who had been Corkrean's co-pilot for all twenty-three missions), who had been killed upon the initial impact, went down with the plane. (Sources for military history: E-mails from Mitch Scott to West Virginia Archives, including a letter from John R. Hodgson, who flew with Corkrean on his last mission; John Quinn, "The 390th Bomb Group Anthology Volume I," 390th Memorial Museum, accessed 9 May 2016, https://www.390th.org/learn-about-390th/history/.)
Corkrean's life was brief but heroic. He "did not die in vain," said crewmate John R. Hodgson Sr. Although Corkrean never married, his legacy lives on as an awe-inspiring example of a serviceman's heroism in the line of duty. Originally buried in the Netherlands American Cemetery at Margraten, his remains were later brought back to the States, where he is interred in Cedar Hill Cemetery in Suitland, Maryland. To further memorialize this World War II hero, in 2015 the West Virginia Legislature designated an interstate bridge (Bridge No. 13-64-165.87 on Interstate 64 in Greenbrier County) as the "U.S. Army Air Corps LT William H. Corkrean Jr. Memorial Bridge."
| | |
| --- | --- |
| In August 2019, West Virginia Archives and History received a communication from Mary Corkrean Farrow, editor of the Emerald Messenger and the half-sister of William H. Corkrean Jr. Ms. Farrow had visited the American Cemetery in Margraten, where Billy had been interred before repatriation. There she learned about the incident in which he had been shot down in greater detail as well as a somewhat different version of the event. She noted that his plane crashed in the Netherlands, not Belgium. The map (right) shows a red dot to the left of the pen where the plane crashed, according to Dutch recovery records written at the time and currently held at the Gilze-Reijen Air Force Base. | |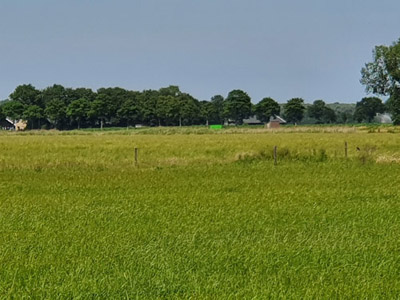 Ms. Farrow writes:

I am Billy's 1/2 sister, one of two surviving siblings. William Corkrean Sr. of Ronceverte, WV was our father. His own memoirs of WWI as a medical assistant are currently being published as a serial in a monthly community journal published in Australia (Melbourne area). He was part of the Lost Battalion, the famous 77th Division from New York.
West Virginia Archives and History is indebted to Ms. Farrow for the additional details and photographs to accompany the biography of William H. Corkrean Jr.
Article prepared by Manar Chowdhury, Katelyn Damron, and Zach Hunley, George Washington High School, Advanced Placement U.S. History, with editorial assistance from Patricia Richards McClure
May 2016; updated August 2019
Honor...

West Virginia Archives and History welcomes any additional information that can be provided about these veterans, including photographs, family names, letters and other relevant personal history.
---
West Virginia Veterans Memorial