Remember...

Leland Kittle Currence
1886-1918

"If I have got to be a soldier, I must be a good one, anything else is unthinkable."

Wilfred Owen
Leland Kittle Currence was born on October 6, 1886, at Mill Creek in Randolph County, West Virginia. He was named to honor Leland Kittle, a prominent attorney and Clerk of the Circuit Court of Randolph County from 1873 to 1878.
Leland's father, Page Burns Currence, was a son of a constable in Randolph County. He and Leland's mother, Diannah Swecker, were united in marriage on June 19, 1884, at the bride's home in Randolph County. To this marriage were born five sons and three daughters: Christopher S., Leland K., Ruth K. (Mrs. Warren Page Kemp), Missouri R. (Mrs. Harrison Shockey), Marion T., Virginia Elizabeth (Mrs. Foster Brooks Hathaway), Jacob Phillip, and Hugh.
The Currences were among the early settlers of Randolph County. Leland's great-great-great-grandfather, William Currence, was the paternal ancestor of all of the Randolph County Currences. Around 1743 at the age of 16 he emigrated from Ireland and eventually settled on 600 acres in what is now the town of Mill Creek. There he established the first water mill within the present limits of Randolph County. Later he built a grist mill on Mill Creek. The creek was originally called "Currence's Mill Creek" but was eventually shortened to "Mill Creek." William built the Currence Fort in 1771 for protection against hostile Indians. Ironically, in 1780 he was ambushed and killed by Indian savages.
Page Burns Currence, Leland's father, was born on October 14, 1854, in [West] Virginia. He died on February 2, 1906. His wife, Diannah, was born in Randolph County on November 7, 1859. She died at Beverly in Randolph County on January 31, 1931. Both are buried in the Currence Cemetery at Dailey, Randolph County.
Leland Currence was 30 years old when he registered in Randolph County for the initial World War I draft on June 5, 1917. He was single and maintaining his own farm, as well as working on a road construction crew for Randolph County. He resided in Beverly and listed his mother as a dependent. He was described as being of medium build and short with grey eyes and brown hair and was slightly bald.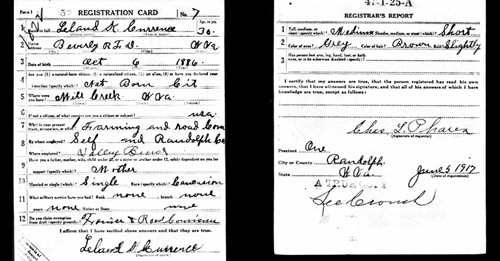 | | |
| --- | --- |
| | Leland Currence enlisted in the U.S. Naval Reserve Force at Baltimore, Maryland, on June 25, 1918. He reported aboard the battleship USS Alabama (BB-8) where he served as Fireman Third Class. The Alabama was an Illinois class battleship with a complement of 536 officers and men. On April 5, 1917, it was designated as the flagship for Division 1 of the Atlantic Fleet with Admiral Albert Parker Niblack in command. |
During October 1918, the Spanish influenza-pneumonia pandemic reached its height. Although American soldiers received inoculations for other diseases, such as smallpox, no inoculation was available at the time for influenza. It is estimated that over 675,000 Americans died during the influenza-pneumonia pandemic, and more than 43,000 service men died of this particularly virulent strain of the respiratory illness during World War I. Many victims died within hours of displaying symptoms. Others died of pneumonia after only a few days when their lungs filled with fluid, resulting in suffocation.
| | | |
| --- | --- | --- |
| | Soon after reporting aboard the Alabama, Fireman Third Class Currence was afflicted with influenza and bronchial pneumonia, and he was transferred to the hospital ship USS Mercy (AH-4), where he died on October 8, 1918. He was buried near his parents in the Currence Cemetery at Dailey in Randolph County. | |
Article prepared by Leon Armentrout
July 2015
Honor...

West Virginia Archives and History welcomes any additional information that can be provided about these veterans, including photographs, family names, letters and other relevant personal history.
---
West Virginia Veterans Memorial