Remember...

Amon J. Cutright
1892-1918

"Rather, both sides fought as soldiers fought in most wars:for survival, and to protect the men who had become extended family."

Stanley Weintraub
Army Private Amon J. Cutright was born on June 14, 1892, in the unincorporated community of Czar in the Middle Fork District of Randolph County, West Virginia. His father was Job Albert Cutright and his mother was Rebecca Jane Crites Cutright. Job and Rebecca were married in Upshur County, West Virginia, on November 18, 1876.
The Cutrights raised a large family consisting of four boys and five girls. They were: Mary E. (Mrs. Lewis Nelson Bennett), Abraham Lincoln, Mariah Delilah (Mrs. James Letcher Finegan), Henry Elbert, Minerva P., Amon J., Clark Lewis, Lora Arena (Mrs. Squire Bosworth Tenney), and Eunice Nina (Mrs. Hartzel Raymond Howes).
On June 5, 1917, Amon Cutright registered for the initial World War I draft. At that time he was single and living with his parents at Czar, West Virginia. He was working for the Craft Lumber Company near his home and specified that his parents were partially dependent on him for support. His registration indicated that he was tall and slender and had blue eyes and dark hair. He claimed exemption from the draft because of a weak ankle.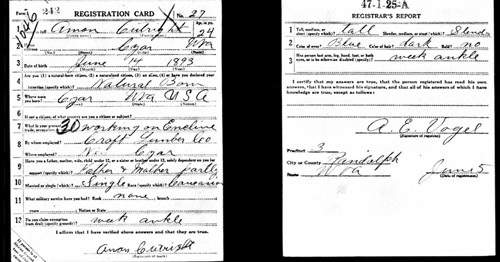 Amon's brothers Abraham, Henry, and Clark also registered for the draft and were single and living with their parents.

When Amon J. Cutright was called into service, he was assigned to Company E, 128th Infantry Regiment, 64th Brigade Infantry, 32nd Division. The 32nd Division (the "Red Arrow" Division, based on its identifying patch) was organized in September 1917, at Camp MacArthur in Waco, Texas, and composed primarily of Michigan and Wisconsin National Guard units. During the period between January 19, 1918, and March 12, 1918, the units of the 32nd shipped out from Hoboken, New Jersey, and were sent to a training unit with headquarters at Prauthoy, Haute-Marne, in France. They were designated as a replacement unit but on May 15, 1918, were reclassified as a combat unit and moved to Alsace, where they held a front line sector until they were relieved by a French unit on July 21, 1918.

On July 30, 1918, the 32nd relieved the 3rd Division in the Aisne-Marne offensive. They broke the German line of resistance on the Ourcq and drove the enemy back to the heights of the Vesle. On August 28, 1918, the 32nd took up positions on the frontline northeast of Soissons as a part of the French 10th Army, where they aided the French in outflanking the German line on the Chemin-des-Dames.

In early September, the 32nd Division was relieved by the 2nd Moroccan Division and sent to Joinville for a period of rest. On September 20, 1918, they were transported by bus to the Meuse-Argonne front. On September 30, they assumed positions on the front line near Romagne-sous-Montfaucon. There they engaged the enemy during the next three weeks. It was during that period that Pvt. Amon J. Cutright was killed in action on October 5, 1918.

Some World War I troops were buried several times:first in battlefield graves, then in U.S. cemeteries in Europe, and finally in the United States. At the conclusion of the war, France resisted removing bodies for reburial, but in 1920 the French agreed to the return of American soldiers to the United States. The remains of 46,000 war dead were returned to the U.S. at a cost of over $30 million.
| | |
| --- | --- |
| | At the request of his family, Pvt. Amon J. Cutright's body was returned to the United States for burial on November 6, 1921, in Arlington National Cemetery, Section 18, Plot 3310. |
Article prepared by Leon Armentrout
May 2015
Honor...

West Virginia Archives and History welcomes any additional information that can be provided about these veterans, including photographs, family names, letters and other relevant personal history.
---
West Virginia Veterans Memorial