Remember...

Dennis Howard Daniel
1920-1941

"Have you heard of the ship called the good Reuben James?
Filled with hard fighting men, of honor and of fame
She flew that stars and stripes of the land of the free
Now she's in her grave at the bottom of the sea"

"The Sinking of the Reuben James," by Woody Guthrie
| | |
| --- | --- |
| Dennis Howard Daniel was born on November 21, 1920 in Saxon, West Virginia, to Emmett Johnson and Lovetta Jarrell Daniel. Dennis grew up in a big family, consisting of his parents, two brothers and three sisters. He graduated on May 19, 1939, from Oceana High School in Oceana, Wyoming County. In July 1940, he enlisted in the Navy and then went for training to the Naval Training Station in Norfolk, Virginia. After training, the Navy assigned Dennis to the Reuben James - a U.S. destroyer that escorted supplies to Britain. He rose to the rank of Yeomen Third Class. | USS Reuben James |
The government launched the Reuben James on October 4, 1919, and commissioned it on September 24, 1920. It was later re-commissioned on March 9, 1932. Dennis Howard Daniel was serving on the ship when the government ordered the destroyer to escort the Convoy HX-156, which was freighting lend-lease goods to Britain, from Halifax, Nova Scotia, to a point west of Ireland. During this escort, on October 31, 1941, a torpedo from a U-552 hit the Reuben James just below the bridge. The explosion flung the crew overboard into the icy, oily water. A flame of light, where the destroyer went down, illuminated the dark sea. The men found themselves in a cold ocean surrounded by oil and trying desperately to hold on and not to be pulled down with the sinking ship.
| | |
| --- | --- |
| Reuben James Memorial | The torpedo took the lives of 100 on board the Reuben James, including Dennis Howard Daniel. His parents had received a letter from him only five short days before the sinking of the ship. He also spent time in Iceland three weeks earlier, where he ran into Eddie Evans, a childhood friend and marine from West Virginia. The government awarded Daniel the Purple Heart for his service on the Reuben James. The folk singer Woody Guthrie remembered those, like Dennis, who lost their lives in his song "The Sinking of the Reuben James." A memorial on Martin's Point in Portland honors those who served on the destroyer. The memorial overlooks the Casco Bay, the final anchorage of the Reuben James. |
Honor...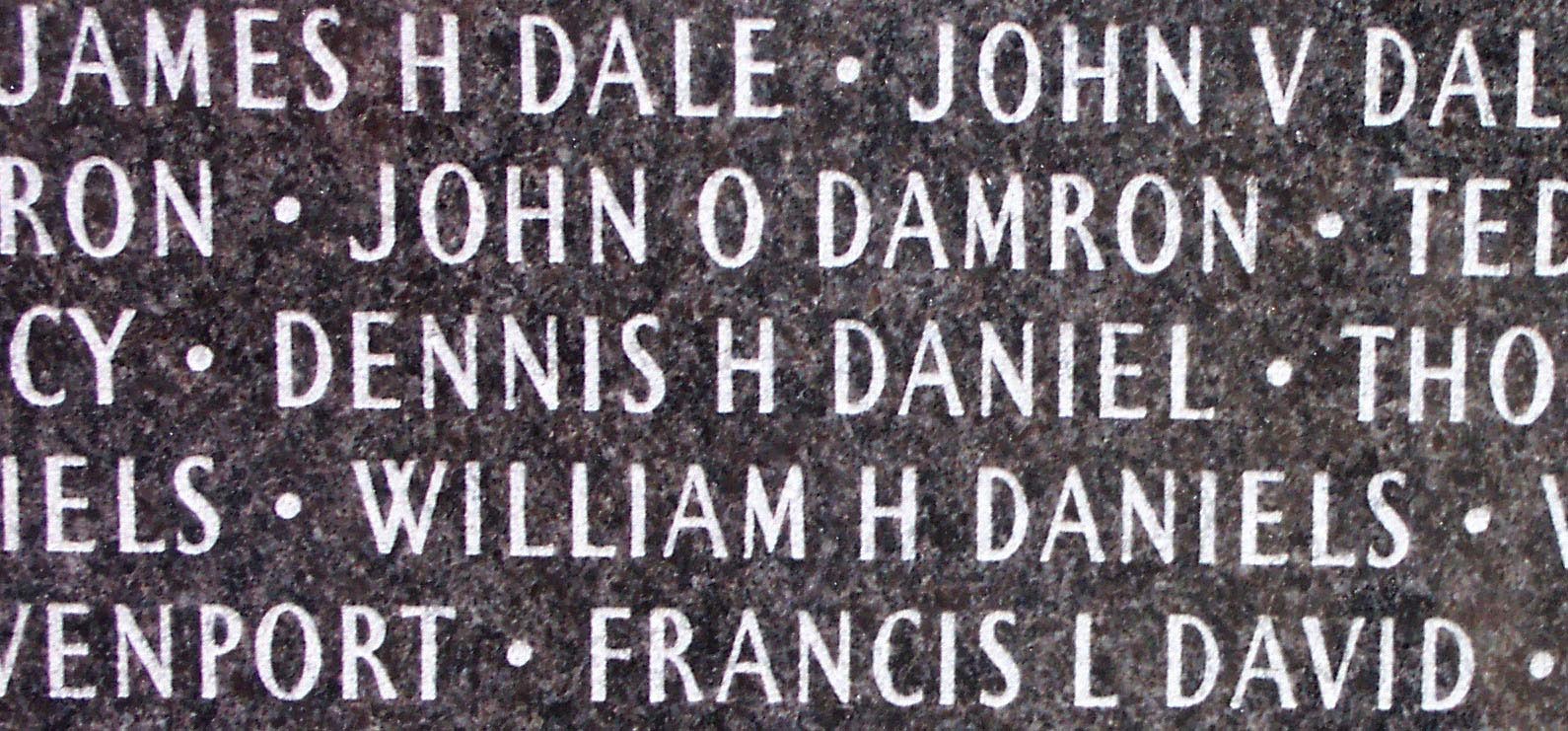 West Virginia Archives and History welcomes any additional information that can be provided about these veterans, including photographs, family names, letters and other relevant personal history.
---
West Virginia Veterans Memorial