Remember...

John Robert Elwell
1928-1953

"Some people live an entire lifetime and wonder if they have ever made a difference in the world, but the Marines don't have that problem."

Ronald Reagan
On March 17, 1928, John O. and Cora McClung Elwell gave birth to their first son, John Robert Elwell. He grew up in Fayetteville, where he attended Fayetteville High School and Fayetteville Baptist Church. Following graduation on March 27, 1947, he attended Concord College from 1947 to 1949. After leaving Concord College, he attended Bob Jones University in Greenville, South Carolina. During his college days, John was a member of the Phi Sigma Chi Fraternity and the Excalibur Literary Society. John's brother D.D. followed his brother's footsteps by attending Bob Jones University as well.
| | |
| --- | --- |
| While still a student, John felt he should serve his country by joining the military. He decided that the Marine Corp was the branch that he could contribute to the most. On November 9, 1951, John Elwell entered the Marine Corp, which sent him to Parris Island, South Carolina for training. While he trained at Parris Island, he was a member of Platoon 419. Four months after enlistment, the government sent Private First Class John R. Elwell to Korea to aid the United States' endeavor there. | Platoon 419 |
Between attending two different colleges and joining the armed forces, John R. Elwell made time for another important aspect in life, a family. He married Betty Ann Stone of Fayetteville, and they had an infant son, John Robert, Jr., when John lost his life. While John was in service, his wife and son lived in Long Beach, CA.
| | |
| --- | --- |
| John Robert Elwell | During his time in service, Pvt. John R. Elwell earned the Navy Cross with Citation in January 1954, the Wharang Medal with Gold Star and Citation in May 1955 and the Facsimile of the Korean Presidential Unit Citation in 1956. Along with those, he also received the Korean Service Medal, the United Nations Service Medal, the National Defense Service Medal and the Purple Heart with the Gold Star. John's family obtained his Purple Heart after he was killed in action. He received the award for losing his life due to a shell fragment wound sustained while in combat at Ungok, Korea. The government sent his body to a mortuary in Kokura, Japan, where they held a military service for him. His family held a service for him on April 16, 1953 at the Fayetteville Baptist Church. They moved his body to the Huse Memorial Park in Fayetteville. |
Honor...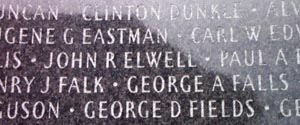 West Virginia Archives and History welcomes any additional information that can be provided about these veterans, including photographs, family names, letters and other relevant personal history.
---
West Virginia Veterans Memorial