Remember...

Jay R. Finley Jr.
1921-1944

"In War: Resolution. In Defeat: Defiance. In Victory: Magnanimity. In Peace: Good Will."

British Prime Minister Winston Churchill
On September 26, 1921, Jay R. Finley Sr. and Mary Jane Napier Finley became parents of a third son. Jay R. Finley Jr. joined a family that was continuing to grow; the 1920 Federal Census records three children: "Birgin" (most likely Byrd James), Charlie Mike, and Ruby. By 1930, according to the census, Jay Jr., "Bbery" [?] (most likely Absolom or "Abbie"), Yvonne, and Martha had joined the Finley family. The 1940 census records two more: Franklin Henry and Jacob Lindsay ("Jake"). Jay Jr.'s birth record indicates he was born at Braeholm in Logan County, West Virginia. Jay Sr. was listed in the 1920 census as a coal miner. However, the 1930 census lists him as a farmer, with the family living at Stonewall in Wayne County; perhaps his occupation changed as the Great Depression caused layoffs in struggling coal mines.
It appears, then, that Jay Jr. received his education in the public schools of Wayne County. There are some discrepancies in the public record regarding how many grades he completed. When he registered for the draft on February 16, 1942, he stated that he was not employed; he was in school (U.S. WWII Draft Cards Young Men, 1940-1947); he would have been nearly 21 years old at the time. Nonetheless, six months later, when he enlisted in the U.S. Army at Fort Thomas, Newport, Kentucky, the record indicates he had completed four years of high school and his civilian occupation was that of a semiskilled welder or flame cutter (U.S. World War II Army Enlistment Records, 1938-1946). At the time of his enlistment, he was single. Sometime between then and his death he married a woman named Mable Jo (also spelled Mabel). The city directory for Huntington, West Virginia, 1947, lists Jay's widow Mabel as living on 11th Avenue with the occupation of assembler, indicating she had not by then remarried.
Joining the Army Air Corps, Jay rose to the rank of staff sergeant as a member of the 32nd Squadron, 314th Troop Carrier Group. The 32nd Troop Carrier Squadron''s role in World War II is outlined in a publication of the Albert F. Simpson Historical Research Center and Office of Air Force History, and its timeline coincides with the time we know S/Sgt. Finley was in the Army Air Corps:
LINEAGE. Constituted 32d Transport Squadron on 28 Jan 1942. Activated on 2 Mar 1942. Redesignated 32d Troop Carrier Squadron on 4 Jul 1942. Inactivated on 30 Sep 1946.

ASSIGNMENTS. 314th Transport (later Troop Carrier) Group, 2 Mar 1942; 441st Troop Carrier Group, attached in Sep 1945; assigned Dec 1945-30 Sep 1946.

STATIONS. Drew Field, Fla, 2 Mar 1942; Bowman Field, Ky, 24 Jun 1942; Knobnoster, Mo, 5 Nov 1942; Lawson Field, Ga, 22 Feb-4 May 1943; Berguent, French Morocco, May 1943; Kairouan, Tunisia, 26 Jun 1943; Castelvetrano, Sicily, 1 Sep 1943-13 Feb 1944; Saltby, England, 20 Feb 1944; Poix, France 28 Feb 1945; Frankfurt, Germany, 23 Sep 1945-30 Sep 1946.

ARCRAFT. Principally C-47, 1942-1946.

OPERATIONS. Included airborne assaults on Sicily, Normandy, Holland, and Germany, as well as aerial transportation in the MTO and ETO, during World War II.

SERVICE STREAMERS. American Theater.

CAMPAIGNS. Sicily; Naples-Foggia; Rome-Arno; Normandy; Northern France; Rhineland; Central Europe.

DECORATIONS. Distinguished Unit Citations: Sicily, 11 Jul 1943; France [6-7] Jun 1944. (Maurer Maurer, ed., Combat Squadrons of the Air Force: World War II, 1981 [159-69], accessed 21 February 2020, https://media.defense.gov/2010/Dec/02/2001329899/-1/-1/0/AFD-101202-002.pdf.)
If S/Sgt. Finley was with the 32nd Squadron, 314th Troop Carrier Group, for his entire Air Force career, he would have joined the unit while at Bowman Field, Kentucky, early in its training phase. He would have seen action in North Africa and Sicily (Operation Husky) and then would be stationed in England preparing for D-Day: the attack on Normandy (Operation Overlord). He likely would have taken part in and survived Market Garden (September 17-25, 1944), as airborne troops were a large part of that operation. Although he is buried at Henri-Chapelle American Cemetery in Belgium, where many casualties of the Battle of the Bulge rest, his date of death (December 6, 1944) precedes that tragic encounter. Jay R. Finley Jr.'s death is listed as DNB; he may have died of illness, exposure to extreme cold, or in a non-battle airborne accident. At Henri-Chapelle, he rests in Grave 21, Row 9, Plot H. S/Sgt. Finley was awarded the Air Medal with three oak leaf clusters and the Purple Heart.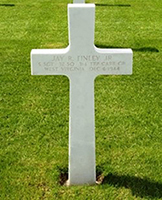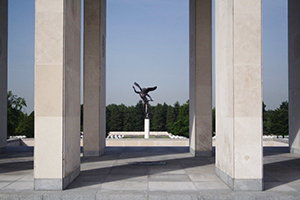 Article prepared by Patricia Richards McClure
February 2020
Honor...

West Virginia Archives and History welcomes any additional information that can be provided about these veterans, including photographs, family names, letters and other relevant personal history.
---
West Virginia Veterans Memorial