Remember...

Lorenza Dow Flint
1895-1918

"There were great numbers of young men who had never been in a war and were far from unwilling to join in this one."

Thucydides
Army Private Lorenza Dow Flint was the youngest of six children born to Joseph Parker Flint and Martha Louella Douglass Flint, who were married in Upshur County, West Virginia, on December 5, 1880. Lorenza was born at Hinkleville, Upshur County, on February 5, 1895. His three older brothers were Lloyd Granvil, Grover Cleveland, and Leroy "Roy" Parker. He had two sisters: Gertrude Laura (Mrs. John K. McDaniel) and Eulah.
Following a divorce, Lorenza's mother married David Carroll in Upshur County in 1902. In the 1910 Federal Census, Lorenza at age 15 was enumerated as living with his mother and step-father at Glady in Randolph County. David Carroll was listed as a salesman whose workplace was a restaurant.
At the time Lorenza registered for the World War I draft, he had already spent eight months in the U.S. Navy, but was currently residing in Glady and employed by the Glady Manufacturing Company as a laborer in a heading mill [a lumber mill that makes barrel staves]. He registered on June 5, 1917, the date of the initial WWI draft, and he claimed an exemption because his mother was dependent upon him for support.
According to his draft registration, Lorenza was of medium height and slender build with brown eyes and dark brown hair. He was single and his mother was his closest relative.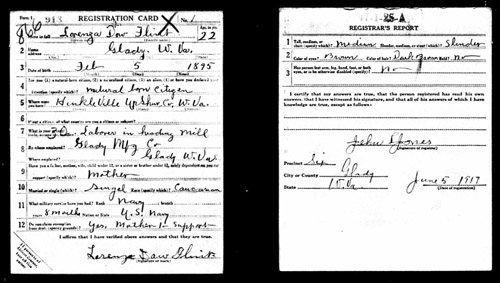 Lorenza's older brothers, Lloyd and Grover, also registered for the WWI draft. Both were married; living in Lunenburg, Virginia; and working as conductors on the Virginian Railway. Grover claimed an exemption because he supported a wife and a child under 12 years of age.
Although there is no apparent record of Leroy Parker Flint enlisting for WWI, in 1942, he registered for the World War II draft at the time that older U.S. males were being processed for service. He was then 50 years of age.
When Lorenza Flint was inducted into the military, he was assigned to the 164th Infantry Regiment. This regiment, along with the 163rd Infantry Regiment and the 148th Machine Gun Regiment, was part of the 82nd Brigade. The 82nd Brigade was assigned to the 41st Division, known as the "Sunset" Division. The Division received this nickname because of its close association with states in the Pacific Northwest, although soldiers from other states and the District of Columbia were used to bring it to full strength.
On November 26, 1917, the 41st Division departed for Europe to join the American Expeditionary Forces. When they arrived in France, they were designated a replacement division, and, therefore, did not serve as a single combat unit. Most of the personnel from the 41st were reassigned to other combat units for the duration of the war. These included the 1st, 2nd, 32nd, and 42nd Infantry Divisions.
Private Lorenza Dow Flint died in France of pneumonia on September 25, 1918, in all probability as a result of a mustard gas attack by the Germans during the Battle of Saint-Mihiel. Fatalities from exposure to mustard gas primarily resulted from secondary broncho-pneumonia. Fatally injured victims sometimes took four or five weeks to die of mustard gas exposure. In all, the U.S. forces suffered 1,462 fatalities from gas warfare.
Some World War I troops were buried several times:first in battlefield graves, then in U.S. cemeteries in Europe, and finally in the United States. At the conclusion of the war, France resisted removing bodies for reburial, but in 1920 the French agreed to the return of American soldiers to the United States. The remains of 46,000 war dead were returned to the U.S. at a cost of over $30 million.
| | |
| --- | --- |
| At the request of his family, Private Lorenza D. Flint's body was repatriated to the United States for burial on November 12, 1920, in Arlington National Cemetery, Section 18, Plot 637. | |
Article prepared by Leon Armentrout
February 2015
Honor...

West Virginia Archives and History welcomes any additional information that can be provided about these veterans, including photographs, family names, letters and other relevant personal history.
---
West Virginia Veterans Memorial