Remember...

Stark Daily Godwin
1897-1918

"World War I claimed an estimated 16 million lives. The influenza epidemic that swept the world in 1918 killed an estimated 50 million people. One fifth of the world's population was attacked by this deadly virus. Within months, it had killed more people than any other illness in recorded history."

: The Deadly Virus: The Influenza Epidemic of 1918, National Archives and Records Administration
Stark Daily Godwin, known throughout his brief life as "Daily," was born in Tucker County, West Virginia on May 13, 1897. His parents were Samuel Houston Godwin and Nancy Elizabeth Phillips Godwin. Samuel and Nancy were married in 1892, and they raised the following children: Ora Maude (Mrs. Howard Luther Morris), Martha Effie (Mrs. Willard Jesse Pritt), Stark Daily, Cletus Durkin, and Page Prentice.
Samuel Godwin had been previously married on January 14, 1886, in Tucker County to Sarah Melissa Gower. Their children were: Raymond Morris, Dennis Austin, and Belvia Alice (Mrs. Hyder Murray Phillips). Sarah Godwin died in 1890.
The 1900 U.S. Census enumerated Samuel H. Godwin and his family in the Clover District of Tucker County, where Samuel owned and operated a farm. By 1910 the family had moved to Elkins in Randolph County, and Samuel was a salesman for a granite works. His daughter, Ora Maude, was a typesetter in a printing office.
Following the sinking of American merchant ships by German submarines, the United States declared war against Germany on April 6, 1917. When the call for volunteers failed to produce the needed one million troops to support the war effort, the Selective Service instituted the draft with the first registration on June 5, 1917, for all men between the ages of 21 and 31. The second registration on June 5, 1918, was for men who turned 21 since the first registration. The third registration began on September 12, 1918, for men ages 18 through 45.
Daily's older half-brother, Dennis, registered during the initial draft on June 5, 1917, at Canonsburg, Pennsylvania, where he gave his occupation as "monumental lettering" for R.H. Black. Dennis was married and had one child. Dennis had had one year of military service as a private in the Pennsylvania National Guard. His draft registration indicates he was of medium height and medium build, with gray eyes and dark hair.
Daily Godwin turned 21 on May 13, 1918, and registered for the draft at Elkins on June 5. His draft registration states he was employed by the Western Maryland Railway Company at Elkins. Always a good source of demographic information, as well as providing visual detail about the registrant, his draft card notes that he was tall and of medium build and had blue eyes and light-colored hair.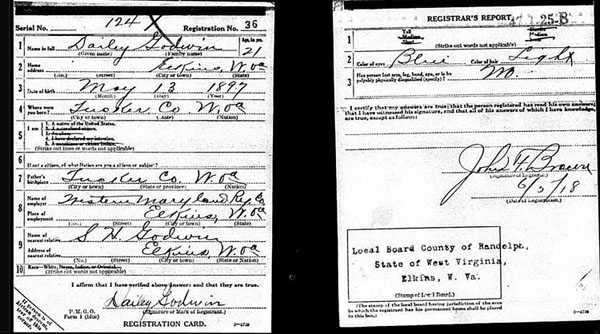 Cletus Godwin, who was 18 years of age, registered for the draft at Elkins on September 12, 1918. He was employed as a common laborer by R.M. Godwin. He was of medium height and stout, with blue eyes and light-colored hair.

In April of 1918, a veterinary training school was opened at Camp Lee in Petersburg, Virginia, to organize, train, and equip officers and enlisted men for duty overseas in France's 15 veterinary hospitals. Between April 12, 1918, and November 11, 1918, a total of 393 officers and 7,968 enlisted men passed through the school. They were initially housed in 400 tents until permanent housing was completed.

The primary use of horses during World War I was for logistical support, since they were better suited than mechanized vehicles for negotiating through deep mud and over rough terrain. They were used for pulling artillery, ambulances, and supply wagons, as well as for cavalry mounts, reconnaissance, and carrying messengers.

It was estimated that approximately six million horses served during World War I. To aid with a shortfall of horses in Britain, horses were imported from Australia, the United States, Canada and Argentina. The U.S. supplied more than one million horses between 1914 and 1918, with an additional 182 thousand shipped overseas with American troops.

Daily Godwin departed for Camp Lee in Petersburg, Virginia, on September 3, 1918. He was enrolled at Camp Lee in Company 18, 5th Training Battalion, 155th Training Brigade. However, he soon fell victim to the Spanish influenza pandemic and died in the base hospital at Camp Lee in Petersburg, Virginia, on September 28, 1918 of complications of bronchial pneumonia. His older half-brother, Raymond M., died just six days later, also a victim of Spanish influenza.

The Spanish influenza-pneumonia pandemic swept the world in 1918 and was responsible for the deaths of more than 43,000 soldiers. Although American soldiers received inoculations for other diseases, such as smallpox, no inoculation was available at the time for influenza. Many victims died within hours of displaying symptoms. Others died of pneumonia after only a few days when their lungs filled with fluid, resulting in suffocation.

In a particularly poignant letter to a newspaper (provided by Luke Armentrout III, source unknown), Daily's mother Nancy penned a plea for understanding the dire situation "to the dear mothers who have boys at Camp Lee, Virginia":
In these fearful times, when the war cloud is hanging like a black pall of death over the world, it is only natural that we hear a great many things that are not true, and we have all heard that our boys in the Training Camps are often inhumanly treated, and but little care given them when they are sick. I visited my dear boy, Daily, when he was sick at Camp Lee, and I found conditions at the hospital there as near ideal as human skill and human hearts could make them. Everything is scrupulously clean, and every sanitary precaution taken; a full force of doctors, nurses and attendants giving their constant attention to the sick, and doing all that human skill and human hearts could do to alleviate the sufferers. My own dear boy told me almost with his dying breath, that he had been treated as well, or better than he could have been treated at home. I was treated with the greatest courtesy and kindness by physicians, nurses, attendants, officers, and in fact by everyone with whom I came in contact. Now, this statement is absolutely true, and I will cheerfully affirm it by solemn oath if necessary, I came away from Camp Lee with a deeper love for humanity, and a greater respect for our government officials than I have ever had before, and I publish this statement with a hope and prayer that it may bring a ray of comfort to the hearts of the dear mothers who have boys at Camp Lee. Mrs. Nancy E. Godwin
The Parsons Advocate ("Died at Camp Lee") reported Daily's death on October 10, 1918:
Daily Godwin, son of Mr. and Mrs. Samuel H. Godwin, former residents of Parsons but of late years of Leadsville, Randolph county, died in the hospital at Camp Lee, Va., Saturday, September 28th. The funeral services were held Tuesday afternoon at the Presbyterian church in Elkins, and interment was made in Maplewood cemetery. The young man was about 21 years of age and unmarried. He left for Camp Lee Sept. 3rd and died Sept. 28th of pneumonia following the grip or influenza epidemic in the camp.
Nor was the epidemic confined to those serving in the military. The Parsons Advocate article continues:
Ray Godwin, another son of the above mentioned parents [an inaccuracy, as Raymond and Daily had different mothers], died Thursday night of the same disease at an Elkins hospital. Ray was better known to Parsons people than was Daily. Ray was born in the Clover district, October 4th, 1886, and had been a very active and successful young man. Of late years he was a very efficient member of the office force of the Keystone Manufacturing Co., of Elkins. Ray is survived by his wife, who before her marriage was Miss Minnie Auvil of St. George, and three little children. He was a member of the Presbyterian church and the Knights of Pythias, Odd Fellows, and Modern Woodmen lodges.

Funeral services were conducted at the old church at Pifer Mountain, near St. George, last Sunday afternoon. Interment was also made in the Pifer Mountain cemetery.
Another newspaper article (source unknown, provided by Luke Armentrout III) states that a daughter of the Godwin family also had the disease.
| | |
| --- | --- |
| | Daily Godwin's body was returned to Randolph County, where he was buried in Maplewood Cemetery at Elkins. The F.E. Runner Funeral Home conducted the burial. |
Article prepared by Leon Armentrout, with photos and articles supplied by Luke Armentrout III (great-great nephew of Daily Godwin and cousin to Leon)
January 2016
Honor...

West Virginia Archives and History welcomes any additional information that can be provided about these veterans, including photographs, family names, letters and other relevant personal history.
---
West Virginia Veterans Memorial