Remember...

James Norton Halstead
1919-1944

"I have full confidence in your courage, devotion to duty and skill in battle. We will accept nothing less than full victory! Good luck! And let us all beseech the blessing of Almighty God upon this great and noble undertaking."

Gen. Dwight D. Eisenhower
U.S. Army Corporal James Norton Halstead was born at Page, Fayette County, West Virginia, on June 18, 1919, to John and Bertha Wolford Halstead. James was the eldest child, but John and Bertha's large family would come to consist of four brothers in addition to James--Eugene Paul, Herman Lee, Samuel Edward, and Millard William. In the household were also three sisters--Mary Madeline Halstead (married name: Bocook), Florence Louise Halstead (married name: Taylor), and Elizabeth Lucille Halstead (married name: Bauer). John Halstead died on April 23, 1934, and this appears to be borne out by the 1940 Federal Census record, which lists Bertha as the head of the household.
U.S. Army Enlistment Records, 1938-1946, indicate that James's education consisted of grammar school, and his entry in Young American Patriots notes that the school he attended was Sebrell. One can imagine that he had a typical childhood growing up in small-town America with his many siblings. The family attended the United Brethren Church in Point Pleasant. Before entering the service, James had been employed at the Malleable Iron Company.
| | |
| --- | --- |
| With the advent of World War II, Bertha would see four of her sons enlist in the U.S. Army, and ultimately she would become a Gold Star Mother. T/5 Eugene Paul Halstead entered service on July 30, 1942, and served in North Africa, Sicily, and Italy. Cpl. Herman Lee Halstead entered service on March 15, 1943, and served in India. Sgt. Samuel Edward Halstead entered service on January 12, 1944, and served in England, France, and Italy. After the war, Herman Halstead continued his service with the West Virginia National Guard. | |
But it was the oldest, Corporal James Norton Halstead, who was the first to enlist, signing up at Huntington on March 30, 1942. He became a medical corpsman in the 325th Glider Infantry Regiment, 82nd Airborne Division.
The 325th Infantry Regiment, throughout its history a sector of the 82nd Division, had its origins in World War I; it was reactivated on March 25, 1942, under the command of Colonel Claudius Easley and located at Camp Claiborne, Louisiana. As late as July 1943 it was intended to become the 325th Motorized Infantry Regiment. That all changed when Chief of Staff General George Marshall determined that the 82nd would be an excellent base for his proposed Airborne force. According to the Regiment's unit history,
The 325th Glider Infantry Regiment was formed and given the task of arriving into battle by glider. Parachutes could, and often did, wind up scattered for miles on a drop zone. The same held true for equipment and supplies. The glider was the answer to all these problems. As long as a glider stayed in one piece, the items inside it would too. This meant no more searching through the swamp looking for the missing barrel to a Howitzer. Jeeps could also fit into a glider. Best of all, troops could be put into a glider and land as a coherent fighting unit.

Gliderborne assaults, however, were not without their risks. Gliders and their tow planes were slow, fat targets. They had no armor to protect the men inside. Landing in a glider was also an adventure and little more than a controlled crash. Even if the pilot had the time and altitude to select a good spot to land, conditions on the ground of which he might be totally ignorant could wreck a landing. Ditches, wire, fences, tree stumps or a host of other possible ailments could flip, twist, or gut an unfortunate glider. ("The 325th Glider Infantry Regiment," The 82nd Airborne: World War II, accessed 23 October 2020, https://www.ww2-airborne.us/units/325/325.html.)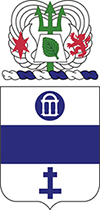 Things moved very quickly. The 325th's first battle was reached not by air, but by sea. By September, the regiment was sent to Salerno from Sicily to reinforce units already there. They were attached to the 2nd Battalion and intended to relieve Ranger units on Mount St. Angelo di Cava. German artillery barrages attempted to throw the glidermen off the mountain, but the Americans held their ground. It was here the Regiment met their first casualties. Service in Salerno is consistent with Cpl. Halstead's war record; Young American Patriots indicates he was there.
The Regiment landed in Normandy on D-Day plus one (June 7, 1944). According to the unit history, "As soldiers of the 325th Glider Infantry Regiment swooped down to Normandy, other elements of the 82nd Airborne were in the process of capturing the town of St. Mere Eglise on an airborne operation behind enemy lines. It was for the success of their effort that the soldiers of the 82nd Airborne Division were awarded the red and green braided French Fourregerre." ("The 325th Glider Infantry Regiment," The 82nd Airborne: World War II, accessed 23 October 2020, https://www.ww2-airborne.us/units/325/325.html.)
One source vividly details what the glider landings at Normandy were like:
Gliders came in from every direction, many overshooting the fields and landing in surrounding hedgerow fences or crashing into farmhouses or stone walls, blind in the black night. Some glider troops were impaled by splintering wood or were crushed when equipment broke away. One glider landed on a landmine. Some gliders missed their landing zone and crashed into a swamp 12 miles to the south. Twenty-one of the 850 gliders carrying infantrymen were wrecked in landing. Of the roughly 4,000 men who participated in the initial airborne assault phase of Operation Overlord, 10 percent became casualties, either killed or maimed. ("Glider Phase of D-Day Begins," World War II Day by Day: The Daily Chronicles of World War II, 2012-2020, accessed 23 October 2020, https://ww2days.com/glider-phase-of-d-day-begins-2.html.)
Cpl. James Halstead was one of those 10 percent. Wounded on June 15 during his landing, he died of wounds in France on June 16, 1944, just two days shy of his 25th birthday.
The 325th persisted, minus their fallen brothers. Their next glider assault was during Operation Market Garden, mid-September 1944. While overall this was a failed operation for the Allied Forces, the 82nd Airborne unit history states: "This glider attack turned the tide of the battle and earned the Regiment the Distinguished Unit Citation."
The glidermen-turned-infantrymen soldiered on. Cpl. Halstead's 325th would become embroiled in the Battle of the Bulge (December 1944-January 1945), where, ironically, his brother Samuel became a participant. Later in 1945, the 325th's action in Germany ended with the Regiment driving deep into the heart of Germany. The war officially ended in Europe on May 5, 1945, and the 82nd Airborne Division was called upon to serve as the occupation force in the American Sector of Berlin. Here the Division earned the title "America's Guard of Honor."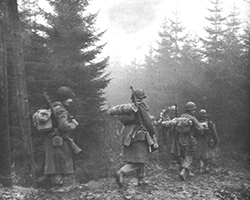 With the Battle of the Bulge, we pick up the continuing history of the Halstead brothers. Sergeant Samuel Edward Halstead, the youngest family member to enter World War II, was drafted in December of 1943. He was 18 years old. He went to Fort Thomas, Kentucky, for induction in January of 1944, then trained at Camp Blanding, Florida. After basic training, he reported to Fort Meade, Maryland, and then shipped out from Newport News, Virginia. Destination: Africa or Sicily. His orders were changed en route because replacement troops were needed in France. They were assigned to the 36th Texas Infantry Division, 142nd Infantry Regiment, Company A (aka Fighting 36th). The orders on the ship were "NO SMOKING ON OPEN DECK. ALL PORTHOLES CLOSED AT DARK." A pack of German submarines were following the ship, but the subs were sunk.
The ship he was on docked in Naples, Italy, in the middle of June 1944. They were en route when the invasion of Normandy took place, where his brother, Jimmy, was wounded June 16 and died June 17, 1944. His brother, Eugene, was serving in Italy and his third brother, Herman, was serving with the Army in India.
The night Samuel's ship docked in Naples, there was an air raid by German aircraft. They went into total blackout with sirens blaring.
When Samuel went into the service, he was told he would not go overseas until he was 20 years old. He was only 18.
By the middle of August 1944, Private First Class Samuel was on the front line, his first experience with combat. He said, "I had M1 rifle, full pack, and bedroll and carried extra ammunition, hand grenades, bayonet, and a shovel to dig a foxhole." He and his fellow soldiers were told to dig in. The Germans started firing artillery and mortars; needless to say, they DUG IN. They got up the next morning, made a counterattack, and gained some real estate.
On Samuel's 19th birthday, he was on the front lines in France and his unit was working their way to Germany. He was promoted to sergeant in October 1944 and was first scout, which meant going out ahead of the troops. He said, "Under cover of darkness, we were going to infiltrate enemy lines. About midnight, we came up on a big country home. A German sentry stood guard outside. My squad was leading and asked him to surrender. He ran up over the hill behind the house." By this time, the young German soldiers (probably 50 or more) saw what was going on. They surrendered and were taken to the rear. Officers were questioned, and then they were placed in prison camps.
Samuel saw service in England, France, and Italy. His World War II story begins thus:
"I remember we had three feet of snow once, and all I had to keep warm were the clothes I had on." Samuel Halstead of New Haven [West Virginia] recalls all too well the winter of 1945. He spent most of it in a fox hole trying to stay alive. In addition to the harsh conditions and lack of supplies, Halstead also was attempting to survive the relentless artillery and gunfire from a desperate German army during one of World War II's most horrendous battles, the Battle of the Bulge. (Randi Roush, "Samuel Halstead: United States Army: World War II," Voices of Our Veterans: Honoring the War Veterans of Mason County, West Virginia [New York: iUniverse, Inc., 2009]: 46.)
It was not unusual for groups of brothers to enlist for World War II. Younger brothers followed older brothers. Families were allowed to hold one son out of the draft, but even then, some of those hold-outs chose to enlist. Regarding Samuel, Roush writes: "Although Halstead anticipated military service with apprehension, he looked forward to serving his country."
On March 15, 1945, after a long seven months of battle, Sgt. Samuel Halstead was shot while serving near Strasbourg, France. His unit was not too far from the Rhine River in the Haguenau Forest when he was shot through the jaw by a German sniper. The medics took him back to the field hospital and then to the military hospital in Nice, France. He was in a Southampton, England, hospital for a while and then was sent back to the United States. He received excellent medical attention and was discharged from O'Reilly General Hospital, Springfield, Missouri, on September 17, 1945. He had turned 20 the day before his discharge.
He always believed that he was very lucky as German snipers were renowned as highly accurate shots.
He told everyone, "War is hell. I hope you never have to experience it."
He emphasized the importance of letter-writing during the war. According to Samuel's biographer,
Although he never saw his three brothers while at war, he could write them. One day, he wrote to his oldest brother, James Norton Halstead, and sadly the letter was returned with the word "Deceased." This was how [Samuel] Halstead discovered that James had been killed while a member of the 82nd Airborne in France. Not only did Sam have to deal with being at war and away from his family, he couldn't dwell on his brother's loss as much as he wanted or needed. He had to forget about it and move on for the time being as a means of self-preservation. (Roush, 48-9.)
James Norton Halstead (1919-1944), Eugene Paul Halstead (1921-1981), Herman Lee Halstead (1923-1986), and Samuel Edward Halstead (1925-2016) served their country well in World War II, with James paying the ultimate sacrifice. James was awarded the Purple Heart, the Bronze Star, the Good Conduct Medal, and the Combat Infantry Badge. In fact, all four brothers received the latter medal, T/5 Paul Eugene Halstead, with two battle stars. Additionally, Samuel Edward Halstead was awarded the Combat Infantryman Badge, the Presidential Unit Citation, the Purple Heart, the Bronze Star, the World War II Victory Medal, the Marksman Badge and Rifle Bar, and the European-Africa-Middle Eastern Campaign Medal. The Halstead family must certainly be one of the most decorated in the history of World War II.
Samuel and his wife Helen Louise (Zuspan) Halstead, to whom he was married for 69 years, had four sons: Samuel Edward "Ed" Jr; Steve; Michael Bruce, who lived for only two days; and Tim. Their oldest son, Ed, continued the Halstead military legacy, serving in the U.S. Navy on board the Destroyer Escort, USS Sample DE1048 in Vietnam, and their granddaughter Shonna Rae Halstead Miller (Tim's daughter) served in Kuwait as a member of the West Virginia National Guard.
Eugene Paul Halstead was married to Mary Lou Knotts and had one daughter, Nancy Gordon. Their grandson (Nancy's son) Zachary Wilkes, served in the U.S. Navy.
Herman Lee Halstead was married to Fay Fellure, and they had two sons, Richard ("Ricky") Lee and JP. They also had one daughter, Marsha Christine.
Millard William Halstead was married to Betty Jackson and had three daughters, Gayla Jean Clark, Barbara (Claude) Spurlock, and Judy (Oneal) Adkins. Millard served the community as chief deputy sheriff of Mason County.
Mary Madeline (Halstead) Bocook was married to Jack Bocook, who served in the U.S. Navy during World War II and Korea. Their son, Mike, served in the U. S. Army. They had two daughters, Cathy Lynn (Danny) Clay and Lisa Ann (Mike) Dickison.
Florence Louise (Halstead) Taylor was married to Dale Taylor, who served in the U.S. Army. They had five sons, Bryant Dirk, Timothy ("Bo") Allen, Robert, Steven, Dennis, and a daughter, Deborah Lynn. Their great-grandson (Robert's grandson) Jimmie ("Tres") Wood III is currently serving in the U.S. Air Force.
Elizabeth Lucille (Halstead) Bauer was married to Christopher H. Bauer, and they had no children. Chris served in the U.S. Navy.
In March 2022 the West Virginia Legislature passed a resolution that the Division of Highways name a bridge built in 2018 bearing the number NHPP-035 (202) (11349) (35-19.01) carrying U.S. Route 35 in Mason County, crossing over Black Oak Road, County Route 78, as the "Halstead Brothers WWII Veterans Memorial Bridge."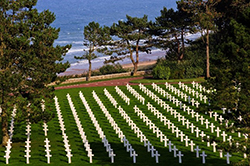 James Norton Halstead was originally buried in the Normandy American Cemetery in France. Cpl. James Norton Halstead's remains were returned to the States in 1949, and he was buried in the Suncrest Cemetery at Point Pleasant.
Article prepared by Patricia Richards McClure, who gratefully acknowledges the assistance of Steve Halstead, nephew of James
November 2020
Revised March 2022

First-hand account from Samuel Halstead recorded by his wife of 69 years, Helen Halstead.
Additional assistance provided by Samuel Edward Halstead Jr. and his wife, Debby.
Honor...

West Virginia Archives and History welcomes any additional information that can be provided about these veterans, including photographs, family names, letters and other relevant personal history.
---
West Virginia Veterans Memorial