Remember...

Roger Louis Hicks
1920-1944

"True heroism consists in being superior to the ills of life, in whatever shape they may challenge us to combat."

Napoleon Bonaparte
Army First Lieutenant Roger Louis Hicks was born in Moundsville, Marshall County, West Virginia, on Flag Day:June 14:1920, the third son of Walter B. and Nellie B. Pickett Hicks. "Shorty," as he was known throughout life by his friends, joined older brothers Walter Edmund (Eddie) and Harvey LeMoyne (Lee); later younger brother Hugh D. Hicks would round out the family. Hugh, who was born in 1922, speaks of his closeness to his brother Shorty, saying quietly that because they were so near in age, "We grew up together."

The Hicks family lived on Seventh Street in Moundsville, and Shorty attended First Ward Grade School and Moundsville Junior High and received accolades as an honors graduate in the 1938 class of Moundsville Senior High School. An article in the Moundsville Daily Echo from April 6, 1945, recounts his school and athletic life:
In 1938 Lt. Hicks captained the Trojan basketball team, climaxing a notable career in the schoolboy sport. He spent a few months at Findlay, O., college, then transferred to West Virginia University, where he was a member of the basketball varsity for three years, sharing in the brilliant task of giving WVU the national collegiate basketball title in 1942.... He was freshman basketball coach for a year at the university before completion of four years in the Reserve Officers Training Corps at Morgantown. He was inducted into the Army in the summer of 1943, and was commissioned lieutenant in the infantry at Ft. Benning, Ga., on December 5, 1943. The first week in September, 1944, saw Lt. Hicks heading for active duty overseas. Lt. Hicks was a member of the Moundsville Baptist church since childhood.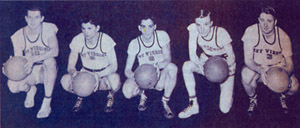 1942 Victory Parade: Shorty Hicks, Lou Kalmar, and Scotty Hamilton.
Printed in the Charleston Gazette, courtesy Hugh Hicks
In an extensive interview with the Charleston Gazette-Mail (March 11, 2012), Hugh Hicks gave writer Sandy Wells a detailed account of the 1942 NIT championship series. The Mountaineers were ranked eighth in a highly competitive eight-team tournament, but they got off to a good start by beating Long Island 58-49 in overtime. They went on to beat Toledo and ended up facing favored Western Kentucky in the final game. Behind at halftime, West Virginia tied the game at 40-40 with eight minutes left. When Western Kentucky pulled ahead by one point, the Mountaineers tied it again with a free throw. With just ten seconds left, a "scrappy little Mountaineer named Shorty Hicks stepped up to the foul line." Hugh Hicks said he knew Shorty would make the foul shot. West Virginia pulled ahead:Shorty became the hero of the game:and another WVU player made a foul shot, ending up with West Virginia winning the game, 47-45.
Even though he was named a College All-Star and held the West Virginia University season free throw percentage record (88.0%) for 60 years, Shorty's prowess did not end on the basketball court. A "tremendous student leader," he was voted president of the student body at the University and of Phi Delta Theta fraternity. He was a member not only of the Athletic Board but also of the prestigious Mountain, Sphinx, and lettermen's honoraries. Always active, he served as a proctor of Men's Hall. In 2005, he was named posthumously to the WVU Sports Hall of Fame. (Source: Shelly Poe, "Roger 'Shorty' Hicks," WVU Sports Hall of Fame, http://www.msnsportsnet.com/hallOfFame.cfm?func=viewProfile&hofID=91 [accessed Apr. 9, 2012].)
In September 1943, Lt. Roger "Shorty" Hicks headed overseas as a member of a platoon in the 328th Regiment, 26th Yankee Division, of General George S. Patton's Third Army. According to Hugh, on the night of November 10, 1944, the patrol Shorty was leading outside Metz, France, was pinned down by mortar fire, and Roger was killed. The War Department informed his parents about November 15, and his death was confirmed several weeks later. For his service, Lt. Hicks received the Purple Heart. The family had his remains returned to the States after the war, and Lt. Roger Louis "Shorty" Hicks was interred in Mt. Rose Cemetery at Moundsville, where he rests with several generations of his family.
All wars are fraught with irony, and there were numerous reasons Roger "Shorty" Hicks should not have been in harm's way. Hugh Hicks notes that Shorty's four years in ROTC at WVU qualified him to be an instructor, and he served in this role at Ft. Benning. Hugh says Shorty volunteered for combat, indicating, "He didn't have to go." At the time Roger was reported missing, the three remaining Hicks sons were also in the service; Staff Sgt. LeMoyne was stationed with the U.S. Army Signal Corps in Paris. Capt. Edmund served as an intelligence officer with the 15th Air Force in Italy, and Lt. Hugh, a navigator, also served in the 15th Air Force in Italy. Recalling that War Department policy allowed families in this situation to request that not all the sons be placed in jeopardy, Hugh noted that the four Hicks sons being in Europe at one time was "unnecessary." But he added, "Mother and Dad didn't fuss about it." Of the four, Roger, he said, was the only one who didn't come home.
An article in the Moundsville, West Virginia, Journal on May 30, 1945 ("Strange Story of Death of 3 Boys On Same Basketball Squad: Fate...?"), provides a sad footnote to the spectacular 1942 basketball championship. Within a couple of years, several of the teammates would lose their lives as a result of volunteering for military service. In addition to Shorty, George Rickey, a guard from North Bergen, New Jersey, fought in North Africa and was killed in the initial invasion of Italy. Charles Wilson (nicknamed "Beaver" by Shorty), the team manager, who like Roger Hicks hailed from Marshall County (McMechen), signed up for the Air Corps but was switched to the infantry before his preflight training. A machine gunner, he was killed in France two days after he came under enemy fire. Don Raese, one of the few subs on the 1942 squad and nephew of the Coach R. A. "Dyke" Raese, died on a training mission just after the end of the war. (And to add another terrible footnote, Don's brother:Cleon W. Raese, Jr.:also was a World War II casualty. Stationed in England, Cleon was killed in action on July 1, 1944.)
The three Hicks brothers who were fortunate enough to return from the conflict went on to lead interesting, productive lives. Lee, the oldest, became a supervisor of shipping at Fostoria Glass in West Virginia's northern panhandle. When that company folded, he put his expertise in shipping to work at the fabled Burdines department store, the largest chain in Florida, headquartered in Miami. Eddie came home to an academic career, graduating from Columbia University and later from the University of Kentucky with a Ph.D. degree. He, too, spent some time in Florida as a professor of history at the University of Miami, but he returned to be closer to his roots, becoming an administrator at Morehead State University in Kentucky. Hugh, the youngest, took a managerial position in the group insurance division of Aetna Life Insurance in Charleston. After a brief transfer to Reading, Pennsylvania, he returned to Charleston and ended up spending 38 years with the company. At the time of this writing (2012), Hugh is 90 years old. Although the Hicks family would be modest in revealing their accomplishments, they truly deserve to be counted among the Greatest Generation.
Family information and pictures provided by Roger's brother Hugh D. Hicks. Article by Patricia Richards McClure
Honor...

West Virginia Archives and History welcomes any additional information that can be provided about these veterans, including photographs, family names, letters and other relevant personal history.
---
West Virginia Veterans Memorial