Remember...

Sterling Willard Hinchman
1895-1918

"One of the tragedies of the influenza epidemic is that by the 1910s, the medical profession held many of the scientific and epidemiological tools to understand the nature and extent of the damage influenza and pneumonia were wreaking on their patients, but lacked the tools to effectively fight them."

Carol R. Byerly, The U.S. Military and the Influenza Pandemic of 1918-1919 (Public Health Report 2010, 125[3]: 82-91)
Sterling Willard Hinchman was the eldest son of George Washington Hinchman and Lottie Lee Pritt Hinchman. His grandfather, Joseph Hinchman, was a veteran of the Civil War, having served in the 10th Virginia Infantry. Sterling's parents were married in Randolph County, West Virginia, on January 27, 1895. Sterling was born on November 21, 1895, at Beverly in Randolph County. The family included two other sons, Wilford Jacob and Clay Fredrick, and a daughter, Mary Lela, who died as an infant.
Lottie Lee Hinchman died on November 2, 1905, and is buried in the Stalnaker Cemetery at Elkins, West Virginia. The 1910 U.S. Federal Census lists George Hinchman and his three sons living with Lottie's parents, J.H. Pritt and Mary E. Pritt. George was employed as a railroad policeman.
The 1920 census lists George Hinchman as a mail carrier for the U.S. government. He was remarried to Amanda Shannon Hinchman, and they were parents of a young daughter, Mary Madeline. Amanda died on June 19, 1923, and was also buried in the Stalnaker Cemetery at Elkins.
George was enumerated with a third wife, Maude Leona Hanlin Hinchman, in the censuses of 1930 and 1940. That marriage produced a young son, George D. Hinchman. George W. Hinchman died on January 1, 1952. His wife, Maude L., died in 1964 and was buried near her husband in Elkins Memorial Gardens.
Sterling Willard Hinchman registered in the initial World War I draft on June 5, 1917. Sterling claimed no dependents or exemptions from the draft. He was described as short and stout and his registration form stated he had dark brown eyes and dark brown hair, but it was also noted he was bald. His declared his occupation was "brick burner" for the Elkins Brick Company. A brick burner is the worker in a brick works in charge of the kiln. He is responsible for ensuring the correct temperature during the firing of bricks. A West Virginia death record indicates Sterling was married, but at the time of his draft registration, he declared he was single, and no marriage record has been found; thus it appears the death record is in error.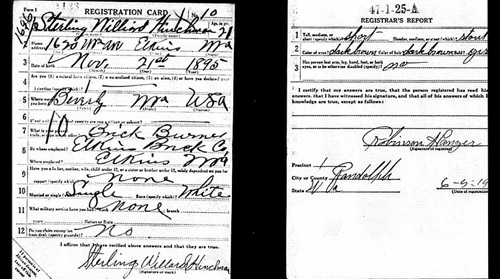 When called into service in the U.S. Army, Sterling Hinchman was sent to Camp Colt for recruit training as a tank soldier prior to deployment to England and France. Camp Colt was named in honor of Samuel Colt, inventor, industrialist, and the founder of Colt's Patent Fire-Arms Manufacturing Company. The camp was established in March 1918 near Gettysburg, Pennsylvania. Private Hinchman was assigned to the 380th Tank Corps Company.
| | |
| --- | --- |
| | A quarantine was implemented on September 30, 1918, at Camp Colt because of the flu pandemic that gripped the country. By the 10th of October, 192 soldiers from the tank corps had died. Pvt. Hinchman's military career and his life were abruptly halted when he succumbed to pneumonia resulting from Spanish flu on October 4, 1918, after having been at Camp Colt for only 23 days. |
| | |
| --- | --- |
| On October 7, 1918, Pvt. Sterling Willard Hinchman was interred next to his mother and infant sister in the Stalnaker Cemetery at Elkins, West Virginia. | |
Article prepared by Leon Armentrout
May 2015
Honor...

West Virginia Archives and History welcomes any additional information that can be provided about these veterans, including photographs, family names, letters and other relevant personal history.
---
West Virginia Veterans Memorial