Remember...

Charles David Hoffman
1948-1970

"Charles was hard-working and conscientious in all that he did, and his personal courage on the battlefield won him the respect of all the officers and men in the Company."
| | |
| --- | --- |
| Charles David Hoffman was named for both of his grandfathers. Although his first name was Charles, his friends and family knew him as David. He was born in Nitro, West Virginia at the family doctor's clinic on July 7, 1948, the son of Jesse and Lavania Hoffman. At an early age, he took an interest in nature and hunting and fishing. He enjoyed deer hunting, coon hunting with his dad and friends, and hunting ground hogs with his grandfather. | Fishing trip before going into Army, 1969 |
| | |
| --- | --- |
| Nitro High School Band, 1965 | He lived his entire life in the town of Nitro, attending grade school and junior high there, and graduating from Nitro High School in 1966. David attended Rock Branch Independent Church near Nitro, and participated in church activities, church Christmas plays, ball games, and picnics. One year, David was pianist for the Vacation Bible School program. David was an accomplished musician on the trumpet and the piano. He loved Al Hirt, the famous trumpet player; Herb Alpert and the Tijuana Brass were another favorite of his. He also played the harmonica, and took it with him to Vietnam. Some of his buddies said he would drive them nuts playing the harmonica. After attending Marshall University for nearly two years, David transferred to West Virginia State College, closer to home, where he served in the Reserve Officer Training Corps (ROTC) program. |
| | |
| --- | --- |
| In 1970, David's Military Draft Lottery Number came up as #50. He put aside his education and joined the Army, thinking he would complete his service and come home to finish his education. He attended basic training at Fort Jackson, South Carolina, and was then sent to Fort Polk, Louisiana for advanced training in jungle warfare. David graduated at the top of his class in Rifle and Marksmanship. | July 1970, prior to leaving for Vietnam. Left to right: David, sister Mary, and parents |
| | |
| --- | --- |
| Vietnam, 1970 | In July of 1970, David was sent to Vietnam. He was assigned to the 101st Airborne Division, "The Screaming Eagles," Charlie Company, 1st Battalion, 327th Infantry, 1st Brigade. Shortly after his arrival in Vietnam, David was chosen to carry the radio for his platoon. |
| | |
| --- | --- |
| On November 4, 1970, 16 miles southwest of Hue, his platoon was ambushed by the Viet Cong, coming under intense hostile rocket-propelled grenade, automatic weapons, and small arms fire. David was wounded during the initial moments of contact. Although David was located in an exposed area, he immediately established communication with another platoon and informed them of the situation, trying to get help for his own platoon. Despite being repeatedly shot by hostile automatic weapons fire, David ignored his wounds and radioed for medical evacuation helicopters. He maintained communications with the approaching reinforcements until the eventual loss of blood from his own wounds resulted in his death. He was just 22 years old. | Medal presentation to parents of Charles David Hoffman |
| | |
| --- | --- |
| Parents of Charles David Hoffman | David received posthumously the Silver Star for gallantry in action, Bronze Star, Purple Heart, Good Conduct Medal, and the Combat Infantyman Badge. He was also awarded the Military Merit Medal, the Government of Vietnam's equivalent to our Silver Star. Prior to his death, David had been awarded the Nation Defense Service Medal, Vietnam Service Medal, Vietnam Campaign Medal, and the Expert Badge with automatic rifle, machine gun, and pistol bars. Despite the passing of time, he remains in the hearts and minds of family and friends. |
Honor...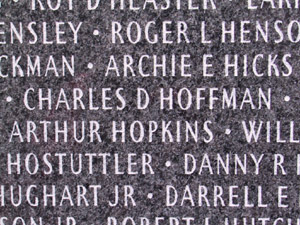 West Virginia Archives and History welcomes any additional information that can be provided about these veterans, including photographs, family names, letters and other relevant personal history.
---
West Virginia Veterans Memorial