Remember...

Kenny Huffman
1892-1918

"I keep such music in my brain
No din this side of death can quell;
Glory exulting over pain,
And beauty, garlanded in hell."

Siegfried Sassoon, poet of The Great War era
Army Private Kenny Huffman was born at Riverton, Pendleton County, West Virginia, on July 4, 1892. His parents were Martin Van Buren Huffman and Mary Bland Huffman, who were married on June 30, 1888, in Pendleton County. Six years after their marriage, and two years after Kenny's birth, Mary died on March 29, 1894, two days after giving birth to twins, Gordon Dayton and Blosser Johnson.
Martin was enumerated in the 1900 census in the household of his father, Job Huffman, along with sons Okey, Dockey, and Kenny. His twin sons had been placed in homes with other relatives. On March 1, 1907, Martin married Hannah Wolford in Tucker County, West Virginia. Their daughter Nela was born in February 1910. Martin died in 1936 as a result of being thrown from a horse.
| | |
| --- | --- |
| Kenny's brother Dockey died in 1913. Kenny and his surviving brothers, Okey, Blosser, and Gordon, responded on June 5, 1917, to the first call to register for the World War I draft. Their draft registrations showed that they were all farmers. Kenny registered in Tucker County, West Virginia. He was described as single, of medium height and build, and had brown eyes, dark hair, and was "weak breasted." He claimed an exemption from the draft because he had as dependents his father and his half-sister. | |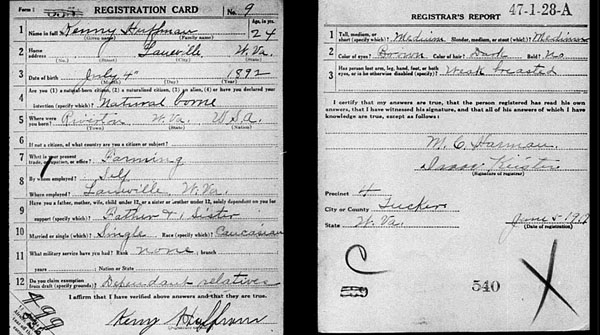 Okey Huffman registered in Randolph County, West Virginia. His registration indicated that he was tall, of medium build, and had brown eyes and dark hair. He claimed exemption from the draft because he was married with four children.
Blosser Huffman registered in Tucker County and claimed exemption because he had a wife and a child. He was tall, of medium build, and had blue eyes and dark hair. He claimed to be disabled because he had heart trouble.
Gordon Dayton Huffman registered for the draft in Pendleton County, West Virginia. He claimed exemption from the draft because he had two old people to support. Gordon was tall, of medium build, and had blue eyes and light-colored hair. Gordon was the grandfather of Lynn M. Alex, who has provided the civilian picture of Kenny.
Kenny Huffman was called to serve in the U.S. Army in Company H of the 320th Infantry Regiment, which was part of the 160th Infantry Brigade. This brigade, along with the 155th Artillery Brigade and the 159th Infantry Brigade, was assigned to the 80th Division as part of the 3rd Army Corps.
The 80th Division, known as the "Blue Ridge" Division, was formed in August 1917 at Camp Lee, Virginia. It was made up of men mostly from Pennsylvania, Virginia, and West Virginia. They were sent overseas in June 1918 and participated in the Battle of Saint Mihiel in the Lorraine region of France during September 12 through 15, 1918.
Commencing on September 26, 1918, and lasting until the armistice was signed on November 11, the 80th Division was engaged in combat in the Battle of Meuse-Argonne in the Argonne Forest of northeastern France. The objective was to repel the Germans eastward from the Hindenburg Line in order to deny them access to important rail lines that were supplying the German front. During the six weeks' confrontation, 27,277 Americans were killed and 95,786 were wounded. On the initial day of the Battle of Meuse-Argonne against German forces, Pvt. Kenny Huffman was killed in action
| | |
| --- | --- |
| | The remains of some World War I troops were buried several times:first in battlefield graves, then in U.S. cemeteries in Europe, and finally in the United States. At the conclusion of the war, France banned the removal of bodies for reburial. Then in 1920, the French allowed the United States to repatriate the bodies of American soldiers for reburial. The remains of 46,000 war dead were returned to the U.S. at a cost of over $30 million. Among them was Pvt. Kenny Huffman, whose remains were returned to Tucker County, West Virginia, to his final resting place in the Huffman Family Cemetery. |
Article prepared by Leon Armentrout
January 2015
Honor...

West Virginia Archives and History welcomes any additional information that can be provided about these veterans, including photographs, family names, letters and other relevant personal history.
---
West Virginia Veterans Memorial