Remember...

Lester Fairfax Hughes
1896-1918

"At eleven o'clock this morning came to an end the cruellest and most terrible war that has ever scourged mankind. I hope we may say that thus, this fateful morning, came to an end all wars."

David Lloyd George, 11 November 1918
Lester Fairfax Hughes was born at Davis, Tucker County, West Virginia, on February 26, 1896. His father, Henry MacClellan "Mack" Hughes, was a farmer and was married in Tucker County to Ida Frances Henry, daughter of Peter Napoleon Henry and Louisa A. Merchant. Henry and Ida had three children: Lester Fairfax, Ora Frances (married to Louis Buffington Holcomb), and Luther Napoleon.
Davis is a small town in Tucker County, West Virginia, at the confluence of Beaver Creek and the Blackwater River. It was named for Henry Gassaway Davis, whose railroad, the West Virginia Central and Pittsburg, was extended in 1884 to the area to transport lumber and coal to Elkins, West Virginia, and Oakland, Maryland. By 1900, the local businesses included the Jacob L. Rumbarger Lumber Company and the Fayweather & Ladew Tanning Company. During the 1920s, local businesses included the Blackwater Lumber Company, the Beaver Creek Lumber Company, the U.S. Leather Company, the West Virginia Pulp and Paper Company, and the Davis Coal and Coke Company.
By 1910, the Henry MacClellan Hughes had relocated his family to the Southampton Township of Bedford County, Pennsylvania. They were living in the household of Ida's father, Peter Napoleon Henry. Lester was 13 years of age and was working as a laborer on his grandfather's farm.
By June 5, 1917, when he registered for the World War I draft, Lester Hughes was living in East Pittsburgh, Pennsylvania, and was employed as a machinist apprentice at the Westinghouse Electric and Manufacturing Company.
World War I, the "War to End All Wars," began in 1914 when a Serbian nationalist assassinated the heir to the Austrian-Hungarian throne. On April 6, 1917, following the sinking of American merchant ships by German submarines and an attempt by Germany to engage in a military alliance with Mexico, President Woodrow Wilson reluctantly committed the United States to join the Allied countries in the war against Germany. When the call for volunteers failed to produce the needed one million troops to support the war effort, the Selective Service instituted a draft with the first registration on June 5, 1917, for all men between the ages of 21 and 31.
On his World War I draft registration, Lester Fairfax Hughes declared that he was single and a Caucasian with no dependents and no physical disabilities. He was described as being of medium height and medium build with gray eyes and brown hair.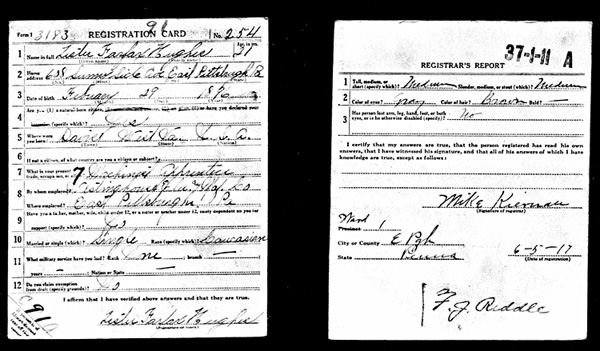 On September 22, 1917, Lester F. Hughes was inducted into the U.S. Army at East Pittsburgh, Pennsylvania. He was assigned to Company 6, Training Battalion, Depot Brigade at Camp Lee, Virginia. On October 17, 1917, he was transferred to Infantry Supply Company 315 until January 3, 2018. During that time, he received a promotion to sergeant. In January 2018, he was sent to Ordinance Motor Section Instruction School in Peoria, Illinois, until April 16, 2018, at which time he was permanently assigned to Ordinance Detachment, 319th Field Artillery, 157th Field Artillery Brigade, 82nd Division of the 1st Army Corps.
| | |
| --- | --- |
| | On May 19, 1918, Sgt. Lester F. Hughes departed from New York aboard the troop ship SS Lapland for duty in France. His unit participated in the Battle of Saint Mihiel and the Meuse-Argonne Campaign. During the Meuse-Argonne Offensive, which lasted from September 26 until the Armistice on November 11, 1918, 26,277 American lives were lost. Sgt Hughes died on October 31, 1918, from wounds received in battle. While the West Virginia Adjutant General's report lists Lester Hughes' burial in Davis Cemetery in Tucker County, other evidence supports a burial in the Meuse-Argonne Cemetery in France, where a cross marks the grave. (Information on the American Battle Monuments Commission website indicates he is buried in Plot B, Row 13, Grave 13 in the Meuse-Argonne American Cemetery, Romagne-sous-Montfaucon, Departement de la Meuse, Lorraine, France.) Further support for this burial lies in the fact that in 1931 his mother made the Gold Star Pilgrimage to France to visit her son's grave. |
Sgt. Lester F. Hughes' mother, Ida F. Henry Hughes, was invited by the U.S. government to participate in the Pilgrimage of Mothers and Widows of Soldiers interred in Cemeteries in Europe. She departed from New York aboard the steamship George Washington on July 29, 1931, to visit the grave of her son in the Meuse-Argonne Cemetery in France. She returned to New York on August 19, 1931, aboard the steamship President Harding.
Article prepared by Leon Armentrout
June 2019
Honor...

West Virginia Archives and History welcomes any additional information that can be provided about these veterans, including photographs, family names, letters and other relevant personal history.
---
West Virginia Veterans Memorial