Remember...

Rueben Gideon Kirk III
1971-1991

"America without her Soldiers would be like God without His angels."

Claudia Pemberton
Rueben Gideon Kirk III was born on October 1, 1971, in Huntington, West Virginia, and grew up in the small town of Dunlow, Wayne County, West Virginia. His father was Rueben G. Kirk Jr. (1947-2014) and his mother was Connie Belle Santmyre Justice. Rueben, who was often referred to as "Skip," was the second of three children, as he had an older sister, Theresa (O'Brien), and a younger brother, Robert. Robert C. Kirk, known as Bobby (1972-2013), became an auto mechanic and lived in Wayne, West Virginia. Skip came from a family with a legacy of serving in our nation's Armed Forces. His father was in the Army and served in the Vietnam War, and his grandfather served in the Navy during World War II. Skip's father was a graduate of Marshall University and worked for the U.S. Postal Service in and around the Huntington area. Faith and Christianity were the pillars of his family's values that played a big part of his life and guided his way of living by giving back to others.
| | |
| --- | --- |
| Skip attended public school in the Fort Gay District, where he attended Crum High School before it was consolidated with Tolsia High School. While at Crum High School he played football, and at Tolsia High School he was a member of the marching band, where he played the saxophone. In 1989, he won the Wayne County Short Story Contest, and later that year he graduated from Tolsia High School with very high honors and became a member of the National Honor Society. As a teenager, he was very involved with his community by being part of the Civil Air Patrol, the 4-H, the Boy Scouts, and a member of the Presbyterian Church in Dunlow. In his free time, he volunteered for church camp projects that went out into the community repairing homes for the elderly. "Growing up, he always wanted to join the military and was very patriotic," according to his vice principal, David Sammons. After serving in the military, his goal was to be a physics teacher. Following in the footsteps of his father and grandfather, Skip enlisted into the U.S. Army on October 26, 1989, as a 13F - Forward Observer. He attended Basic and Advanced Individual Training at Ft. Sill, Oklahoma. After his training, Private First Class Kirk was assigned to the 1st Infantry Division (the "Big Red One"), 4th Brigade, 25th Field Artillery, Delta Battery stationed at Ft. Riley, Kansas. Shortly after arriving in Kansas on November 10, 1990, he would marry, Cynthia Linville. | |
On January 16, 1991, President George H. W. Bush announced the start of what would be called Operation Desert Storm-a military operation to expel occupying Iraqi forces from Kuwait, which Iraq had invaded and annexed months earlier. For weeks, a U.S.-led coalition of 34 nations had positioned more than 900,000 troops in the region, most stationed on the Saudi-Iraq border. Prior to Operation Desert Storm, the U.S. led a nearly six-month build-up of weapon systems in Southwest Asia that began immediately following the invasion of Kuwait on August 2, 1991. That effort was known as Operation Desert Shield. A U.N.-declared deadline for withdrawal passed on January 15, with no action from Iraq, so coalition forces began a five-week bombardment of Iraqi command and control targets from air and sea. Despite widespread fears that Iraqi President Saddam Hussein might order the use of chemical weapons, a ground invasion followed in February. Coalition forces swiftly drove Iraq from Kuwait, advancing into Iraq, and reaching a cease-fire within 100 hours-controversially leaving Saddam Hussein in power. While coalition casualties were in the hundreds, Iraqi losses numbered in the tens of thousands.
As part of the general mobilization for this conflict that fall, the 2nd and 5th Battalions, 16th Infantry, were alerted for deployment on 8 November 1990. The battalions deployed to Saudi Arabia soon after with the rest of the 1st Infantry Division (Mechanized) as part of Operation Desert Shield. In a 100-hour war, the Big Red One would cut its way through the initial Iraqi defenses, engage and destroy parts of at least four Iraqi divisions, fight a major tank battle in the middle of the desert, destroy hundreds of Iraqi combat vehicles, and capture thousands of Iraqi soldiers. At the end, the division was selected to be the security force for the Safwan Airfield, where the negotiations between coalition forces and Iraqi leaders were held to finalize the cease-fire agreements.
| | |
| --- | --- |
| | Two months later in Saudi Arabia, as Skip's unit was moving to the front lines, the Army truck that he was riding in was struck by a civilian tractor-trailer rig killing him on January 29, 1991; he was only 19 years old. He was the first West Virginian non-combat casualty of the Desert Storm War. Skip's remains were returned to the U.S., where a funeral service was held followed by his burial at Justice Cemetery in Genoa, Wayne County, West Virginia, on February 6, 1991. |
According to Cynthia Colegrove, she remembers some of the letters that Skip wrote to her stating the following: "I plan to make the Army a career. I am fiercely loyal to the United States and would gladly die to protect it, my God, my family and my friends. I live for the military and have great personal honor, courage, and strength. I am a Christian. I admire an honest person, who is a die-hard American. I am strong, confident, and proud. I was born free. I have been living free. I am free now and I swear that my children will know freedom and life, so help me God. My goal is to be the best soldier I can be."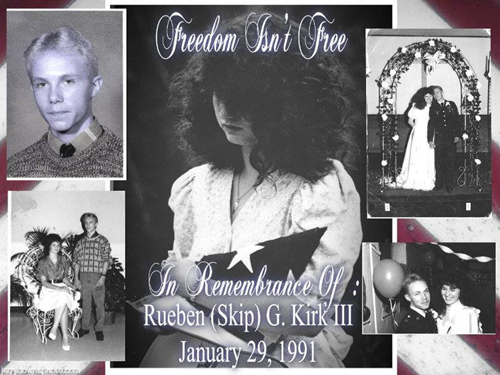 Pfc. Rueben "Skip" G. Kirk III is remembered and memorialized on the Middle East Conflicts Wall Memorial on Panel 4 Row 29, which is located at 200 Riverfront Drive in Marseilles, Illinois, just 90 miles from Chicago. He is also remembered on a memorial honoring the soldiers of the 1st Infantry Division who died in Desert Storm, which was dedicated on Memorial Day 1995 at the First Division Monument in Washington, D.C. The bronze plaque included the names of seventeen men and one woman of the 1st Infantry Division from Ft. Riley, Kansas, plus eight soldiers and one contract civilian of the 2nd Armored Division from Garlstedt, Germany, who were attached to the 1st Infantry Division. Pfc. Kirk is also memorialized at the West Virginia Veterans Memorial located in Charleston, West Virginia. Every year at Tolsia High School during Senior Awards, there is a scholarship awarded to a deserving senior in his honor.
Under a picture of the dedication stone for Gulf War Veterans at Arlington National Cemetery, the VII Corps Desert Storm Veterans Association has written, "We Won't Forget, Ever!" That picture and caption has been the cover for every Memorial Service conducted in remembrance of the VII Corps soldiers who died in the service of our nation. That little phrase "We Won't Forget, Ever!" is not a statement of fact or of history; it is a statement of their mission. Remembering these "heroes proved in liberating strife" is part of what unites the VII Corps Desert Storm Veterans Association. In a very real way, we dedicate what we do to them. May remembering them by name inspire us all to honor them by what we do together.
Article prepared by MAJ (Ret) T. Brad McGee, George Washington High School JROTC
August 2019
Honor...

West Virginia Archives and History welcomes any additional information that can be provided about these veterans, including photographs, family names, letters and other relevant personal history.
---
West Virginia Veterans Memorial