Remember...

Albert Kyle Lambert
1896-1918

"Rest in peace brave soldier, you have not been forgotten."

William Shakespeare
Albert Kyle Lambert was born at Mount Solon in Augusta County, Virginia, on February 21, 1896. (The West Virginia Adjutant General record indicates a birth date of 1894, while his World War I enlistment record shows 1895, which could easily have been a clerical error. We are reminded that the recording of birth information was less precise in that era, and because he was born in Virginia, no West Virginia birth information is available.) His parents, who were married on April 22, 1895, in Augusta County, were John Marshall and Annie Dora Todd Lambert.
On July 14, 1896, Albert's mother, Annie, died and was buried in the Mt. Olivet Church Cemetery at Mount Solon. In the 1900 U.S. Census for Huttonsville in Randolph County, West Virginia, Albert's father, John, was enumerated as a widower and a boarder in the household of William J. Marteney.
John Marshall Lambert and Rachel Ann Currence were united in marriage in Randolph County on October 19, 1900. This marriage is reflected in the 1910 Census, where John is listed with Rachel and four children, Albert's half-siblings. It is unclear where Albert was living at the time of the 1900 and 1910 census enumerations. John Marshall and Rachel's family eventually came to include the following: Cora Lee (married names: Howard, Markley, Shields), Rada May (Mrs. Lenville Anson Howard), Phallie Margaret (Mrs. Elmer C. Burnett), Effie Ray (Mrs. Parley Thurman Currence, Mrs. Kenneth Woodroe Taylor), Miner Ketchem, Floyd Mitchell, Lutie, Edna Francis (Mrs. Fremont Prime), and John Alexander.
Following the sinking of American merchant ships by German submarines, the United States declared war against Germany on April 6, 1917. When the call for volunteers failed to produce the needed one million troops to support the war effort, the Selective Service instituted the draft with the first registration on June 5, 1917, for all men between the ages of 21 and 31. Albert Kyle Lambert registered in Randolph County for the World War I draft on that date. Albert was employed as a farmer at that time on his father's farm at Mill Creek in Randolph County. His World War I draft registration card indicates that he was of medium height and medium build with blue eyes and light colored hair. He did not claim any exemptions from the draft.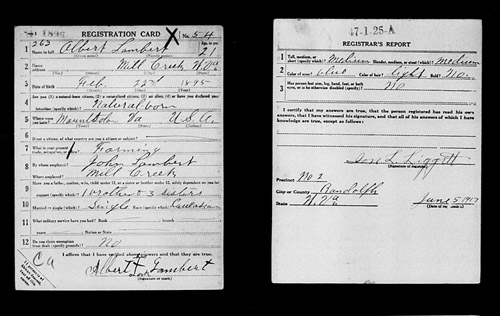 Albert Lambert entered the U.S. Army and was assigned to Company B, the 165th Infantry brigade of the 42nd Infantry Division. The 42nd Infantry Division, known as the "Rainbow Division," was organized on August 5, 1917, and was assembled at Camp Mills, Long Island, on September 13. It was composed of National Guard units from all areas of the United States. The division departed for France on October 18, 1917. They arrived at St. Nazaire on November 1 and trained in eastern France until mid-February.
The 42nd Division, under the command of the French Fourth Army, participated in the Champagne-Marne offensive on July 14, 15, and 16 in an effort to help turn back the massive German "Peace Assault" on Paris. It was there that the "Rainbow Division" earned the reputation as a fighting force.
On July 26 the 42nd Division engaged German forces in combat at the Croix Rouge Farm and on the Ourcq River in Picardy. During that campaign, which lasted until August 2, 1918, Private Albert K. Lambert was killed in action on July 28. The "Rainbow Division" suffered casualties of 184 officers and 5,469 men.
Some World War I troops were buried several times:first in battlefield graves, then in U.S. cemeteries in Europe, and finally in the United States. At the conclusion of the war, France resisted removing bodies for reburial, but in 1920 the French agreed to the return of American soldiers to the United States. The remains of 46,000 war dead were returned to the U.S. at a cost of over $30 million.
| | |
| --- | --- |
| | At the request of his family, the body of Private Lambert was returned to the United States in 1921 for burial near his father in the Lambert Family Cemetery at Mill Creek in Randolph County, West Virginia. Like so many tombstones of the era, Albert's is now deteriorating and is nearly unreadable, but, as the photo shows, his grave is tended and is also marked by a World War I medallion. |
On August 11, 1921, the Randolph Review ("Honors for Lambert") described the moving burial cemetery for Private Lambert thus:
Full military honors were accorded Albert K. Lambert of Mill Creek killed in action in August or September of 1918. The flag-draped casket reached here last Saturday and on Sunday a detachment of the American Legion composed of veterans from this and neighboring communities attended the funeral at Mill Creek and accorded the fallen soldier full military honors.

Albert K. Lambert was a son of John Lambert of Mill Creek. He entered the service in the fall of 1917 and was first assigned to Camp Lee. Afterwards he was transferred to Camp Shelby where he received his training, going [over] seas as a member of the 166th [sic] infantry. He saw some hard fighting and gave up his life for the cause at the height of the fighting in France.

Albert K. Lambert was tenderly laid to rest in the Lambert cemetery at Mill Creek, being borne to his last resting place by his late comrades in arms. There his body was committed to the grave and the final tribute of his fellow soldiers was given in three volleys, taps bringing an end to his mortal career.
Article prepared by Leon Armentrout, with editorial assistance of Patricia Richards McClure.
September 2015
Honor...

West Virginia Archives and History welcomes any additional information that can be provided about these veterans, including photographs, family names, letters and other relevant personal history.
---
West Virginia Veterans Memorial