Remember...

Lonzo Samuel Lipscomb
1895-1918

"No commander was ever privileged to lead a finer force; no commander ever derived greater inspiration from the performance of his troops."

John J. Pershing
U.S. Federal Census records of 1900 and 1910 for Tucker County, West Virginia, enumerated the second son of William Coleman Lipscomb and Sarah Margaret Montgomery Lipscomb as "Samuel A." or "Samuel E." The Tucker County birth register lists him as "Saul L. Lipscomb." He was born on June 24, 1895. In later years he adopted "Lonzo Samuel" as the name he chose to go by.
Lonzo's parents, William Coleman Lipscomb and Sarah Margaret Montgomery Lipscomb, were united in marriage on August 8, 1880, in Tucker County. To this union were born three sons and a daughter: Jacob Edger, Lonzo Samuel, Margaret Marie ("Maggie"; married name, Mrs. Walter Lee Henthorne), and Wayne Kenneth.
Sarah Margaret Lipscomb died on February 1, 1922, and was buried in the Fairview Church Cemetery in Tucker County. Following her death, William made his home with his son Jacob until his death on October 3, 1950. He, also, was buried in the Fairview Cemetery.
Following the sinking of American merchant ships by German submarines, the United States declared war against Germany on April 6, 1917. When the call for volunteers failed to produce the needed one million troops to support the war effort, the Selective Service Act of May 1917 instituted the draft with the first registration on June 5 for all men between the ages of 21 and 31. Lonzo Lipscomb, who was 21 years of age, registered for the draft in Tucker County. His registration card indicates that he was single, and he gave his occupation as "farmer" working for his father. He claimed no exemptions from the draft. His registration card showed that he was of medium height and medium build, with brown eyes and dark hair.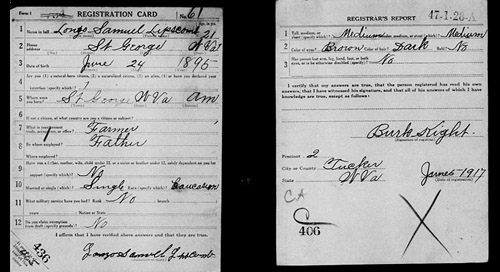 Lonzo's older brother, Jacob, also registered for the draft in Tucker County on June 5, 1917. He was married and was the owner of a farm at St. George in Tucker County. He claimed an exemption from the draft because of the necessity of supporting his wife, Cora Alice, and his daughter, Cleo Virginia. Jacob's draft registration shows him to be of medium height and medium build, with brown eyes and black hair.

When called into service, Private Lonzo Lipscomb was assigned to the 56th Brigade Infantry, which was part of the 28th Division of the 2nd Army Corps. The Division was originally formed as Pennsylvania's 7th National Guard Division but was reorganized as the 28th during training at Camp Hancock, Georgia, on October 11, 1918. The Division arrived in France on May 18, 1918, and participated in six major campaigns: Champagne, Champagne-Marne, Aisne-Marne, Oise-Marne, Lorraine, and Meuse-Argonne. During those campaigns, the Division suffered 14,139 battle casualties (2,165 killed in action and 11,974 wounded). General John J. Pershing gave the 28th the title of "Iron Division" because of its fierceness in combat.

On November 10, 1918, just one day prior to the Armistice agreement, Private Lonzo Samuel Lipscomb was killed in action at a place called Perry Ridge near Deuxville, in Meurthe-et-Moselle, Lorraine, France.

On December 12 the Parsons Advocate ("Killed in Active Service") carried a small notice of Pvt. Lipscomb's death, stating at the time: "Mr. Lipscomb was among one of the draft quotas from Tucker County which left here early in the summer. His home is in the St. George district and the young hero who so bravely and honorably made the supreme sacrifice on the battlefields for freedom and humanity's cause will long be remembered among his acquaintances as one [of] our county's best young men." A month later (16 Jan. 1919) the Advocate published a letter from Lonzo's captain in the 56th Infantry ("Official Notice Soldier's Death"). Captain Francis F. Woolfley (later a brigadier general) was a highly respected military officer whose career eventually spanned three wars: World War I, World War II, and Korea. Lonzo's father had dropped the letter off at the editor's office with permission to publish "for the benefit of all interested." Here is the letter in full:
Dear Sir:

Your son, Lonzo Lipscomb, who was a member of Company "M" 56th Inf., which I command was killed in action on November 10th, 1918.

There is little I can say or do that will lessen your sorrow, but I thought you would like to know that your son died bravely doing his duty, a true American soldier. Your son was always an excellent soldier and enjoyed at all times the friendship and respect of all members of his company. With that great courage and devotion to duty that characterized his daily life in the army, he has made the supreme sacrifice that enables us who are more fortunate to enjoy the peace that has come to us now.

We share in the loss of our comrade and brother-in-arms the grief you feel in the loss of your son. Accept our deepest sympathy in your bereavement.

Sincerely,
Francis A. Woolfley
Capt. 56th Infantry
Some World War I troops were buried several times:first in battlefield graves, then in U.S. cemeteries in Europe, and finally in the United States. At the conclusion of the war, France resisted removing bodies for reburial, but in 1920 the French agreed to the return of American soldiers to the United States. The remains of 46,000 war dead were returned to the U.S. at a cost of over $30 million.
At the request of his family, Private Lonzo S. Lipscomb's body was repatriated to the United States for burial among his parents and all of his siblings in the Fairview Cemetery at William in Tucker County, West Virginia.
Article prepared by Leon Armentrout
July 2015
Honor...

West Virginia Archives and History welcomes any additional information that can be provided about these veterans, including photographs, family names, letters and other relevant personal history.
---
West Virginia Veterans Memorial