Remember...

Murl Harvey Murphy
1923-1945

"In War: Resolution. In Defeat: Defiance. In Victory: Magnanimity. In Peace: Good Will."

Sir Winston Churchill
The Murphy family emigrated to America during the 1700s and settled in Virginia. Murl's great-great-grandfather, David Patrick Murphy was the founding elder of the Leading Creek Primitive Baptist Church at Montrose, West Virginia. Three of his sons fought for the Confederacy during the Civil War. One of them, Murl's great-grandfather Herbert P. Murphy, enlisted on May 31, 1861, in Company A of the 9th Virginia Infantry Battalion commanded by Lt. Col. George W. Hansbrough. In 1862, his outfit was merged with the Virginia 25th Infantry Regiment, Company A, known as the Upshur Grays, under the command of Col. John C. Higginbotham. During his time in service, Private Herbert Murphy saw action in the first organized land battle of the Civil War at Philippi in Barbour County on June 3, 1861. His unit participated in the Battle of Rich Mountain, Sharpsburg, Gettysburg, Fredericksburg, and other Virginia Valley Campaign conflicts under the command of General Jubal Early. He would not be the last of the Murphys to serve his homeland.
Stephen Harvey Murphy and Orpha Anna Bright Murphy were married on December 25, 1914, in Tucker County. Their five sons were Boyd L., Carl F., Roy D., Troy W., and Murl H. Murl Harvey Murphy was born on June 7, 1923, at Kerens, Randolph County, West Virginia. Murl and Roberta Lucele Heater, daughter of Thomas H. and Sarah N. Heater, were joined in marriage on November 19, 1942, at Kerens. Roberta Lucele was known by her middle name, often spelled Lucille, but official records, such as the couple's marriage record and her application for a military headstone for Murl clearly bear the signature Lucele. Murl and his bride became the parents of Bonnie Merle.
In the early 1940s, Murl worked in Baltimore, Maryland, at the Bethlehem-Fairchild shipyard. The shipyard was commissioned by the U.S. Federal Works Administration in 1940 for the production of Liberty ships. With the outbreak of World War II, it became the largest shipbuilding facility on the East Coast, and it produced 384 Liberty ships, 45 LSTs and 94 Victory ships. When the war ended, the shipyard was shut down.
On October 9, 1943, Murl enlisted as a private in the U.S. Army. His draft registration shows he was 5 feet, 5 inches, tall and weighed 146 pounds; was blond; and had blue eyes. U.S. Army World War II Enlistment Records, 1938-1946, indicate he was educated through grammar school and was a carpenter in his civilian occupation. He entered the service at Fort Meade, Maryland, and received additional training at New Cumberland Army Base, Pennsylvania, and Camp Seibert, Alabama. He was then stationed in France and assigned to Company B of the 18th Infantry Regiment, 1st Battalion, of the Third U.S. Army.
By the end of April 1945, Nazi forces had been defeated, and the Germans surrendered on May 8, 1945. At some point, Murl had been promoted to private first class. His unit remained in Germany as part of the Army of Occupation.
During his time in the Army, Pfc. Murl Harvey Murphy earned the following medals: the Bronze Star, the Good Conduct Medal, the American Campaign Medal, the European/African/Middle Eastern Campaign Medal, the WWII Victory Medal, the Army of Occupation Medal, the Presidential Unit Citation, and the Combat Infantry Badge.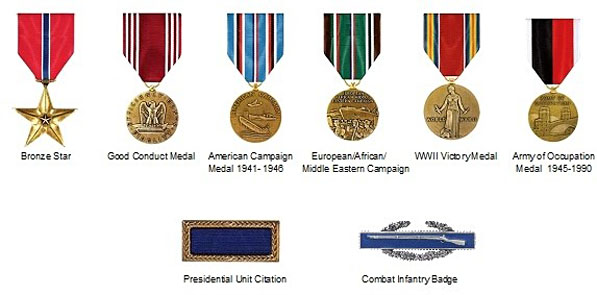 On August 2, 1945, Pfc. Murl H. Murphy was severely injured as the result of a gunshot. He died three days later on August 5, 1945, and was originally buried in Germany. In 1948, at the request of his family, his body was returned to Tucker County. Military rites were conducted by the General Garnett Post No. 4323 VFW of Parsons and the Cheat Valley Post No. 101 American Legion of Parsons, and he was laid to rest in the Parsons Cemetery on September 15, 1948.
Article prepared by Leon Armentrout
July 2017
Honor...

West Virginia Archives and History welcomes any additional information that can be provided about these veterans, including photographs, family names, letters and other relevant personal history.
---
West Virginia Veterans Memorial