Remember...

Howard Salathiel Myers
1895-1918

"Armistice Day

Bid them, bugles, sleep deep in their fame,
Knowing their loved land ever the same:
Seedtime and harvest, and sun and shower,
Linked in the might of a measureless Power,
A-march on the highway they made in the that hour:
Bearing their heritage on."

Karl Dewey Myers
Howard Salathiel Myers was born at Moore in Tucker County, West Virginia, on November 17, 1895. His parents, who were married in August of 1877, were Benjamin Franklin Myers and Mary C. Phillips Myers.
The family of Benjamin and Mary Myers consisted of the following children: Jeremiah C., Samuel Ira, Elzina M. (Mrs. Glen Douglas Coberly), Charles Edward, Amelia Jane, Millie, Howard Salathiel, and Karl Dewey.
Howard registered in Tucker County for the World War I draft on June 5, 1917, the date of the first registration for men between the ages of 21 and 31. He was described as single, tall, and slender, with gray eyes and light-colored hair. He gave his occupation as "laborer" for L.H. Wiebel in Hendricks, West Virginia, and he claimed an exemption from the draft because his mother and a crippled brother were dependents.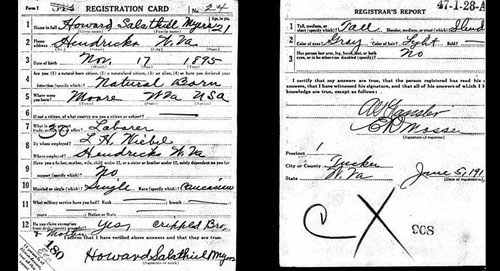 Howard's brother, Karl Dewey ("Duke") was born hopelessly deformed in 1899. He was denied the opportunity to attend public schools because of his crippled legs. He never weighed more than sixty pounds, and Howard transported him in his arms or on his back, as did several of his friends. "Dewey," as he became known, was self-educated and could recite the Constitution and the Declaration of Independence from memory. He established a reputation as a gifted poet and author. In 1927 Governor Gore named him the first poet laureate of West Virginia. When his older brother, Howard, was killed in France, Dewey suffered a deep depression that haunted him during the remainder of his life. Upon his death, he was buried in a pauper's grave in Elkins Memorial Gardens. A monument was erected by the Randolph County Historical Society to mark what was believed to be his gravesite. A monument was also placed in his honor in the Moore Family Cemetery in Tucker County, West Virginia.

Dewey Myers is a story unto himself, but worth telling here because the stories of siblings are inevitably intertwined. Despite his deformity, it appears he was a leader in his community. When his family moved to Hendricks, he formed the Jolly Club, a social and recreational group for young men that grew to comprise the majority of the town's male population. (Source: Cindy Karelis, "Remembering Karl Dewey Myers," Goldenseal 39:4 [Winter 2013]: 44.) Karelis continues:
But World War I dissolved Dewey's all-male club and quickly shattered his world when his revered older brother, Howard, was killed in the Meuse-Argonne Campaign late in the first year [sic] of conflict. Another brother, Charles, had died before Dewey was born, and a third, Ira, died in 1920.

Dewey's writing kept pace with the loss that continued when his mother's grief over the death of her children, particularly her soldier-son, led to ill health and her own eventual death in 1923.
Tucker County historian Homer Floyd Fansler and Karl Dewey Myers were fast friends. They had an agreement to write each other's biography, and Myers' story of Fansler's life is included in the latter's History of Tucker County (Parsons, West Virginia: McClain, 1962). Mention of the Myers family is woven throughout the History.
Several of the poems in Dewey's first collection, The Quick Years (Charleston: West Virginia Publishing Company, 1926), would seem to address his brother's death in the war. One is "Armistice Day," while another is "The Badge Paramount" (pp. 82-3).
The Badge Paramount
Now these who wear no silver shoulder-bar,
Nor Croix de Guerre, nor silken ribbon, red,
Who only followed on where duty led,
Not spurring on the quest of sash and star,
What have these left, who sleep so very far?
Crosses of honor guarding each low bed,
And stars of gold, whose gleam, sublimely shed,
Shall fall consoling where life's shadows are?
Nay, more than these; wherever springtime skies
Smile, and love's emblematic gardens flower;
And children laugh through every golden hour,
And women walk with quiet in their eyes,
No more dishonored and no more afraid:
There is their laurel and their accolade.
When Howard Salathiel Myers was called into service, he was assigned to Company K, 127th Infantry Regiment, 64th Brigade Infantry, 32nd Division. The 32nd Division was organized in September 1917 at Camp MacArthur in Waco, Texas. During the period between January 19, 1918, and March 12, 1918, the units of the 32nd shipped out from Hoboken, New Jersey, and were sent to a training unit with headquarters at Prauthoy, Haute-Marne, in France. They were designated as a replacement unit, but on May 15, 1918, were reclassified as a combat unit and were moved to Alsace, where they held a front-line sector until they were relieved by a French unit on July 21, 1918.
On July 30, 1918, the 32nd Division relieved the 3rd Division in the Aisne-Marne offensive. They broke the German line of resistance on the Ourcq (see The Battle of the Ourcq River) and drove the enemy back to the heights of the Vesle (River) sector. On August 28, 1918, the 32nd took up positions on the frontline northeast of Soissons as a part of the French 10th Army, where they aided the French in outflanking the German line on the Chemin-des-Dames. It was during that period that Private Howard Salathiel Myers was killed in action in the Meuse region of France on October 15, 1918. The West Virginia Adjutant General's record of Private Howard Myers' service lists "Dewy Myers" as Howard's next of kin. Fansler writes: "On the same day that he was killed, his uncle Michael T. Myers (1838-1918), a Confederate veteran of the 62nd Virginia Infantry, died" (p. 518).
Some World War I troops were buried several times:first in battlefield graves, then in U.S. cemeteries in Europe, and finally in the United States. At the conclusion of the war, France resisted removing bodies for reburial, but in 1920 the French agreed to the return of American soldiers to the United States. The remains of 46,000 war dead were returned to the U.S. at a cost of over $30 million. Pvt. Howard Salathiel Myers' body was returned to the United States and reinterred in the Moore Cemetery, Tucker County, West Virginia.
Article prepared by Leon Armentrout, with assistance from Patricia Richards McClure
July 2015
Honor...

West Virginia Archives and History welcomes any additional information that can be provided about these veterans, including photographs, family names, letters and other relevant personal history.
---
West Virginia Veterans Memorial