Remember...

Sainto Nicola
1889-1918

"So I must really say that the British food blockade and the American blow in the Argonne decided the war for the Allies..Without the American troops and despite a food blockade.the war could have ended in a sort of stalemate."

Paul von Hindenberg, German World War I military commander and later president
Gioiosa Ionica is a small town near the east coast of Calabria, Italy, which in 2007 had approximately 7000 inhabitants. Sainto Nicola was born on November 26, 1889, in the town whose name means "joyous." On November 30, 1900, Sainto Nicola, his sister Catarina, and his father P. Campisano Nicola boarded the ship Kaiser Wilhelm II at Naples and sailed for America. They arrived at the port of New York on December 15, 1900. Their passage was paid by a brother of Sainto already in America. The immigration status of his mother is uncertain, although his World War I draft registration indicates that she was a dependent of Sainto, and therefore presumably living in the United States.
The rural area in the southern part of Italy was home to poor families with little hope of a better life. Their lives had been devastated by years of natural disasters, disease, social disorder, and extreme poverty. When transatlantic transportation became more affordable, many Italians opted for better opportunities in America. More than two million Italian immigrants came to America in the period between 1900 and 1910. Most of them arrived at Ellis Island. By 1920, the Italian immigrant population in America exceeded four million, representing about 10 percent of America's foreign born population.
Following the sinking of American merchant ships by German submarines, the United States declared war against Germany on April 6, 1917. When the call for volunteers failed to produce the needed one million troops to support the war effort, the Selective Service instituted a draft, with the first registration on June 5, 1917, for all men between the ages of 21 and 31. In 1917, when he registered for the World War I draft, Sainto Nicola was working as a coal miner for the West Virginia Coal and Coke Company at Harding in Randolph County, West Virginia. In his registration form he claimed his father and mother as dependents. He was of medium height, medium build, had brown eyes and chestnut hair, and was not yet a citizen of the United States.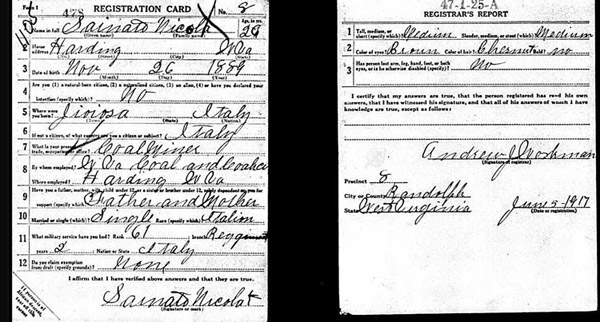 When Sainto Nicola was ordered to report for duty in the U.S. Army, he was assigned to Company M of the 128th Infantry Regiment, which was part of the 32nd Division, a National Guard unit that had been reorganized in September 1917 at Camp MacArthur in Waco, Texas. Following a period of training, the 32nd Division embarked from Hoboken, New Jersey, in early 1918 for service in France as a replacement unit. On May 15, the status of the 32nd was changed to a combat unit, and they moved to the front line sector near Belfort in Alsace. In July they engaged the enemy during the Aisne-Marne offensive. On September 20, they relocated to the Meuse-Argonne front. By the signing of the Armistice on November 11, the 32nd Division had suffered the loss of 2,898 men killed in action. There were 10,986 men who were wounded and 156 men taken prisoner.
| | | |
| --- | --- | --- |
| | On October 14, the 32nd Division was the first Allied Army unit to penetrate the Hindenburg Line. On that day Private Sainto Nicola lost his life during battle with German forces. Sainto was probably buried where he fell on the battlefield, but later disinterred and reburied at Plot C, Row 14, Grave 19 in the Meuse-Argonne American Cemetery at Romagne-sous-Montfaucon, France. | |
Article prepared by Leon Armentrout
August 2016
Honor...

West Virginia Archives and History welcomes any additional information that can be provided about these veterans, including photographs, family names, letters and other relevant personal history.
---
West Virginia Veterans Memorial