Remember...

Hubert Monroe Phares
1894-1918

"We were preparing not only peace, but eternal peace. There was about us the halo of some divine mission. We were bent on doing great, permanent noble things."

Harold Nicolson
Army Private Hubert Monroe Phares was born on November 29, 1894, at Cassity, West Virginia, an unincorporated village about eight and a half miles west of Beverly in Randolph County. His parents were George Lee Phares and Nancy Alice Snyder Phares, who were married on November 29, 1888, at the home of the bride in Upshur County. In Cassity, Hubert grew up in a family of nine that included three sisters and five brothers. They were Jessie Merle (Mrs. Leroy Valentine Simmons), Virgil Marley, Okey Blaine, Ephraim H., Lestie Leo, Beatrice Jane (Mrs. John D. Weese), Harold Maurice, and Goldie Lucinda (Mrs. Charles J. White).
Hubert Phares was working as a fireman on the Western Maryland Railway and residing in Ridgeley, West Virginia, at the time of his registration for the World War I draft in Cumberland, Allegany County, Maryland, on June 5, 1917, the initial date of registration for the war. His enlistment record indicates that he was unmarried and states he was tall and of slender build. Hubert claimed no exemptions from the draft. Hubert's brother, Virgil Marley Phares, registered for the draft on August 24, 1918, in Elkins, Randolph County, West Virginia. He was employed by his father at the time and was described as tall and slender, with brown eyes and brown hair. Younger brother Okey Blaine Phares registered for the draft on September 12, 1918, also at Elkins. He gave his occupation as a farmer, and his draft registration shows he was of medium height and medium build and had brown eyes and black hair.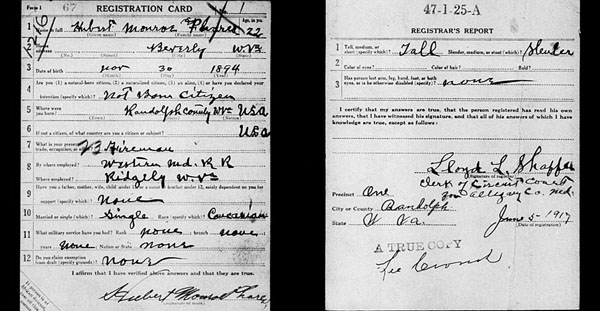 When called up for service in the U.S. Army, Hubert Phares was assigned to Battery D of the 21st Field Artillery Regiment. This regiment was organized in June 1917 at Camp Wilson, Texas. In December of 1917, the 21st was assigned to the 5th Army Division.
The following diagram of the unit structure of the American Forces during World War I includes the group to which Pvt. Hubert Phares was assigned:
American Expeditionary Forces

3rd Army Corps

5th Division

9th Brigade Infantry
10th Brigade Infantry
5th Brigade, Field Artillery

19th Field Artillery Regiment
20th Field Artillery Regiment
21st Field Artillery Regiment
5th Trench Mortar Battery

Engineer Troops - 7th Regiment
Signal Troops - 9th Battalion
Division Units - 5th Division Headquarters Troop; 13th Machine Gun Battalion
On June 1, 1918, the regiment sailed from Halifax on the SS Birma and arrived in France on June 19. After a brief period of training, the 21st Field Artillery Regiment joined up with the 5th Division in the St. Die Sector (Lorraine). On August 17, the 21st began an artillery bombardment on Frapelle in Lorraine. In spite of the fact that the German resistance was quick and fierce, the village of Frapelle was liberated two and one-half hours later after four years of occupancy by the Germans. A massive bombardment of the Americans was undertaken by the Germans, lasting three days and nights, but the German counterattack on August 18 failed.
Pvt. Hubert Phares' war record in the West Virginia Adjutant General's office indicates he died of wounds, which it could be assumed he acquired during the battle of Frapelle. However, other sources make it seem more likely that Pvt. Hubert Phares, like so many of his fellow soldiers, developed a chronic illness and died on September 1, 1918, a fact corroborated by the caption under his photo in Soldiers of the Great War.
The remains of some World War I troops were buried several times:first in battlefield graves, then in U.S. cemeteries in Europe, and finally in the United States. At the conclusion of the war, France resisted removing bodies for reburial, but in 1920 the French agreed to the return of American soldiers to the United States. The remains of 46,000 war dead were returned to the U.S. at a cost of over $30 million.
| | |
| --- | --- |
| | At the request of his family, the body of Pvt. Phares was among those brought back to West Virginia for reburial. A funeral service was conducted by Z. Kendall and Sons on December 20, 1921, when Hubert Phares was reinterred in the Pritt-Phares Cemetery at Valley Bend in Randolph County. |
Article prepared by Leon Armentrout
February 2014
Honor...

West Virginia Archives and History welcomes any additional information that can be provided about these veterans, including photographs, family names, letters and other relevant personal history.
---
West Virginia Veterans Memorial