Remember...

Irvin I. Pritt
1896-1918

"Medical science for four and one-half years devoted itself to putting men on the firing line and keeping them there. Now it must turn with its whole might to combating the greatest enemy of all:infectious disease."

Journal of the American Medical Association, 1918
The parents of Irvin I. Pritt, Asbury (or Asberry) Pritt and Virginia Lee Crouch Pritt, were married on October 22, 1884, at Oakland, Maryland. Their youngest son Irvin (Ervin) I. Pritt was born on July 4, 1896, at Huttonsville, Randolph County, West Virginia. In addition to an infant who died young and Irvin, Asbury and Virginia had three other children: Dellas M., Barbara H. (Mrs. Warren C. Radcliffe), and Nancy W. (Mrs. Edward Joseph Snyder).
Irvin's mother, Virginia Pritt, died of tuberculosis on February 3, 1915, and was buried in the Old Brick Church Cemetery in Huttonsville. Asbury never remarried, and he spent the remainder of his life living with his daughter, Nancy Snyder, and later, with another daughter, Barbara Radcliffe, and her husband. Asbury died of myocardial degeneration at the age of 94 on October 17, 1950, and was buried next to his beloved Virginia.
Following the sinking of American merchant ships by German submarines, the United States declared war against Germany on April 6, 1917. When the call for volunteers failed to produce the needed one million troops to support the war effort, the Selective Service instituted a draft, with the first registration on June 5, 1917, for all men between the ages of 21 and 31. The second registration on June 5, 1918, was for men who turned 21 since the first registration. The third registration began on September 12, 1918, for men ages 18 through 45.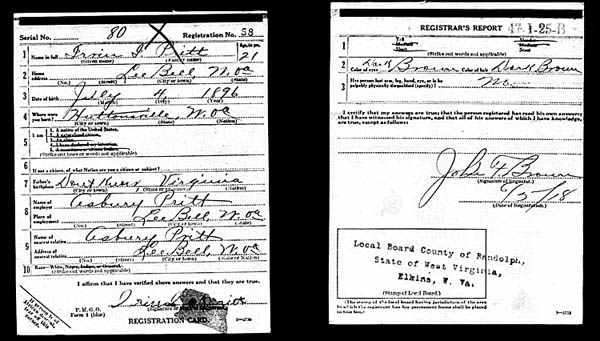 At the age of 21, Irvin Pritt registered during the second registration for the draft at Elkins in Randolph County on June 5, 1918. His registration card showed that he was employed by his father on the family farm. He was described as being tall and stout, with dark brown hair and dark brown eyes. He was single and claimed no exemptions.
Dellas Pritt, the older brother of Irvin, registered on September 12, 1918. He was 33 years of age and living with his wife on a farm at Spangler, a small unincorporated town near Huttonsville. He was described as tall and of medium build. He had blue eyes and brown hair. Dellas Pritt also registered for the World War II draft. Dellas later served Randolph County as a deputy sheriff, constable, jailer, and justice of the peace.
When called into service, Irvin Pritt was sent to Camp Lee in Petersburg, Virginia, and was assigned to Company 18 of the 5th Training Battalion, 155th Depot Brigade. Depot brigades were responsible to receive and organize recruits, to supply them with equipment and uniforms, and to provide initial military training prior to their departure to the battlefields of France. At the conclusion of the war, depot brigades were responsible for processing returning soldiers back into civilian life.
During October 1918, the Spanish influenza-pneumonia pandemic reached its height. Although American soldiers received inoculations for other diseases, such as smallpox, no inoculation was available at the time for influenza. It is estimated that over 675,000 Americans died during the influenza-pneumonia pandemic, and more than 43,000 service men died of this particularly virulent strain of the respiratory illness during World War I. Many victims died within hours of displaying symptoms. Others died of pneumonia after only a few days when their lungs filled with fluid, resulting in suffocation.
| | |
| --- | --- |
| | Private Irvin I. Pritt died of pneumonia on September 30, 1918, and was buried in the Old Brick Church Cemetery at Huttonsville, Randolph County, West Virginia. |
Article prepared by Leon Armentrout
March 2016
Honor...

West Virginia Archives and History welcomes any additional information that can be provided about these veterans, including photographs, family names, letters and other relevant personal history.
---
West Virginia Veterans Memorial