Remember...

Goff Lyman Shroyer
1891-1918

"The [year] 1918 has gone: a year momentous as the termination of the most cruel war in the annals of the human race; a year which marked, the end at least for a time, of man's destruction of man; unfortunately a year in which developed a most fatal infectious disease causing the death of hundreds of thousands of human beings. Medical science for four and one-half years devoted itself to putting men on the firing line and keeping them there. Now it must turn with its whole might to combating the greatest enemy of all: infectious disease. . . ."

Journal of the American Medical Association (28 December 1918)
Goff Lyman Shroyer was born on January 10, 1891, to Nathan and Elizabeth Shroyer in Knottsville, Taylor County, West Virginia. Mr. and Mrs. Shroyer were married in Barbour County in 1883 and so had waited eight years for a child. Though some sources record Goff's middle name as Layman, it seems likely that it was Lyman, since that was the maiden name of his mother.
In 1900, the family lived in Knottsville and were a farming family. Goffie, as he was known in his youth, was nine years old. In 1910, the family was still farming. Mr. and Mrs. Shroyer and Goff were joined by Mr. Shroyer's brother John, and all were farming or listed as stock farmers.
On June 5, 1917, Goff Shroyer registered for the military draft in Taylor County, and listed his occupation as a farmer and stockman. He had no dependents, was single, and had no children. He asked for an exemption from the draft due to his occupation and because of disability due to chronic illnesses, which he listed as rheumatism and catarrh.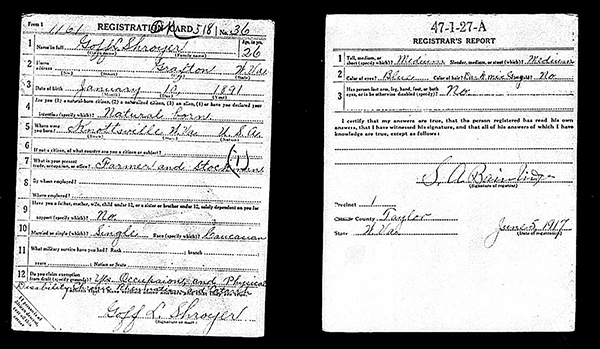 Catarrh was a commonly listed complaint in the 1800s and early 1900s that ranged from irritation of mucus membranes of the respiratory tract, resulting in anything from mild irritation and chronic mucus discharge to dangerous bronchitis. This complaint could also mean catarrh of the stomach, which ranged from mild indigestion to dangerous dysentery. No other reference was found for Goff Shroyer's medical complaints, so it is not known which symptoms were his or how severe the condition.
It's apparent that the military did not honor his request for exemption on the point of not being physically fit. Those who farmed weren't automatically exempt, though some occupations were. Goff Shroyer enlisted on May 29, 1918. He served with the 38th Company, 10th Training Battalion; the 17th Company 5th Training Battalion at Camp Lee; and the 7th Company, 1st Infantry training Regiment, according to his service record. According to the ship's transport records, Private Shroyer left Newport News, Virginia, on July 18, 1918, at noon on the Czaritza with the 5th Provisional Company as part of the July Infantry Replacement Draft. He was placed with the 161st Infantry, Company G, and sent to France.
The 161st Infantry was assigned to the 41st Division but was not intended for battle with that group. It was designated as a group of replacement troops for other divisions.
On August 27, 1918, Goff Shroyer died of pneumonia. He is listed in Soldiers of the Great War among West Virginia veterans who died of disease during the war.
According to A History of Taylor County West Virginia, the family had last heard from Goff Shroyer on July 2, 1918, and received a letter notifying the family of Pvt. Shroyer's death on October 22, 1918:
Private Goff L. Shroyer, Co. 7, 1st Infantry, Training Regiment No. 3174311, admitted to camp hospital No. 26 from Battalion Infirmary at Theney. Diagnosis undetermined on August 23, 1918. Died August 27, 1918, of lobar pneumonia. Exact hour of death was 6:15 p.m. Cause of death, originated in service, in line of duty and not the result of misconduct. The deceased was born in West Virginia, he was of Protestant faith, and had reached the age of 27 years. His remains were laid at rest today with military honors in grave No. 12 in the U. S. Cemetery at Noyers Department of Loire et cher, France. ("Goff Layman Shroyer," A History of Taylor County West Virginia [Grafton, WV: Taylor County Historical and Genealogical Society, Inc., 1986]: 385.)
The letter was from Lt. Tongas, an army chaplain. The account in the Taylor County history continues that his parents sent flowers to the grave. These are pictured in the book as a wreath with a ribbon that says, "From Mother and Father," resting against a wooden cross that bears Goff Shroyer's name.
Transport records of the ship Pocahontas show that his remains were returned to the United States in 1920. The Pocahontas set off from St. Nazaire, France, on October 1, 1920, to Hoboken, New Jersey, arriving October 18, 1920. Goff Shroyer was listed as a private with the 7th Company, 1st Infantry Training Regiment, the last unit he served with as a replacement from the 161st.
Mr. and Mrs. Shroyer had a mausoleum built in the Knottsville Cemetery to honor their son when his body was returned from France. The Taylor County history contains a passage that describes the funeral, as follows:

The military funeral of Goff Shroyer on a Sunday afternoon, at the Shroyer's home, was the largest ever held in this county. It is estimated that 1500 to 2000 people were present. They came from all parts of the county and state, riding in buggies and on horseback. Cars lined the roads and fields and many persons walked to the service.

A parade then formed in front of the Shroyer home. According to the Taylor County history, the procession, which included a number of dignitaries and mourners, strode to martial music played by a band and moved to the cemetery:

The Colors, Color Guard, Band Guard of Honor and pallbearers lined up in front of the and the sides of the beautiful mausoleum. The casket was placed in the mausoleum. Chaplain Payne conducted the military service, and the firing squad gave three salutes over the remains. The casket was then placed in the proper division of the mausoleum, and the bugler played 'taps.'



| | |
| --- | --- |
| | Goff Shroyer rests in peace in the family mausoleum, which still stands in the Knottsville Cemetery in Taylor County. On his crypt is engraved "A FATHER AND MOTHERS [sic] TRIBUTE TO A NOBLE SON." |
Article prepared by Cynthia Mullens
September 2020
Honor...

West Virginia Archives and History welcomes any additional information that can be provided about these veterans, including photographs, family names, letters and other relevant personal history.
---
West Virginia Veterans Memorial