Remember...

Olen S. Simmons
1889-1918

"The spouting shells dig pits in fields of death
And wounded men, are moaning in the woods.
If any friend be there whom I have loved
God speed him safe to England with a gash..."

Siegfried Sassoon
The parents of Olen (sometimes spelled "Olin") S. Simmons were Sylvester and Martha Malinda Propst Simmons. They were married on June 22, 1869, in Pendleton County, West Virginia. Sylvester was 23 years of age, and Martha was 16.
Olen Simmons was the youngest son of Sylvester and Martha. He was born at Brandywine in Pendleton County on November 4, 1889. His siblings were Emma F., Polly Ann, Granville D., Hannah T., Oliver W., Robert Davis, and Bertha Myrtle.
Olen's father, Sylvester Simmons, was a veteran of the Civil War. He was a corporal in Company K, the Pendleton Minutemen, part of the 25th Virginia Infantry. Among the battles in which the 25th was engaged were the Second Battle of Bull Run, Gettysburg, and Antietam. After the war, Sylvester Simmons and his family lived on a farm at Bethel Township in Pendleton County.
Following the sinking of American merchant ships by German submarines, the United States declared war against Germany on April 6, 1917. When the call for volunteers failed to produce the needed one million troops to support the war effort, the Selective Service instituted the draft with the first registration on June 5, 1917, for all men between the ages of 21 and 31.
Olen Simmons registered for the draft in Pendleton County on that date. He was 27 years of age, single, and a farmer. He claimed an exemption to the draft because of his dependent 70-year-old father. His registration card indicates that he was tall and slender, with gray eyes and black hair.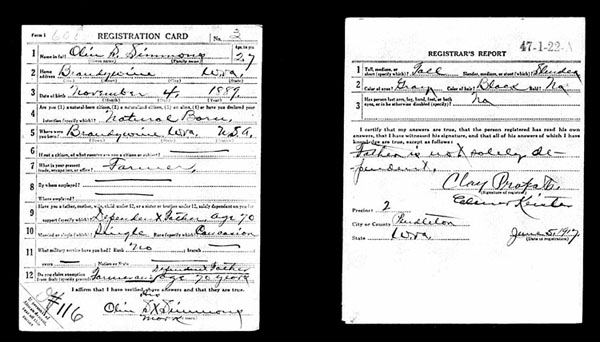 The third registration for the draft started on September 12, 1918, for men ages 18 through 45. Robert Davis Simmons, Olen's brother who was 34 years of age, registered in Pendleton County on September 12, 1918. Robert stated he was a farmer living at Brandywine. Lacking photographs of many men of the World War I era, the draft registration cards can be a good source of physical description. Robert's registration notes he was of medium height and medium build, with dark blue eyes and dark brown hair.

On October 4, 1917, Olen Simmons left Franklin in Pendleton County for Camp Lee in Petersburg, Virginia. He reported On October 7 to Camp Lee, where he was assigned to the A Battery of the 313rd Field Artillery.
| | |
| --- | --- |
| Harrison Mayberry Calhoun was a prominent lawyer in Pendleton County, having served two terms as a prosecuting attorney and one term in the state legislature. He also taught in the public schools and had been the superintendent of schools for Pendleton County. Mr. Calhoun harbored a special interest in the military careers of the young men who were called to fight during World War I. As they departed for military service, he would supply them with postcards addressed to himself, in which they could tell about their early days in the U.S. Army. Mr. Calhoun kept a log detailing the events and whereabouts of each of Pendleton's "Boys of 17" through camp and beyond. | |
Olen sent the following postcard message to Calhoun, in which he described his journey on the train from Petersburg, West Virginia, to Richmond, Virginia:



Camp Lee VA
Oct. 7, 1917

Dear Sir:

We got here all O.K. We rode 15 hours from Petersburg, W Va to Richmond with out anything to eat except what we got off the news boys and believe me that was some hungry crowd. The train was wrecked - caused the trouble.

Olin Simmons
On October 28 he reported to the base hospital. He was transferred on December 13 to the 3rd Infantry Division at Camp Greene in Charlotte, North Carolina. He was placed in Company I of the 30th Infantry Regiment.
On February 1, 1918, Private Olen Simmons died from injuries while still at camp. He was buried on February 8, 1918, in the Wagoner #15 Cemetery in the Brandywine area of Pendleton County. His marker reads:

Olen S.
Simmons
Son of
Sylvester & Martha
Born
Nov. 4, 1889
Died
Feb. 1, 1918
Aged
28 ys 2 mo 28 ds




Article contributed by Leon Armentrout
April 2016
Honor...

West Virginia Archives and History welcomes any additional information that can be provided about these veterans, including photographs, family names, letters and other relevant personal history.
---
West Virginia Veterans Memorial