Remember...

Price Simmons
1897-1918

"The first one that died sure unnerved me:I had to go to the nurses' quarters and cry it out."

from a volunteer nurse's letter during the 1918 Influenza Epidemic, National Archives and Records Administration
Price Simmons' parents were Sebaldus ("Bal") Simmons and Della Delzenia ("Zena") Lambert Simmons, who were married on June 15, 1893, in Pendleton County, West Virginia. Price was born on March 4, 1897, at Zigler in Pendleton County. His siblings were: Eva Mae (Mrs. Truman Arbogast), Millie Virginia (Mrs. Foster E. Nelson), Mary Edna (Mrs. John Robert Warner), Jessie J. (Mrs. William Owen Sponaugle), Zena Dayton (Mrs. William Arthur Hartman), Earlie Lee, Anna Clara, Olin Browning, and Erma.
Following the sinking of American merchant ships by German submarines, the United States declared war against Germany on April 6, 1917. When the call for volunteers failed to produce the needed one million troops to support the war effort, the Selective Service instituted a draft. Three registrations for the World War I draft occurred between 1917 and 1918. The first was held on June 5, 1917, for men ages 21 through 31. The second was held on June 5, 1918, for men who had turned 21 since the first registration. The third registration was held on September 12, 1918, for men ages 18 through 45.
Price, whose twenty-first birthday was in March of 1918, registered at the Pendleton County Draft Board at Franklin on June 5, 1918. He stated that he was employed at that time by Mrs. Jane Judy at Circleville in Randolph County. His registration card notes that he was short and of medium stature. His eyes were blue and he had light brown hair. Lacking photos of so many of the men of the World War I era, the draft registration cards become the source of much descriptive data.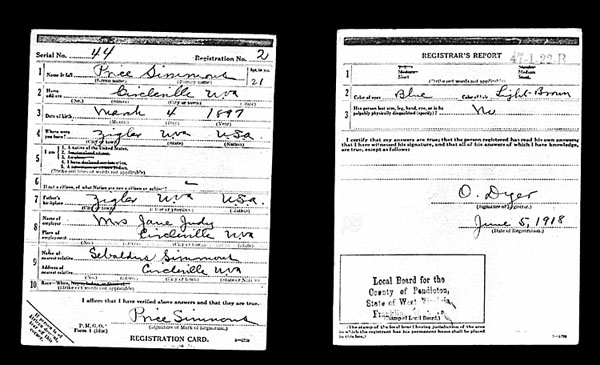 | | |
| --- | --- |
| When Price entered the U.S. Army, he was assigned to the Headquarters Detachment of the 17th Infantry Replacement Battalion, part of the 17th Regular Army Division, which was known as the "Thunderbolt" Division. The 17th Division was established in August 1918, and it underwent extensive training in preparation for service in Europe, but was never actually deployed because of the Armistice of November 1918. | |
On September 25, 1918, while stationed at Camp Lee, Virginia, Private Price Simmons died of pneumonia, a complication associated with the influenza pandemic of that year. While history tends to emphasize the deaths associated with combat in The Great War, equally tragic was the number of fatalities caused by the flu and resulting pneumonia, for which there was no vaccine at the time, and treatment was often not effective because of the multitude of victims and the rapid onset of symptoms. As one account states:
World War I claimed an estimated 16 million lives. The influenza epidemic that swept the world in 1918 killed an estimated 50 million people. One fifth of the world's population was attacked by this deadly virus. Within months, it had killed more people than any other illness in recorded history.

The plague emerged in two phases. In late spring of 1918, the first phase, known as the "three-day fever," appeared without warning. Few deaths were reported. Victims recovered after a few days. When the disease surfaced again that fall, it was far more severe. Scientists, doctors, and health officials could not identify this disease which was striking so fast and so viciously, eluding treatment and defying control. Some victims died within hours of their first symptoms. Others succumbed after a few days; their lungs filled with fluid and they suffocated to death.

The plague did not discriminate. It was rampant in urban and rural areas, from the densely populated East coast to the remotest parts of Alaska. Young adults, usually unaffected by these types of infectious diseases, were among the hardest hit groups along with the elderly and young children. The flu afflicted over 25 percent of the U.S. population. In one year, the average life expectancy in the United States dropped by 12 years.

It is an oddity of history that the influenza epidemic of 1918 has been overlooked in the teaching of American history. Documentation of the disease is ample, as shown in the records selected from the holdings of the National Archives regional archives. Exhibiting these documents helps the epidemic take its rightful place as a major disaster in world history. (Source: National Archives and Records Administration, "The Deadly Virus: The Influenza Epidemic of 1918," accessed 24 May 2016, https://www.archives.gov/exhibits/influenza-epidemic/.)
The body of Price Simmons was returned to Pendleton County, West Virginia, where he was laid to rest in the George Phares Cemetery #3 at Teter Gap.
Article prepared by Leon Armentrout, with editorial assistance from Patricia Richards McClure
May 2016
Honor...

West Virginia Archives and History welcomes any additional information that can be provided about these veterans, including photographs, family names, letters and other relevant personal history.
---
West Virginia Veterans Memorial