Remember...

Benjamin Harrison Sisler
1888-1918

"We were preparing not Peace only, but Eternal Peace. There was about us the halo of some divine mission. We were bent on doing great, permanent noble things."

Harold Nicolson
Benjamin Harrison Sisler's parents were Alfred and Mary Ann Dillinger Sisler. Benjamin was born on November 26, 1888, at Friendsville, Garrett County, Maryland. His father was a farmer and a veteran of the Civil War, having served as a private in the Union Third Cavalry. Mary Ann died on November 1, 1891, and on December 19, 1892, Alfred married Annie E. Hughes. In the 1900 and 1910 census records Alfred was enumerated as a widower.
Benjamin's siblings were John, Ira Ellis, and Mary Mahala (married name: Mrs. David Monroe Sisler). Benjamin married Elizabeth Ann "Bessie" Dumire, a daughter of Fred Reuben Dumire and Minnie Stella Whitehair Dumire. Benjamin and Bessie had two children, Margaret Ellen (married name: Mrs. Alton B. Jennings) and Claude Arnold. Claude married Sereana Valentine.
World War I, the "War to End All Wars," began in 1914 when a Serbian nationalist assassinated the heir to the Austrian-Hungarian throne. On April 6, 1917, following the sinking of American merchant ships by German submarines and an attempt by Germany to engage in a military alliance with Mexico, President Woodrow Wilson reluctantly committed the United States to join the Allied countries in the war against Germany. When the call for volunteers failed to produce the needed one million troops to support the war effort, the Selective Service instituted a draft, with the first registration on June 5, 1917, for all men between the ages of 21 and 31.
Benjamin Harrison Sisler registered in for the draft on June 5, 1917. He was 29 years of age and residing in the unincorporated town of Shaffer in Tucker County, West Virginia. He was employed as a laborer on the Western Maryland Railroad at Henry in Grant County, West Virginia. He listed his wife and two children as dependents and was described as short and of medium build with blue eyes and black hair.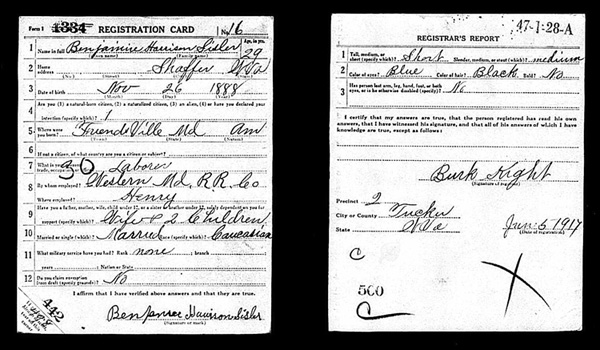 The U.S. Army's 80th Division was organized in August 1917 at Camp Lee, Virginia. It was known as the "Blue Ridge Division," being mostly composed of men from Pennsylvania, Virginia, and West Virginia. Pvt. Sisler was assigned to Company H of the 320th Infantry of the 80th Division. Following nine months of training at Camp Lee, the division departed from Newport News, Virginia, on May 18, 1918, for France.

The men of the 80th arrived at St. Nazaire, Bordeaux, and Brest and were sent for training with the British in early June. In August, the 80th Division joined the newly-formed American First Army and participated in the battle of St. Mihiel. On September 14, the division was assigned to the Argonne area in preparation for the military offensive to disrupt the Carignaw-Sedan-Mezeres Railroad, a heavily fortified German supply line. Commencing on the morning of September 26, 1918, this offensive was destined to break the back of the German Armies. From their strongly fortified positions, the German Army fought fiercely to protect the supply line. On that morning, Pvt. Benjamin H. Sisler was killed and was probably buried in a battlefield grave or as an unknown soldier in one of the American military cemeteries in France. As of this writing, no burial records either in Europe or in the U.S. have been found for him.
| | | | |
| --- | --- | --- | --- |
| For his service in the Allied Expeditionary Forces and his supreme sacrifice in the Argonne, Pvt. Sisler was entitled to receive posthumously the following: the World War I Victory Medal and the Purple Heart. | | | |
Article prepared by Leon Armentrout
February 2019
Honor...
West Virginia Archives and History welcomes any additional information that can be provided about these veterans, including photographs, family names, letters and other relevant personal history.
---
West Virginia Veterans Memorial