Remember...

William Howard Stewart
1895-1918

"My shoulders ache beneath my pack.. I march with feet that burn and smart.. I may not lift a hand to clear/ My eyes of salty drops that sear.. My rifle hand is stiff and numb."

Alfred Joyce Kilmer, "Prayer for a Soldier in France"
William Howard Stewart was born on October 8, 1895, at Grafton, Taylor County, West Virginia. He was the second of four sons whose parents were John Calvin Stewart and Levara L. McGill Stewart. John and Levara were married on October 6, 1890, at Central Station in Doddridge County, West Virginia. At various times John was employed as a day laborer, telephone lineman, railroad shop watchman, and janitor at a railroad station.
John and Levara Stewart's family consisted of George Ferguson, Margaret (married name: Mrs. Ward Owen Bennett), William Howard, Frank Kenneth, and John C. Jr. The family resided in Doddridge County in 1900 and 1910, but later moved to Randolph County. By 1930, John and Levara had moved to East Chicago, Indiana. They died during the 1940s and are buried in the Hebron Cemetery in Porter County, Indiana.
Following the sinking of American merchant ships by German submarines, the United States declared war against Germany on April 6, 1917. When the call for volunteers failed to produce the needed one million troops to support the war effort, the Selective Service instituted a draft, with the first registration on June 5, 1917, for all men between the ages of 21 and 31.
William was 21 when he registered for the draft on the first day of registration in Randolph County, West Virginia. At that time, he was single and was employed at the Elkins Box Company as a day laborer. He claimed no exemptions to the draft and was described as short and slender with gray eyes and dark hair.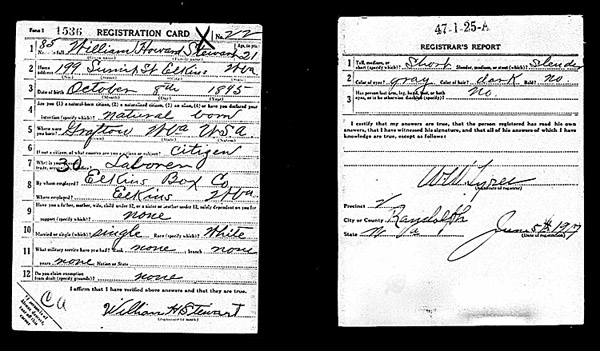 When called into service, Private William Howard Stewart was assigned to the 7th Machine Gun Battalion of the Third Infantry Division. This division, part of the regular Army, was organized on November 21, 1917, at Camp Greene, North Carolina. The unit sailed from the United States during April and May of 1918, and entered the Ch teau Villain training area. With the German advance from Chemin des Dames to the Marne, the need for more troops became critical. Although their training had not yet been completed, the 7th Machine Gun Battalion was ordered to the Marne to halt the German advance. They arrived on May 31 and took up a position in the town of Ch teau-Thierry, already partially occupied by German forces. Although the battalion had been without sleep for over 36 hours, persistent action prevented the Germans from crossing the Marne.
In June, while still engaged in battle against German forces in the Ch teau-Thierry sector, Private Stewart was wounded. A list released by the War Department indicates that he was captured and had died from his wounds in a German prison camp on June 19, 1918; this is corroborated by the adjutant general's record of his service. The Elkins Inter-Mountain did not report his death until December 10, when it included the notice:



Mr. and Mrs. John Stewart Tuesday received the sad intelligence that their son had died in a German hospital June 18 [sic]. The telegram from the adjutant general follows:

"Deeply regret to inform you that your son, Pvt. Wm. H. Stewart, previously reported as missing in action, is now reported by German government to have died in a German hospital. Letter follows." ("Elkins Boy Dies in Germany: Son of Mr. and Mrs. John Stewart Died in a German Hospital.")
| | |
| --- | --- |
| Private William Howard Stewart was buried in Plot B, Row 29, Grave 26, in the Oise-Aisne American Cemetery, F re en Tardenois, D partement de l'Aisne, Picardie, France. The famous poet, Joyce Kilmer, another casualty of World War I, is also buried in that cemetery. | |
Article prepared by Leon Armentrout
September 2017
Honor...

West Virginia Archives and History welcomes any additional information that can be provided about these veterans, including photographs, family names, letters and other relevant personal history.
---
West Virginia Veterans Memorial