Remember...

Charles Dallas Wamsley
1894-1918

"Now all roads lead to France and heavy is the tread of the living; but the dead returning lightly dance."

Edward Thomas
Charles Dallas Wamsley was born on June 29, 1894, at Valley Bend in Randolph County, West Virginia. His parents were Jonathan M. ("John") and Lydia Shreve Wamsley. Jonathan and Lydia were married in Randolph County on May 26, 1888, and were the parents of Gladys, Ina R. (Mrs. Grover Mace), Madge (Mrs. French Stalnaker), Ruby (Mrs. Clifton P. Salisbury), and Clarence Wade.
When Charles Dallas Wamsley and Hattie May Smith, daughter of Isaac N. and Daisy A. Wratchford Smith, were united in marriage at Elkins, West Virginia, on October 31, 1917, he had already registered for the World War I draft. Charles and Hattie had one child, Naomi Rebecca Wamsley, born in 1918. After Charles lost his life while fighting German forces in France, Hattie married Samuel D. Smith at Mill Creek, Randolph County, West Virginia on July 6, 1919. According to 1920 and 1930 census records, Naomi was raised in the home of her paternal grandparents. Hattie May Smith died on June 30, 1996, and is buried beside her second husband in Mount Zion Cemetery in Preston County, West Virginia. Naomi married Remsen B. Cutright in 1935, and they became parents of several daughters. Naomi died in 1993.
Following the sinking of American merchant ships by German submarines, the United States declared war against Germany on April 6, 1917. When the call for volunteers failed to produce the needed one million troops to support the war effort, the Selective Service instituted a draft, with the first registration on June 5, 1917, for all men between the ages of 21 and 31.
When Charles registered in Randolph County for the World War I draft on June 5, 1917, he gave his occupation as "mill man," working for the Alton Lumber Company at Mill Creek in Randolph County. The Alton Lumber Company was a logging and railroad operation headquartered at Buckhannon in Upshur County with ten sawmills under contract at various locations.
Charles Wamsley's draft registration indicates he was single and living at Mill Creek. Because of a lack of photos for many World War I veterans, the draft registration cards are a good source of demographic and descriptive data. At Charles Dallas Wamsley's registration, it was noted he was tall and slender with grey eyes and brown hair. He claimed no exemptions to the draft, although within a few months he would be married and his wife expecting a child.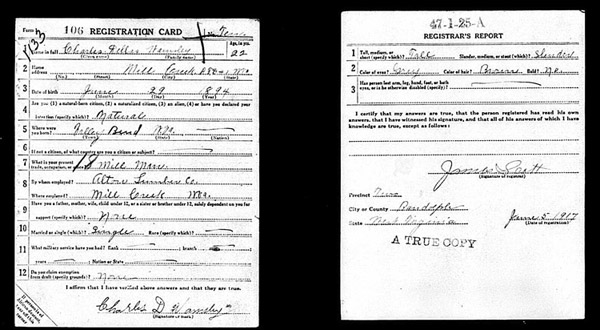 | | |
| --- | --- |
| | Charles Dallas Wamsley was assigned to Company B of the 168th Infantry Regiment. The 168th Infantry Regiment had distinguished itself during the Mexican War by pursuing Pancho Villa during punitive action for his attack on Columbus, New Mexico, and Camp Furlong there. The 168th was part of the 84th Infantry Brigade that, along with the 83rd Infantry Brigade and the 67th Field Artillery Brigade, made up the 42nd (National Guard) Division. The men in this Division came from 26 states and the District of Columbia. The 42nd was described by then-Colonel Douglas MacArthur as stretching across the United States like a rainbow. Thus, it became known as the "Rainbow" Division. |
Originally the insignia was a complete half arc that reflected MacArthur's description of the Division. Seamstresses in Long Island (and later in France) busily sewed strips of the three primary colors of the rainbow on squares of brown wool uniform cloth. The government did not provide the patches, so the men were expected to provide their own. The symbol was later modified to a quarter arc to memorialize the casualties of the war. (Source: "WWI: Rainbow Patch," Rainbow Division Veterans Memorial Foundation, accessed 7 September 2016, http://www.rainbowvets.org/wwi.)
The 42nd Division was organized in August 5, 1917, and they built and maintained Fort Dodge in Johnston, Iowa. On October 18, 1917, the unit embarked for France from Camp Mills in New York, where they had trained. In France, they engaged in battles in Lorraine, Champagne, Aisne-Marne, St. Mihiel, and Wo vre. In October 1918, the 42nd participated in the Meuse-Argonne Campaigns, which lasted until the Armistice.
The Division suffered 2,713 battle deaths and 13,292 soldiers wounded. One hundred two prisoners were captured by the enemy. Charles Dallas Wamsley was killed in the Argonne Forest during combat in the Meuse-Argonne Campaign on October 17, 1918.
Repatriation of the World War I dead was opposed by General Pershing and other military leaders. They felt that no greater honor could be afforded to those who served than to be buried where they fell in the cause of freedom. They also desired to spare families the experience of viewing the mutilated corpses of their sons. France and Great Britain also voiced their opposition to digging up the bodies of soldiers and sending them back to the United States.
| | |
| --- | --- |
| In 1919, a compromise was reached with France, and, in 1921, the U.S. War Department repatriated over 43,000 American soldiers that had died during the war in Europe. Private Wamsley was reburied in the Wamsley/Yokum family plot near Valley Bend in Randolph County. | |
Article prepared by Leon Armentrout
August 2016
Honor...

West Virginia Archives and History welcomes any additional information that can be provided about these veterans, including photographs, family names, letters and other relevant personal history.
---
West Virginia Veterans Memorial