Remember...

Wilbur Wilson Weese
1894-1918

The soldier is the army. No army is better than its soldiers. The soldier is also a citizen. In fact, the highest obligation and privilege of citizenship is that of bearing arms for one's country.

George S. Patton Jr.
The youngest of seven children, Wilbur Wilson Weese was born on April 28, 1894, at Beverly, Randolph County, West Virginia. His parents were Parkinson C. "Park" Weese and Columbia Ann Isner Weese. Park and Columbia were married at the home of the bride near Beverly on January 18, 1880. Their children were Alice (married names: Knox, Kyle, Pritt), Mary O., Florence M. (Mrs. Noah H. Barb), Thomas John, Grover Cleveland, Virginia R., and Wilbur Wilson.
The Weese family was among the early settlers in West Virginia. Jacob Wiese (Weese), the pioneer, was Wilbur Weese's great-great-great-grandfather. The patriarch arrived in America from Rotterdam in 1750 and settled along the South Branch of the Potomac River in what is now Hardy and Pendleton Counties in West Virginia, which at that time were part of the colony of Virginia. He later moved to Randolph County, where he and his wife, Catherine, raised a large family. Their lives were frequently disrupted by hostile American Indians, and they were often forced to take refuge in times of danger in a nearby fort constructed by Colonel Benjamin Wilson. Colonel Wilson was an officer in the Revolutionary Army and a renowned Indian fighter.
Wilbur registered at Beverly for the World War I draft on June 5, 1917, the first day of the draft for men between the ages of 21 to 31. He was single and was employed as a farmer on the family's farm. He is described as being of medium build and medium height, with gray eyes and brown hair. He claimed exemption from the draft by virtue of his occupation as a farmer.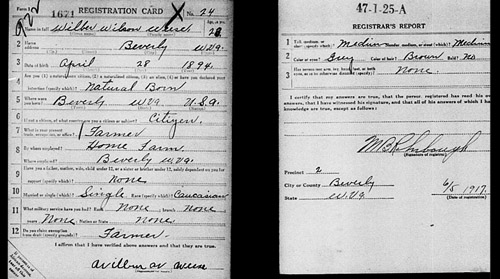 Wilbur's older brother, Grover, also registered for the draft on June 5, 1917, at Clay County, West Virginia. He was single and self-employed as a farmer at Big Otter in Clay County. Grover was of medium height and medium build and had brown eyes and brown hair. Wilbur's oldest brother, Thomas John Weese, registered for the World War I draft at Elkins in Randolph County on September 12, 1918, the day of the draft for men between the ages of 18 and 45. Thomas was married and self-employed as a farmer at Beverly. His registration card indicates he was of medium build and medium height, with brown eyes and black hair. Lacking photos of men at the time:as was the case with many WWI soldiers:the descriptive detail of the registration cards provides a glimpse of what the veteran might have looked like.

Private Wilbur W. Weese was called into service in Company G of the 125th Infantry Regiment. The 125th was part of the 63rd Infantry Brigade, which was assigned to the 32nd Division of the 1st Army Corps. The Division was organized in September 1917 at Camp MacArthur at Waco, Texas. The 32nd commenced deployment overseas from Hoboken, New Jersey, on January 19, 1918. The last units arrived in France in March 1918 and were ordered to the training area in Haute Marne.

The units were then assigned to a front-line position in Haute Alsace, a position which they held until July 21, 1918, when they were ordered to the Ourcq to relieve the 3rd Division in the Aisne-Marne offensive on July 30. The 32nd broke the German resistance and drove them back to the heights of Vesle. The Division became known as "Les Terribles" because of their fierce fighting and unrelenting efforts to defeat the enemy. On August 28, 1918, they took up a position on the front line north of Soissons as part of the French 10th Army. They were relieved on September 2 for a period of three weeks prior to reassignment to the Meuse-Argonne front on September 30. During the next three weeks the Division battled enemy positions along the front.
| | | |
| --- | --- | --- |
| | On October 6, 1918, Pvt. Wilbur W. Weese was killed in action. He was buried in the Meuse-Argonne American Cemetery and Memorial (Plot B, Row 11, Grave 28) at Romagne-sous-Montfaucon, Departement de la Meuse, Lorraine, France. | |
Article prepared by Leon Armentrout
September 2015
Honor...

West Virginia Archives and History welcomes any additional information that can be provided about these veterans, including photographs, family names, letters and other relevant personal history.
---
West Virginia Veterans Memorial