Remember...

Coy White
1895-1918

"If the epidemic continues its mathematical rate of acceleration, civilization could easily disappear from the face of the earth within a few weeks."

Victor Vaughan, Surgeon General of the Army, 1918
Coy White was the oldest son of John K. White and Frances M. Wolford. His parents were married in Tucker County, West Virginia, on May 8, 1897. Coy was born at Laneville in Tucker County on August 31, 1895. His siblings were Lillie Gladys (Mrs. Harry Roy), Mary C., Elmer R., and Clyde.
Coy's grandfather, Allen White, fought on the side of the Confederate Army during the Civil War. He enlisted in the 18th Virginia Cavalry in June 1862 and saw action at Gettysburg, New Market, Piedmont, Lynchburg, the second battle of Kernstown, the third battle of Winchester, and Fisher's Hill. Sgt. Allen White was captured on June 5, 1864, at the Battle of Piedmont, Virginia, and was sent to Camp Morton, Indiana, a Union prison. In February 1865, he was transferred for a prisoner exchange at City Point, Virginia. One month later, he was admitted to Chimborazo Hospital in Richmond suffering from pneumonia. He was again captured on April 1, but died on April 15, 1865, at Jackson Hospital in Richmond and was buried in an unmarked grave in the Soldiers' Section of the Hollywood Cemetery at Richmond.
Following the sinking of American merchant ships by German submarines, the United States declared war against Germany on April 6, 1917. When the call for volunteers failed to produce the needed one million troops to support the war effort, the Selective Service instituted a draft, with the first registration on June 5, 1917, for all men between the ages of 21 and 31.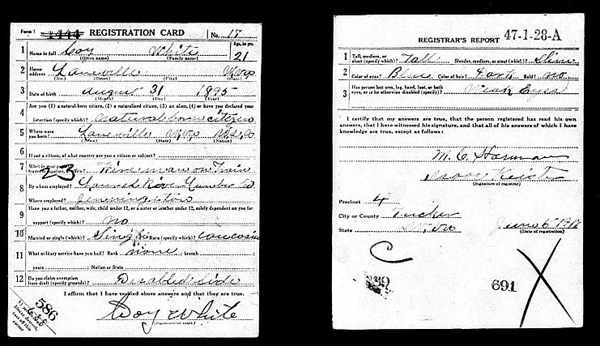 Coy White registered for the World War I draft on June 5, 1917, in Tucker County, West Virginia. At that time, he was 21 years of age and was employed as a fireman on the railroad for the Laurel River Lumber Company at Jenningston, West Virginia. He was single, and he claimed an exemption from the draft because of a "disabled side." He also claimed to have weak eyes. His draft card indicates he was tall and slim, with blue eyes and dark hair.
On February 27, 1918, Coy and Ocie Alice Flynn, daughter of William and Eliza C. Wratchford Flynn, were united in marriage at Jenningston in Tucker County. Their daughter, Elsie Mae, was born on February 13, 1919. Elsie was married on June 19, 1937, to Clarence Ross Fox. They were the parents of Gary Lee Fox, born in 1939. Elsie died in 1999 and is buried in the Smith Cemetery at Harman, Randolph County, West Virginia.
Coy was inducted into the U.S. Army on May 26, 1918, at Parsons, West Virginia, and was assigned to the 14th Company of the 4th Training Battalion of the 155th Depot Brigade until June 17, 1918, at Camp Lee, Virginia. He was then transferred to Company H of the 11th Battalion at the Infantry Replacement and Training Camp.
| | |
| --- | --- |
| | Private Coy White died on October 11, 1918, in the Base Hospital at Camp Lee at Petersburg in Prince George County, Virginia. His death was attributed to broncho-pneumonia and influenza. He was buried on October 13, 1918, in the Bonner-Johnson Cemetery at Jenningston, Tucker County, West Virginia. |
In 1920, Ocie White, Coy's widow, married the Reverend Vernice Summerfield. She died in 1999 and was buried next to Rev. Summerfield in Mountain State Memorial Gardens, Elkins, West Virginia.
Article prepared by Leon Armentrout
May 2018
Honor...

West Virginia Archives and History welcomes any additional information that can be provided about these veterans, including photographs, family names, letters and other relevant personal history.
---
West Virginia Veterans Memorial