Remember...

Dayton White
1894-1918

"America must win this war. Therefore I will work, I will save, I will sacrifice, I will endure, I will fight cheerfully and do my utmost, as if the issue of the whole struggle depended on me alone."

from a diary found on the body of Pvt. Martin Treptow, who was killed in France
Dayton White's parents were Eddman (some records refer to him as Edward) Bell White and Mary H. Lambert White, who were united in marriage at the home of the groom in Randolph County, West Virginia, on December 21, 1893. Their children were Dayton, Jacob Cecil, Flocie (Mrs. Elmer Lee Cunningham), and Elmer Carl.
Dayton was born at Job in Randolph County on March 23, 1894. During his early years he worked on his father's farm in the Dry Fork District of Randolph County.
Following the sinking of American merchant ships by German submarines, the United States declared war against Germany on April 6, 1917. When the call for volunteers failed to produce the needed one million troops to support the war effort, the Selective Service instituted a draft, with the first registration on June 5, 1917, for all men between the ages of 21 and 31.
Dayton White registered for the World War I draft during the first registration. He was living in Wymer, Randolph County, and was employed by the Laurel River Lumber Company. He was single and gave "Bibleism" as an exemption from the draft. His draft registration notes he was short and stout and had brown eyes and dark hair. World War I draft registration cards are an important source of demographic information, and their physical description of the registrant in many cases served in lieu of a photograph.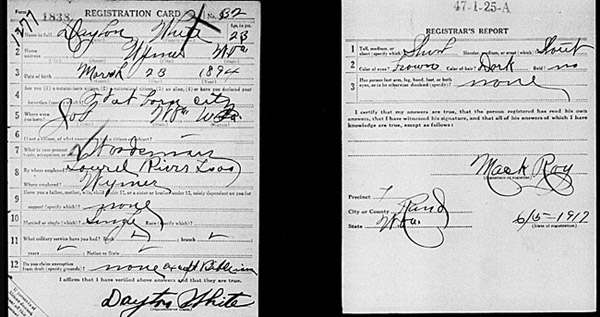 When the third registration for the draft began on September 12, 1918, for men ages 18 through 45, Dayton's younger brother, Elmer Carl White, registered at the Randolph County Draft Board in Elkins. He was single and 19 years of age. Like his older brother, he was employed by the Laurel River Lumber Company in a sawmill at Wymer. His draft card describes him as being of medium height and medium build, with brown eyes and light colored hair.
On May 22, 1918, Dayton White registered his will in the Randolph County Court Clerk's Office. He bequeathed his real and personal property to his brother Elmer.
Although Dayton's draft registration indicated that he had religious objections about going to war, he was called to serve on May 26, 1918, in the U.S. Army in the 111th Infantry Regiment, Company D, at Camp Lee, Virginia. The 111th, along with the 112th and the 109th Machine Gun Battalion, made up the 56th Infantry Brigade.
The 111th Infantry Regiment participated in the Meuse-Argonne Offensive, which became known as was the largest campaign in United States military history. It involved a series of attacks known as the Hundred Days Offensive by Allied forces and involved 1.2 million American soldiers. More than twenty-six thousand American soldiers were killed and 95,786 men were wounded. This offensive was the largest and bloodiest battle of the war. By early October the German Army was exhausted, demoralized, and plagued with an influenza outbreak.
| | |
| --- | --- |
| | Dayton White was killed in action on October 6, 1918, during the Meuse-Argonne Offensive. He was probably initially buried in a battlefield grave and was later interred in a U.S. cemetery in Europe, but his remains were finally brought home for burial in the United States. At the conclusion of the war, France resisted removing bodies for reburial, but in 1920 the French agreed to the return of American soldiers to the United States. The remains of 46,000 war dead were returned to the U.S. at a cost of over $30 million. Private Dayton White was laid to rest in the Montoney Cemetery in Pendleton County, along with his mother and other members of his extended family. |
Article prepared by Leon Armentrout
June 2016
Honor...

West Virginia Archives and History welcomes any additional information that can be provided about these veterans, including photographs, family names, letters and other relevant personal history.
---
West Virginia Veterans Memorial