Remember...

Kemble White Jr.
1915-1944

"We can't understand...why we continue to send our (air)men out into this God awful stuff against a target which can't be seen. . . ."

11th Air Force Squadron Commander
Kemble White Jr. was born to Jane Ferguson White and Captain Kemble White on August 4, 1915. According to the 1910 Federal Census, he joined a sister, Harriett Kemble White, who had been born in 1907.
Kemble White Jr.'s father was Captain Kemble White (1873-1965) of Marshall County, West Virginia. The Captain earned his title during his service in the War of 1898 (Spanish-American War). He was the Captain of a company in the First West Virginia Infantry Regiment of Volunteers. According to George W. Atkinson, writing for Bench and Bar of West Virginia, Captain Kemble White "was a good soldier and served faithfully until the close of the war." Kemble White was known as "Captain" thereafter.
Captain White earned a bachelor of arts degree from West Virginia University in 1894 and returned to study law. He took leave from the law school for military service and on return was awarded his law degree in 1900.
Atkinson describes the Captain as having "a superior analytical mind." He further states: "His one predominating thought and purpose is to reach the highest possible standard as a lawyer, and his aspirations in this respect have been abundantly rewarded."
The Captain began his professional life as a general practice attorney, but soon turned to the specialty of oil and gas law. He was a lawyer for Standard Oil for 30 years and later became a lawyer for Hope Gas. His grandson, Kemble III, recalls that when he would visit the Captain in the late 1950s, the daily routine was to go the Captain's office at the Hope Gas Company Building where he would open his mail and coordinate work with the office staff. The Captain was President of the West Virginia Bar Association in 1924 and inducted into WVU's Order of the Vandalia on June 1, 1964. (West Virginia University, "Roll of the Order of Vandalia," accessed 14 October 2016, http://vandalia.wvu.edu.) The Greek fraternity Phi Kappa Sigma, Delta Chapter, identified Kemble White as the "most famous of its members." Listed among his accomplishments is the founding of the Stonewall Jackson Hotel in Clarksburg. (Phi Sigma Kappa, West Virginia University, "Delta History: About Delta Chapter," accessed 14 October 2016, http://www/wvuphisigs.com/about.html.) He was the President of the Alumni Association's Emeritus Club for West Virginia University in 1952.
Captain White's uncle, Israel Charles White, brother of his father, Henry S. White, was a well-known geologist, whose name is carried on West Virginia University's White Hall, formerly known as the Mineral Sciences Building. (West Virginia Archives and History, "Israel Charles White," accessed 14 October 2016, http://www.wvculture.org/history/businessandindustry/whiteic03.html.) He was West Virginia's first state geologist and is well known for developing the technique of mapping gas domes. ("I. C. White," e-WV: The West Virginia Encyclopedia, accessed 14 October 2016, http://www.wvencyclopedia.org/articles/1237.) His eminence in the field perhaps inspired Kemble White to pursue legal studies and a law practice in oil and gas.
According to the 1900 Federal Census, Kemble White was a student and a boarder in the Werner household in Morgantown, West Virginia. By the 1910 census, he's found in Fairmont, a lawyer living with his wife Jane and a young daughter named Harriet. Jane was born in Greenville, South Carolina, the daughter of Jane Grady Ferguson and John Ferguson, on June 24, 1877. Her grandson, Kemble White III, asserts that Jane was an out-going person, socially well-connected, and an adventuresome sort.
Jane maintained large, elaborate rose gardens, first at Lilac Lodge, their home in Fairmont, and later at The Sycamores, their farm near Clarksburg. Kemble III remembers that in the late 1950s, when he visited the Captain, the routine after visiting the Hope Gas office was to drive to The Sycamores, where he and the Captain's man, George Hart, defended the elaborate rose gardens from attacks by Japanese beetles and reduced large oak logs to kindling with a two-man cross-cut saw and chisels. Jane was gone, but the Captain kept her gardens up. Kemble III recounts that one of his great legacies from the Captain was the exposure to George Hart, who explained what it was like for a black man traveling in the South not to be able to use a bathroom.
Conservation, gardens, and plants were a great interest of Jane White. Social pages of newspapers of the 1930s reveal her active interest in the local garden club. She eventually became Chair of Conservation of the National Garden Club, and the announcements of her speeches on conservation appeared in newspapers. She was mentioned in a publication about plants, written by botanist Earl Core, famous for his studies of Appalachian native plants and for whom the arboretum on the periphery of the West Virginia University campus is named. ("Notes on Some West Virginia Plants," Castanea, 6:5 [May 1941], 86-88.)
The White family traveled. They are frequently mentioned in social pages when they traveled to visit friends and family. Passenger lists available through Ancestry.com and FamilySearch.net track their travels. The social pages of various newspapers in West Virginia, Pennsylvania, Indiana, and North Carolina also carried news of the family's guests, visits, and vacations, first of Kemble and Jane White and later of their children. Mrs. Kemble White appears on passenger manifests with her son on a trip to Panama and on ships that went to Europe. A passenger list the SS Lafayette shows them leaving Le Havre, France, on June 5, 1931, and arriving at the Port of New York on June 13. When the children were old enough to travel on their own, their names appear as well. Harriet was 25 years old, and Kemble, 17, when they went to the Philippines.
They traveled the world, and in high society. In the summer of 1922, Mrs. B. Frank Mabane and Mrs. Kemble White of Fairmont traveled to Europe. Mrs. Mabane, wife of industrialist Benjamin Franklin Mabane and granddaughter of Governor J. M. Morehead of North Carolina, had been active on the American Committee for a Devastated France. During this effort in France, Mrs. Mabane was invited into Serbia and the Balkans to look into conditions there, which she did, with the help of Queen Irene and Princess Elizabeth of Greece. Mrs. Mabane had been active in relief work in the Balkans in 1919, when Marie, the English-born Romanian Queen of the Chamber of Duties, through her marriage to Ferdinand, the Romanian King of the Chamber of Duties, invited her to visit. The invitation was renewed with Mrs. Mabane's arrival in the country, and so she and her traveling companion were invited to the Queen's summer palace in Sanai in the Carpathian Mountains. During the visit, Queen Marie invited the Americans to attend her official coronation as the Queen of Romania. Mrs. Mabane and Mrs. White regretfully had to decline the invitation since they would be leaving for home before then. The Queen then ordered that her robes be brought to her so that she could show them to her American guests. She donned the robes and the crown, and walked the length of her drawing room to show them off. She expressed to Mrs. Mabane and Mrs. White that she hoped to visit America. The guests then dined with the Romanian queen and king, and with Marie's daughter, the queen of Greece, and her husband, the king. The story of the Crown Princess's meeting with Mrs. Kemble White and Mrs. Mabane became national news, carried in such papers as the Kansas City Kansan, the News Journal of Wilmington, Delaware; the Alexandrian Time Tribune of Indiana; and the El Paso Herald.
This chronicle of the White family was indeed a fantastic story, and it wasn't yet finished. In 1926, Queen Marie visited America. Mrs. Kemble White and Mrs. Arthur Lee greeted her in New York, and she subsequently decided to visit White Sulphur Springs, West Virginia, at the end of November for a rest during her tour of America.
The Bluefield Daily Telegraph carried a story on November 16, 1926, titled, "Queen's Message to W. VA. Given." The story originated with Mrs. Arthur Lee of Elkins. She, with Mrs. Kemble White of Fairmont, was appointed by Governor Howard M. Gore to greet Queen Marie. Mrs. Lee and Mrs. White made a message known that Queen Marie wished delivered to West Virginia. It said:
West Virginia:

We must thank you for your great resources of nature, without which we would have died of cold.
You have given warmth to us from the bosom of your mother earth, made possible in the enormity of its undertakings by your love of justice and your great human efforts.
We love you, West Virginia, and one day I hope I may come amongst you and say so.

Marie, Queen of Rumania
The message was given to Mrs. Lee and Mrs. White in New York, early in the queen's visit to the U.S. However, during her time in America, her king grew ill, and she had to cut short her visit. (Constance Lily Morris, On Tour with Queen Marie, New York: Robert M. McBride & Co, 1927.) There's no record that she was able to complete her tour with a trip to White Sulphur Springs, as had been planned.
Kemble Jr. took up the mantle of this prominent family.
Kemble Jr. was very well educated, attending Stuyvesant School at Warrenton, Virginia; Shady Side Academy in Pittsburgh; and Lawrenceville. From there, he was off to Princeton University, graduating with a bachelor of arts degree in 1938. He graduated from West Virginia University in 1942 with a bachelor of laws degree. But he did much more.
He was a world traveler in his own right as noted by various passenger lists. In 1932, Kemble Jr. and his sister Harriet arrived in New York on September 18 aboard the SS Lafayette, having set sail from France on September 10. Capt. and Mrs. White and Kemble Jr. boarded the SS Yarauga in New York on December 20, 1934, for a holiday trip to Cristobal, Canal Zone, Panama. In September 1936, Kemble Jr. and his sister are found arriving New York from Southampton. And in 1939, Kemble White Jr. is found arriving in British Columbia from Yokohama, Japan, aboard the Empress of Japan. There were other trips, as well, and the travel records from youth set the stage for Kemble White Jr.'s worldly and fearless engagement with life. Between his Princeton years and law studies at West Virginia University, he embarked upon a tour by motorcycle around the world with two friends.
In 1932, Harriet White's engagement to Mr. John Samuel Ewing was announced. In her November 15, 1932, engagement announcement, her education as a graduate of Columbia University was included, as was his degree in metallurgy from Princeton. In the wedding announcement, made on December 30, 1932, the news was that the couple would reside in Chicago.
Kemble Jr. became a track star at Princeton. On March 12, 1937, the Princeton Alumni Weekly reported that "a brisk wind pushed Kemble White of Princeton.to world record numbers...in the 60-yard hurdles." He was still ranked as the second best in 60-yard hurdles at Princeton University through May 2007. ("Princeton Men's Indoor Track and Field Top 25 All Time," accessed 17 October 2016, https://admin.xosn.com/attachments1/4439.pdf.) In 1937, a photographic series of Kemble running hurdles at Princeton was picked up by the national press. Under the title of "Magic Eye Camera Follows Kemble White, Princeton, Over High Hurdle," the series of frames stops the action as he clears the hurdle from approach, to successfully passing over the top, to landing. In 1938, he set the Princeton record for time in the 120-yard high hurdles, which still stood at the time of his death. In the style of Chariots of Fire, he competed twice in an international contest between the Oxford-Cambridge team and the Princeton-Cornell team, once in the U.S. and once in London.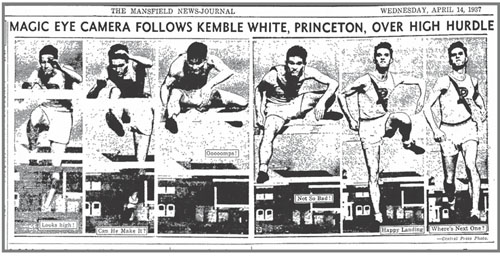 After graduation from Princeton, Kemble left home on his Indian motorcycle for an around-the-world tour with two friends. A newspaper article in October 1938 announced that Kemble White Jr. and his classmates had not been stopped during their trek through Czechoslovakia during a time that Hitler was threatening an invasion. By the time the article ran, the classmates had already travelled through Austria and Germany and were, at that time, in Italy. In Munich, the motorcyclists would have a close-up view of the men who participated in the appeasement council. 2016 e-mails from Kemble White IV, Kemble White Jr.'s grandson, state that photos taken during the trip show the travelers visited Bulgaria, Italy, Greece, Egypt, Jerusalem, India, and Thailand. The photos were taken at the Acropolis and the Taj Mahal, in the Himalayas, and at Angkor Wat. Kemble would go on to travel through Iraq, filling the tank of his motorcycle at Standard Oil facilities along the way, perhaps helped by his father's long-standing position with the oil company. The Kemble White descendants hold letters that Kemble White Jr. wrote describing provisioning stops in Kirkuk, Mosul, and Baghdad in Iraq. The 1938 and 1939 ship passengers' manifests, mentioned earlier, were perhaps a part of his grand motorcycle tour. His obituary would describe this as a world tour by motorcycle. Empress of Japan passenger records show his arrival in British Columbia in May1939 aboard a ship that originated in Manila, but which he boarded in Yokohama, Japan. This is likely the conclusion of the overseas segment of his world tour.
After his return Kemble entered law school at West Virginia University. At the conclusion of his studies, he became a member of the Harrison County Bar Association and was admitted to practice in the Supreme Court of Appeals of West Virginia. He was planning on joining his father's practice.
On March 19, 1941, the family was devastated by the death of Jane White. According to her West Virginia death certificate, she underwent surgery for appendicitis, but later died of peritonitis.
While Kemble was still in school at West Virginia University, the Japanese attacked Pearl Harbor on December 7, 1941. Six days later, Kemble White Jr. enlisted in the United States Naval Reserves at Chicago, Illinois, as a seaman second class. Shortly thereafter, he became a cadet in naval aviation and took his initial training at Glenview, Illinois, airfield. He completed his training at the Pensacola, Florida, Naval Air Station. By October, 1942, he had completed his law studies and received his commission as an ensign. He was now a naval aviation pilot.
| | |
| --- | --- |
| | While Kemble White Jr. was in training, his engagement to Patricia Moss Kent was announced in August of 1942. Patricia was the daughter of Mr. and Mrs. Moss Ethelbert Kent of Thomas, West Virginia. Kemble and Patricia met while Kemble was in law school and she was working for the WVU law school alumni office. They wed in October of that year in White Sulphur Springs, West Virginia. They soon moved to Whidbey Island, Washington, where Kemble White III was born in November of 1943 in the Anacortez Naval Air Station Hospital. |
Kemble White Jr. was about to enter into continuing actions in the aftermath of the Battle of the Aleutian Islands. In the Aleutians, the Japanese occupied two islands that belonged to the United States from June 1942 through August 1943. The occupation of Kiska and Attu was demoralizing, and that is perhaps the goal of the Japanese occupation, though it's possible that the Japanese hoped to prevent an attack from the north through the islands or use the occupation of the islands as a diversion that would keep U.S. attention away from Midway Island. The conditions were horrible, the weather extreme, and the battles were fierce. In May and August of 1943, the U.S. retook the islands. ("Battle of the Aleutian Islands," History.com, 2009, accessed 17 October 2016, http://www.history.com/topics/world-war-ii/battle-of-the-aleutian-islands.)
Having significantly won back these islands, the U.S. pressed forward.
Robert Wetterhahn describes the situation in his March 2006 article, "Fire and Ice" in Air and Space Magazine:
With the Japanese driven from the Aleutians, the stage was set for the U.S. military to take the fight directly to enemy territory. The targets were the islands Paramushiro and Shimushu, both in the Kuriles. The Japanese had taken over the pair from Russia following the 1875 Treaty of St. Petersburg. By the start of World War II, the Japanese had settled them in large numbers, making the islands part of the Japanese homeland. Being close to Siberia, these northernmost and treeless islands experience harsh winters, more severe even than those in the Aleutians. Soldiers lived in half-subterranean barracks, dug into pits with roofs reaching ground level to better withstand high winds and heavy snow. Inside, men slept on bunks above dirt or wooden floors and used potbelly stoves for heat and cooking. They waited for U.S. airplanes to arrive, anti-aircraft batteries and Oscar fighters at the ready.

Attu's violent history echoes in the names of its locales: Massacre Bay, Murder Point, Mount Terrible. From the Russian fur traders' slaughter of native Aleuts to the costly battles of World War II, the island has been witness to more than its share of calamity. (Accessed 17 October 2016, http://www.airspacemag.com/military-aviation/fire-and-ice-11775484/?no-ist=&page=2.)

After the liberation of Attu, U.S. forces began creating airfields from which they could attack Japan. It was not a glamorous posting: The island is located about 1,500 miles from mainland Alaska. Its moist soil is covered in thick moss and lichen, giving the ground an elastic, trampoline-like quality. But the terrain is honeycombed with hidden sinkholes that can snap the leg of an unwary hiker.



Kemble White IV provides this description of the training and early wartime experiences of his grandfather:
During the war Kemble Jr. was trained first in Pensacola and then in California to fly the first radar-guided fighter bombers (the Lockheed PV-1 Vega Ventura). He was deployed to the Aleutian Islands, where he flew combat missions in two deployments with Flight Air Wing 4. First he supported the push by the Army to kick the Japanese out of the island chain flying missions around Dutch Harbor and [around] the islands of Adak and Kiska. Then he returned to fly a series of missions known as the Empire Express. His unit (VB-135) along with several others flew a series of long-range overnight bombing and photo reconnaissance runs from their base on the island of Attu to what was then the northern-most Japanese island of Paramushiro in the Kurile island chain (now Russian territory). They attacked air fields and fishing facilities. This was about an 1,800 mile round-trip flight, so their planes were stripped down for fuel efficiency and they faced a lot of the same problems that the Doolittle raiders faced. Any small mishap would cause them to have to either ditch at sea (which was a death sentence) or overshoot their target and land in Russian territory and hope to be found before freezing to death. NOVA did a special years ago about one of the Empire Express planes that was found by the Russians during the cold war. A book on the war in the Aleutians recounts the detail of one mission flown by a pilot named Clark where the PV-1 actually went inverted while avoiding anti-aircraft fire. Clark was the pilot of Kemble White Jr.'s plane and Kemble White Jr. was the co-pilot.
| | |
| --- | --- |
| | With the Japanese driven from the Aleutians in August 1943, the stage was set for the U.S. military to take the fight directly to enemy territory. The targets for the Empire Express missions were facilities in the Kurile Islands of Japan and shipping venues. Weather and long over-water missions, testing the range of the aircraft, would continue to take their toll on air crews. (Aleutian World War II National Historic Area, 2009 Calendar, "War in the Aleutians, 1942-1945," accessed 17 October 2016, https://www.nps.gov/aleu/learn/photosmultimedia/upload/2009-calendar.pdf.) |
Kemble White Jr., world citizen and adventurer, world-class athlete, lawyer, pilot, husband, son of the Captain, junior-grade lieutenant, and father of a son named for him, died due to non-battle related injuries sustained due to an accident over Massacre Bay, off Attu.
Kemble White IV provides a description of the accident that resulted in his grandfather's death:
He [Kemble White Jr.] and the whole crew died during takeoff on one of the Empire Express runs. Apparently the plane just exploded over Massacre Bay. No bodies were recovered since the weather was too bad to deploy search boats. A memoir of one of the other pilots stationed there referred to the accident as a tragedy and described how one of the other pilots stormed into the commanding officer's quarters with his pistol drawn to try to make him deploy the PT boats to look for survivors.

Apparently morale was terrible on Attu. Living and flying conditions were horrible and there were many mishaps like the one that took out Kemble White Jr.'s crew.
At home newspaper accounts, such as the following from the Wheeling Intelligencer, reported his tragic death:
Capt. Kemble White, of Clarksburg, has received from Vice Admiral Randal Jacobs, chief of naval personnel the following telegram:

The navy department deeply regrets to inform you of the death of your son Lt. Junior Grade Kemble White Junior, U. S. N. R. as a result of a plane crash on the 23d of May 1944, while in the performance of his duty and in the service of his country. His remains were not recovered. If further details are received they will be forwarded to you promptly. To prevent possible aid to our enemies please do not divulge the name of his ship or station. The navy department extends to you its sincere sympathy in your great loss.
In the aftermath, Harriet Kemble White Ewing came to stay with her father for a while. Patricia Moss Kent White took her baby and went to her parents' home in Thomas.
Three years later, in a ceremony in Beckley, West Virginia, Kemble White III accepted the Presidential Award of the Air Medal on behalf of his father, with his mother standing nearby. According to the Military Order of the World Wars, "The Air Medal is given to persons performing exceptionally while in aerial flight, which does not measure up to the level of the Distinguished Flying Cross, or is not during combat. For example, the Air Medal may be given for 'sustained distinction in the performance of duties involving regular and frequent participation in aerial flight for a period of at least 6 months.'" (Military Order of the World Wars, General Hoyt Vandenberg Chapter, "An Array of the Medals," accessed 19 October 2016, http://www.mowwvandenberg.org/MedalsPage.htm.)
| | |
| --- | --- |
| Kemble White Jr.'s contribution to the war and the award given him posthumously are memorialized on a cenotaph in the Bridgeport Cemetery, set between the headstones of Jane Ferguson White and Captain Kemble White. | |
| | |
| --- | --- |
| | Kemble White is also memorialized at the West Virginia National Cemetery in Pruntytown, West Virginia, and on the Tablets of the Missing at the Honolulu Memorial in the National Cemetery of the Pacific in Hawaii. |
Captain Kemble White was long-lived, and died after a full life. He was 92-years-old when he died, and his obituary noted that he'd retired only 10 years before. He died in a Clarksburg hospital following a long illness. He was lauded as one of the most prominent alumni of West Virginia University. ("Captain White Is Dead at 92," Cumberland [MD] News, 6 September 1965.) His death certificate cites his last residence as an apartment in the Stonewall Jackson Hotel. This was Jane White's last residence, as well, in an apartment in a hotel which Kemble White founded. (Phi Sigma Kappa, West Virginia University, "Delta History: About Delta Chapter," accessed 14 October 2016, http://www/wvuphisigs.com/about.html.)
The family mourned the losses of Jane White and son Kemble Jr., but life did eventually take back up again. Patricia White remarried, to George Alter, a Princeton graduate and friend of her late husband, with the Captain in attendance.
Kemble White III and his son, Kemble White IV, in the family tradition, enjoy careers in law and geology, respectively. Kemble White III took college and law degrees from Washington and Lee and, after working as IRS Chief Counsel in Dallas, has practiced and continues to practice tax law, first in Dallas and more recently in Santa Barbara, California. Kemble White III and his first wife, Daphne Baynham, of Martinsburg, West Virginia, have two children, Kemble IV of Austin, Texas, and Morgan White Garvey of Houston. Kemble IV is a Ph.D. geologist who does work involving endangered species that inhabit the Edwards Aquifer. His children are Kemble Thorn White and Carys White. Morgan has an undergraduate degree in business and an MBA. She and her husband, Patrick Garvey, M.D., a plastic surgeon at M.D. Anderson Cancer Center, have three children: Mary Elizabeth Garvey, William Garvey, and Charles Kemble Garvey.
Much of the factual material concerning the Whites' lives appeared in the following newspaper articles:
Captain Kemble and Jane White's family:
"Captain White Is Dead at 92," Cumberland [Maryland] News, 6 September 1965.
"Engagement Is Announced," Charleston Daily Mail, 15 November 1932.
"Ewing-White Wedding," Charleston Daily Mail, 30 December 1932.
"Kemble White Chosen," Cincinnati Enquirer, 21 November 1924.
"Mrs. Frank Mabane Tells of Devastated France," Reidsville [NC] Review, 5 March 1920.
"Queen Marie Displays Regal Raiment to American Visitors," Kansas City Kansan, 5 December 1922.
"University Club," Beckley Post-Herald, 5 December 1952.
"What Can the Garden Clubs Do about Conservation?" Charleston Daily Mail, 17 May 1936.
Lt. Kemble White Jr.'s history, marriage, and death notices:
"Kemble White Dies in Crash," Fairmont Times, 8 June 1944.
"Lt. Kemble White, Clarksburg, Killed in War Zone Air Crash," Wheeling Intelligencer, June 1944.
"Mrs. Patricia White Weds George Alter, Jr.," Raleigh Register [Beckley, WV], 12 June 1949.
"P. C. W. Graduate Engaged to Wed," Pittsburgh Post-Gazette, 15 August 1942.
"Youths Touring War Scare Zone on Motorcycles," Pittsburgh Press, 12 October 1938.
Family information provided by Kemble White III and Kemble White IV
Article prepared by Cynthia Mullens
August 2016
Honor...

West Virginia Archives and History welcomes any additional information that can be provided about these veterans, including photographs, family names, letters and other relevant personal history.
---
West Virginia Veterans Memorial