Remember...

Harrison McClester Withrow
1888-1918

"At eleven o'clock this morning came to an end the cruellest and most terrible War that has ever scourged mankind. I hope we may say that thus, this fateful morning, came to an end all wars."

David Lloyd George, November 11, 1918
Harrison McClester Withrow was born November 15, 1888, in Putnam County, West Virginia, to William Addison Withrow Jr. and his wife Mary Sidney Withrow. He was the oldest of the nine children born to the couple between 1888 and 1907. Harrison grew up in Putnam County, where his father was a farmer. Sometime after the birth of the last child in 1907, the family moved to Charleston. In 1910, Harrison was living with his parents, and the U.S. Federal Census listed his occupation as gardener.
According to West Virginia Vital Research Records, on May 5, 1917, Harrison married Lowia (Lola) Jones in Jackson County, West Virginia. Those records also show that their only child, Robert Burl Withrow, was born the following year on March 20, 1918. On June 5, 1917, Harrison registered for the draft and was described as being of medium height and slender build with blue eyes and black hair. He listed his occupation as laborer at the West Charleston Glass Manufacturing Company.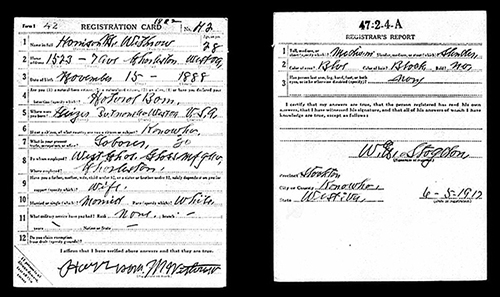 | | | |
| --- | --- | --- |
| With the United States entry into World War I, Harrison was drafted into the Army and assigned to the 362nd Infantry Regiment, 181st Brigade of the 91st Division. The 91st Division was known as the Wild West Division as it was made up primarily of men from the West Coast and Western States with the 362nd primarily men from Montana. Many of the regiments and divisions at that time were regional in composition, so it is interesting that a West Virginian wound up in a primarily Western military outfit. The Division trained at Fort Lewis in Washington state before arriving in Europe in June 1918. (T. Ben Meldrum, A History of the 362nd Infantry, 362nd Infantry Association [Ogden and Salt Lake City, Utah: A. L. Scovill Press, 1920]: 1-10.) | | |
By September, the Division was moved to the front in France to participate in the Meuse-Argonne Offensive, the principal engagement of the American Expeditionary Force against the German Army. This was America's second deadliest battle in military history as a total of 26,277 American soldiers were killed out of 1.2 million participating. In early October, the Division was pulled back from the front lines for rest except for the 181st Brigade, which included the 362nd Regiment. They were attached to the 1st and 32nd Divisions and left to serve on the front to continue the offensive against the German Army.
On October 10, 1918 the 181st Brigade had advanced to Hill 288. This position was described as a "formidable resistance center…. A horseshoe-shaped defensive position chiefly organized from a sunken road with sheer walls between twenty and thirty feet high; perfectly concealed machine gun positions, tunneled from the south slope to the road to the south of the crest, enabled hostile machine gun fire not only to sweep the line of 181st Brigade, but to enfilade the lines of the 1st and 32nd Divisions on its flanks." ("91st Division American Expeditionary Force, World War I," New River Notes, accessed 12 March 2021, https://www.newrivernotes.com/topical_books_1918_worldwar1_storyof_91st_division.htm.)
On October 11, 1918, Private Harrison M. Withrow was reported killed in action by machine gun fire on Hill 288. (Meldrum, 69.) The following day, the Brigade was relieved from the front line. The war came to an end a month later on November 11, 1918.
| | |
| --- | --- |
| Harrison Withrow's body was interred at the Meuse-Argonne American Cemetery in Romagne, France, not far from where he died. The cemetery contains the largest number of American military dead in Europe, most of whom died in the Meuse-Argonne Offensive. ("Meuse-Argonne American Cemetery," Wikipedia, accessed 12 March 2021, https://en.wikipedia.org/wiki/Meuse-Argonne_American_Cemetery.) | |
In 1928, American Gold Star Mothers, Inc., was formed for mothers whose sons or daughters had been killed in the World War I. The group lobbied for a federally sponsored pilgrimage to Europe for mothers with sons buried overseas. Congress enacted the program in 1929. However, there was no provision for any other family member to accompany them. Mary Sidney declined to make the pilgrimage like many others. Age, health, and the travel distance was an impediment for many of the mothers. (Constance Potter, "World War I Gold Star Mothers Pilgrimages, Part I," Prologue Magazine, 31:2 [Summer 1999], accessed 12 March 2021, https://www.archives.gov/publications/prologue/1999/summer/gold-star-mothers-1.html.)
Article prepared by Dr. Donald A. Withrow, first cousin once removed of Harrison Withrow
March 2021
Honor...

West Virginia Archives and History welcomes any additional information that can be provided about these veterans, including photographs, family names, letters and other relevant personal history.
---
West Virginia Veterans Memorial