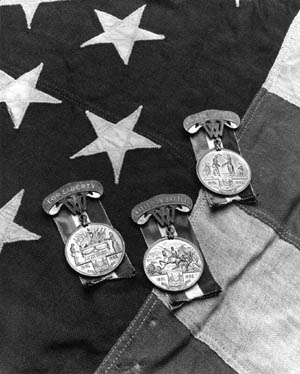 West Virginia
Civil War Medals
In 1866, the state of West Virginia authorized the minting of over 26,000 medals to honor its Union Civil War soldiers. Today, over 4,000 medals remain unclaimed. Each medal is individualized, with the soldier's name and unit engraved on the edge.
History of the Unclaimed West Virginia Civil War Medals (West Virginia History)
A Brief History of the Soldiers Medals, by Rev. Horace Edwin Hayden, 1881
How to Apply for a Civil War Medal
Claim Application Form for Civil War Medals
Learn more about the Civil War in West Virginia
List of Unclaimed Civil War Medals

---
Medal claims may only be submitted by mail. None will be accepted via e-mail or fax. Questions can be directed to Randy Marcum.
---