William J. Sencio Collection
Ms2008-102
Howard M. McConnaughy Letter
Company L, 1st Regiment West Virginia Volunteers
Camp Lee, Kanawha City
Spanish-American War Era
---
Camp Lee, May 12, '98
Friend Pauline
I call you friend for I believe you to be one, at least I am to you, even though I have never seen you.
I have a sister about your age, and your letter is such a contrast to hers. You encourage us to go on, while she wants me to come home. I want to go, and in fact I intend to, and your letters are so interesting and encourageing.
My home is in Ohio, across from Wheeling, but I have been working in Parkersburg since the first of the year, as assistant foreman on the new electric rail-way. I was helping fix the plans of construction and after-wards seeing that it was done right.
So you see I know almost no-body in Parkersburg, and am glad to have a fair correspondent, even though she is younger than I.
I received your letter and Sam got Miss Bessie's, so we concluded to each write to the one whose letter we had received. Is that satisfactory to you both? If you know of a nice, good-looking young lady of from 18 to 20 years of age, and she wants to correspond with a poor writer, just you tell her to write me. I want you to keep on writing too, though.
I will start with our leaving Parkersburg. You know we left there about 1:30 P. M. and got to Huntington by 7:30 o'clock, for supper that night we got one ham sand-wich apiece. We left there at 9:30 and got to this place about 11:30. We had to sleep in the cars all night, and what a time we had. Every one singing and whistling all night, no wonder one could not sleep. For breakfast the next morning, we had nothing. We moved our tents and set them up, and by noon we were in fair shape. For dinner we had meat, beans, bread, eggs & coffee, so we kind of filled up.
We have had the same kind to eat ever since.
Well, when we came to Kanawha City we expecteded [sic] to find at least a town, but the town consists of seven houses.
It has seven voters, and five of them hold office. One mayor, one marshal, and three councilmen. The C & O Railroad pays all the taxes, which are $390.00 per year.
The first Sunday saw about 5000 visitors from around over the state, and nearly all of us had a girl apiece. Until the next Sunday (which was last) we had the same old routine of life. Then we had a crowd from Parkersburg here and we had plenty of pies, cakes, and jellies to eat. I do not know who we will see or where we may be by next Sunday.
It has been raining here for about a week and it is miserable. Last night, the woods on one of the mountains caught fire, and it looked nice after dark. We are surrounded by mountains, covered thickly with big pines, etc.
I hope you will find this little note some-what interesting, that is if you can read it, but we are all getting out of practice so you must excuse this. You must write again and between your letters I will keep a kind of diary.
You write soon.
I had to leave this to go to drill, and while away thought to tell you about our drills.
We have a bugle for each company, and by different sounds we get our orders.
Order of calls.
| | |
| --- | --- |
| Reville | 5:00 A.M. (Get up) |
| Assembly | 5:15 " " |
| Sick Call | 5:30 " " (for the sick) |
| Breakfast | 6:00 " " |
| 1st Sargeants | 6:30 " " |
| Gaurd Mounting | 7:15 " " |
| Assembly | 7:25 " " |
| Adjutants | 7:30 " " |
| Drill | 8:25 " " |
| Assembly | 8:30 " " |
| Recall | 9:30 " " |
| Dinner | 12:00 M. |
| Drill | 1:55 P.M. |
| Recall | 3:00 " " |
| Fatigue | 4:00 " " |
| Parade | 6:30 " " |
| Assembly | 6:45 " " |
| Supper | 6:50 " " |
| Tattoo | 9:00 " " (go to be) |
| Taps | 9:30 " " (lights out) |
So you see we have not much time to our-selves.
Well wishing you success through life, I remain,
Your friend,
Howard M. McConnaughy
Co. L, 1 Reg. W. Va. Vols.
Kanawha City,
Kanawha Co.
W. Va.
Answer soon for we may leave here in a few days.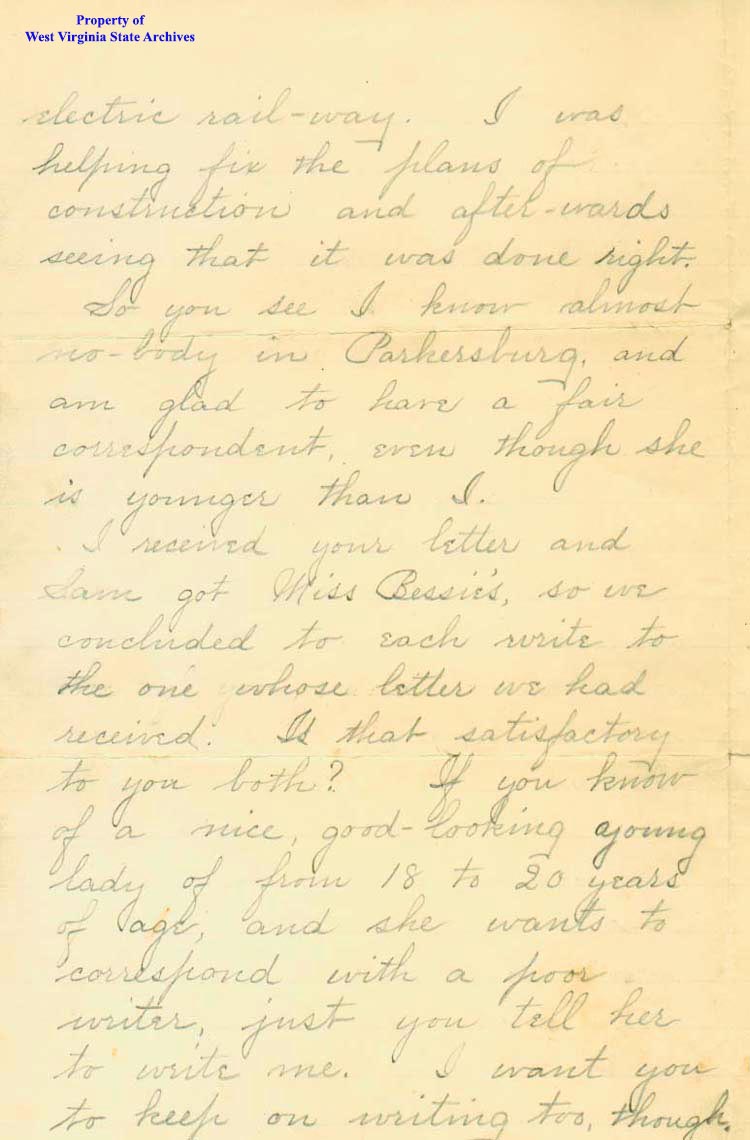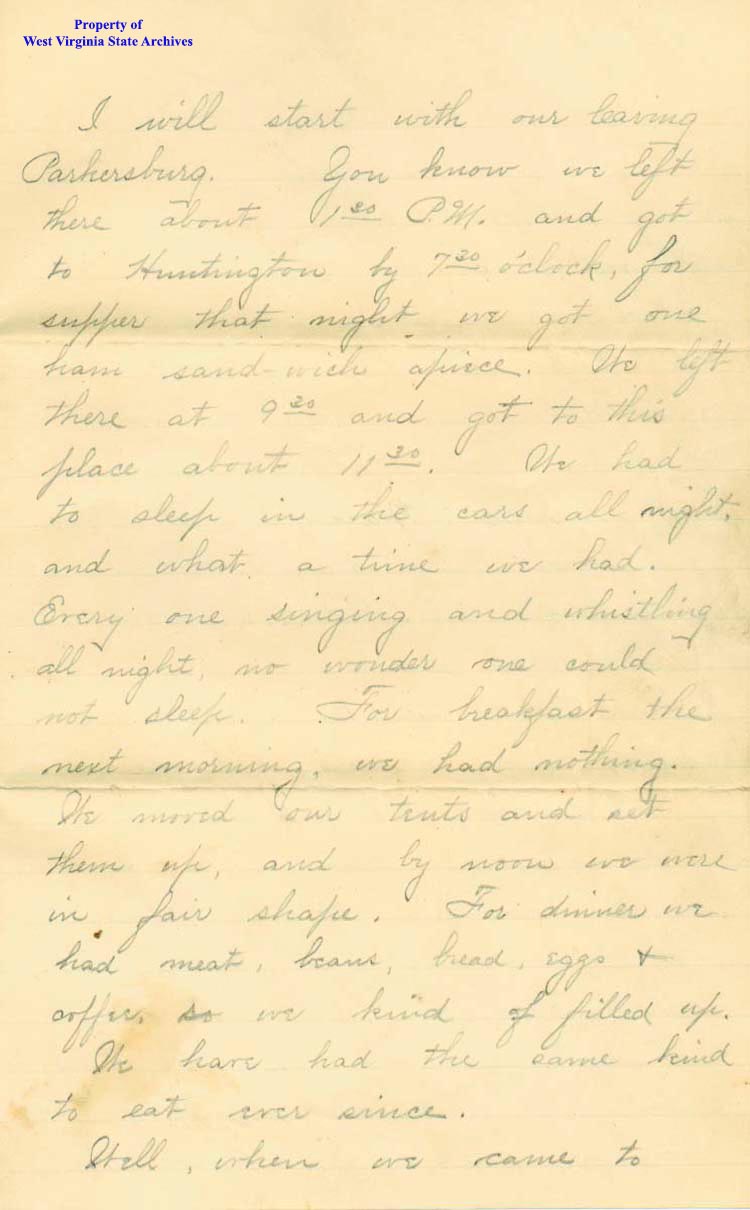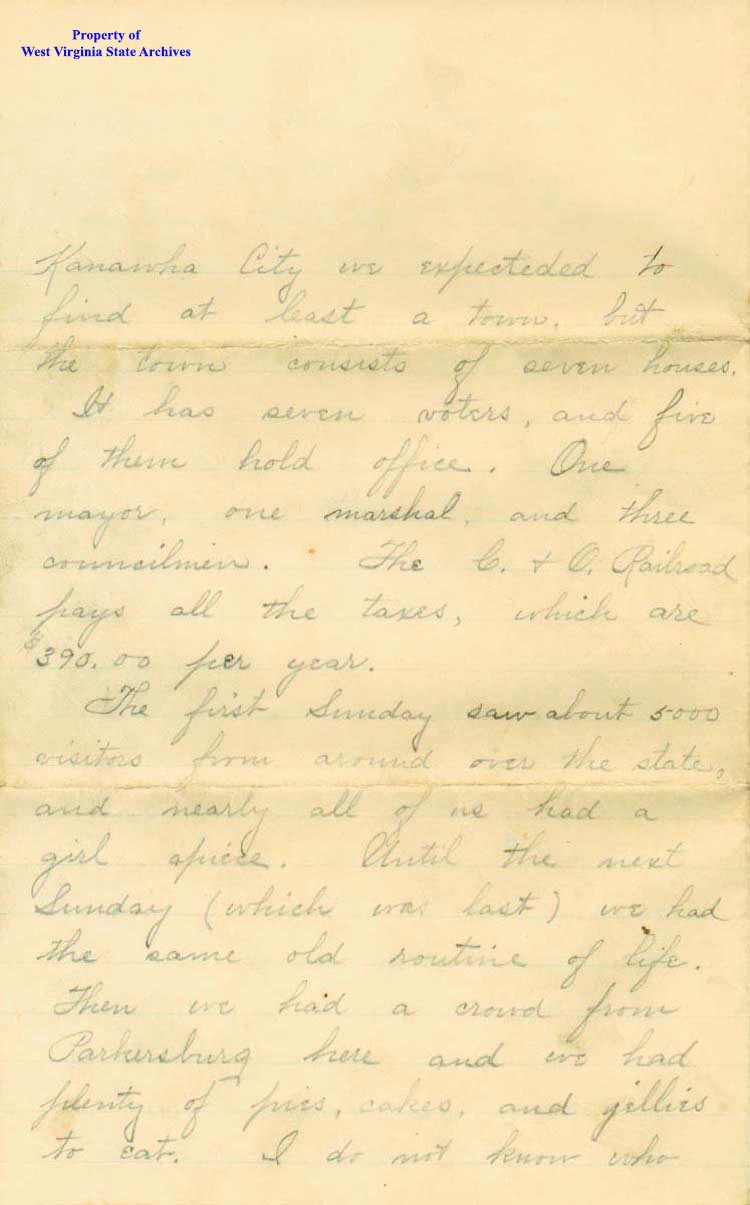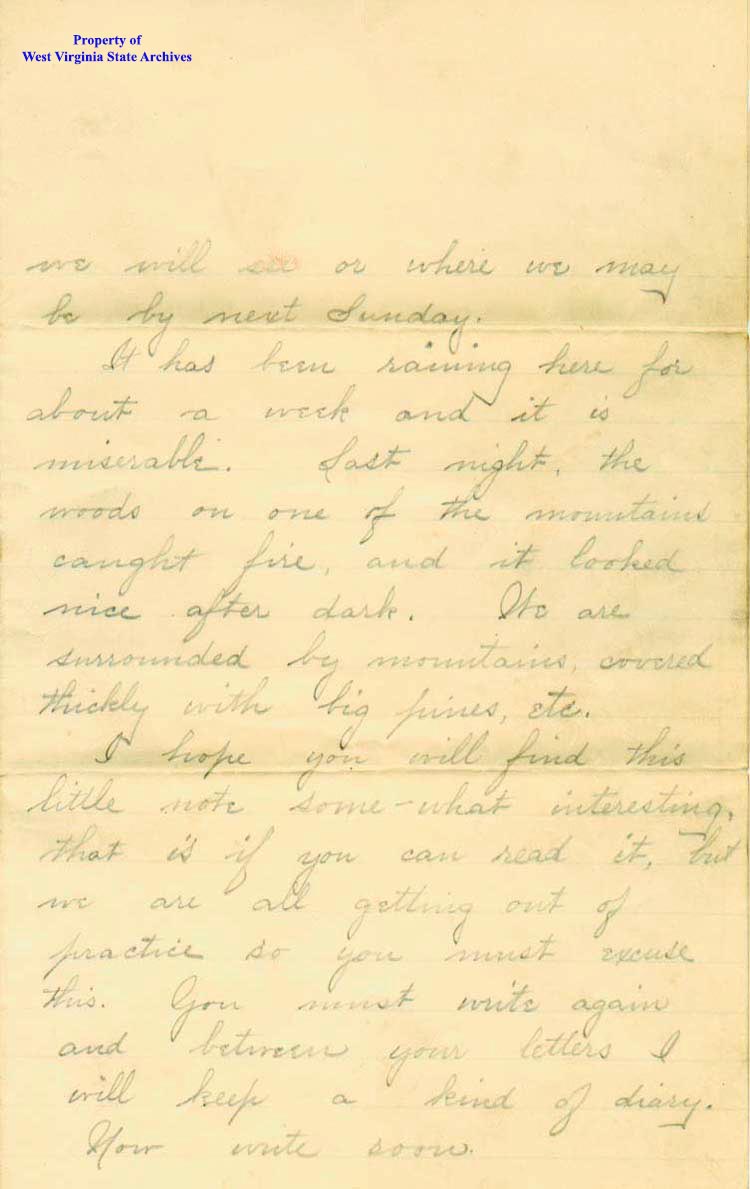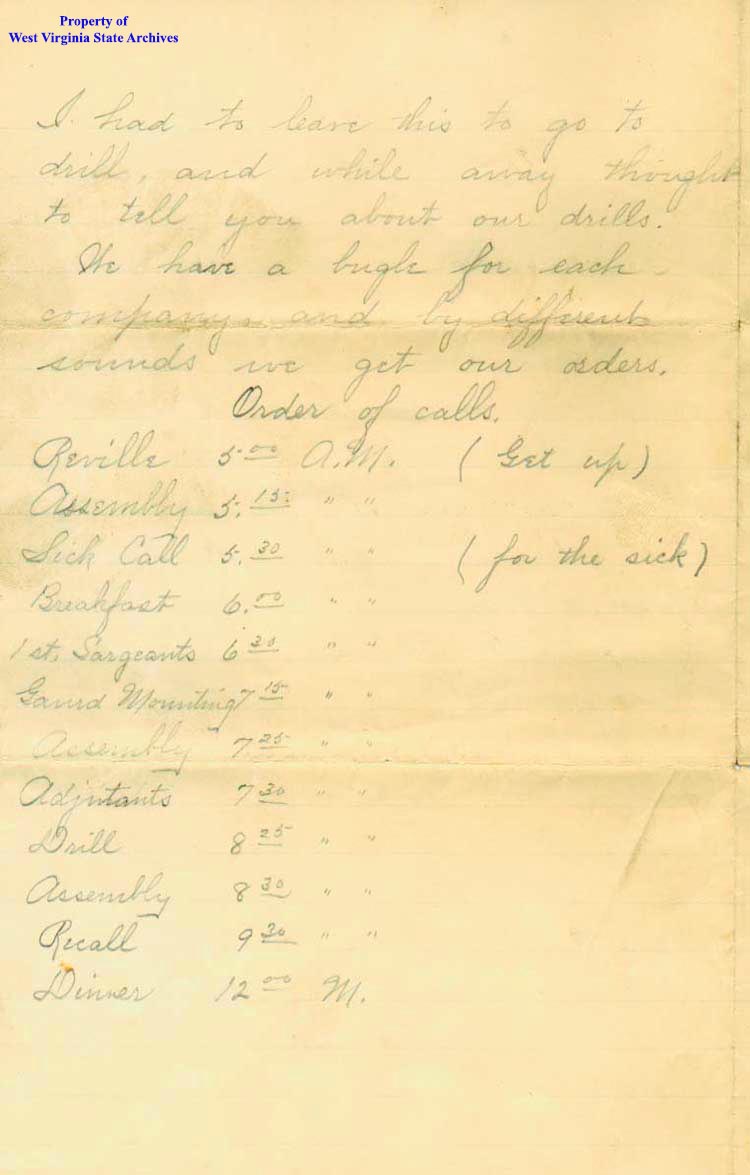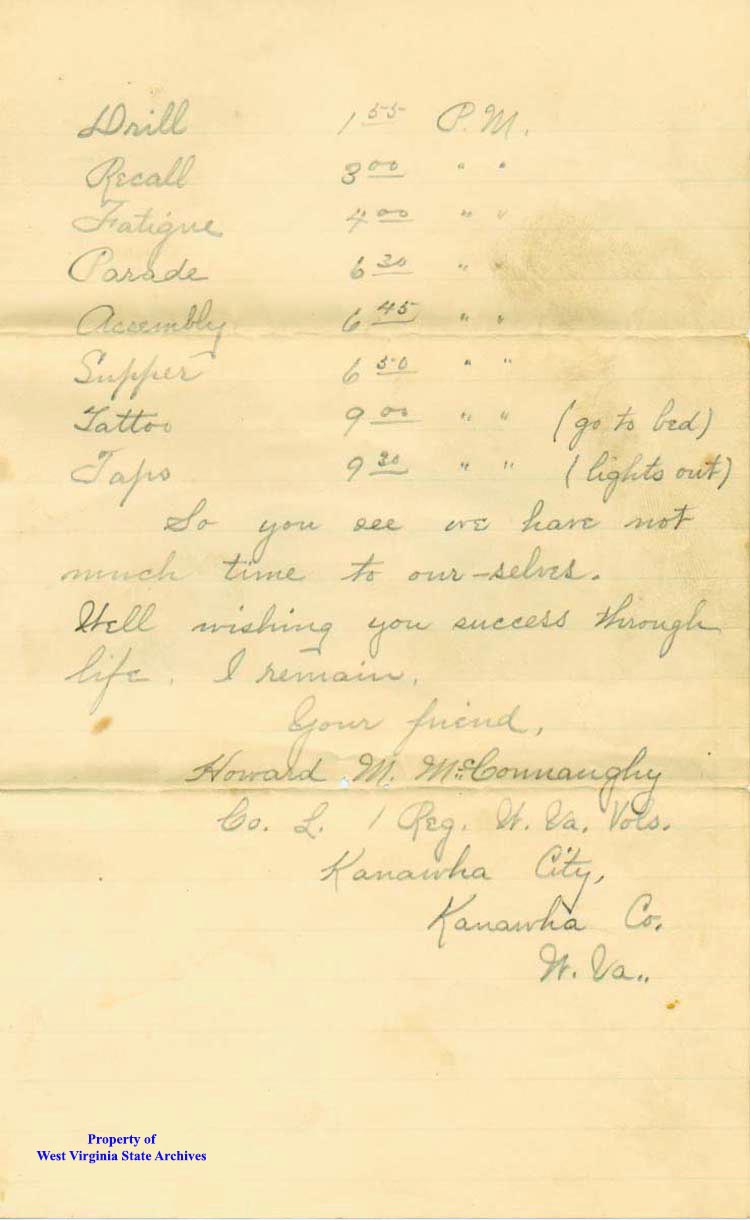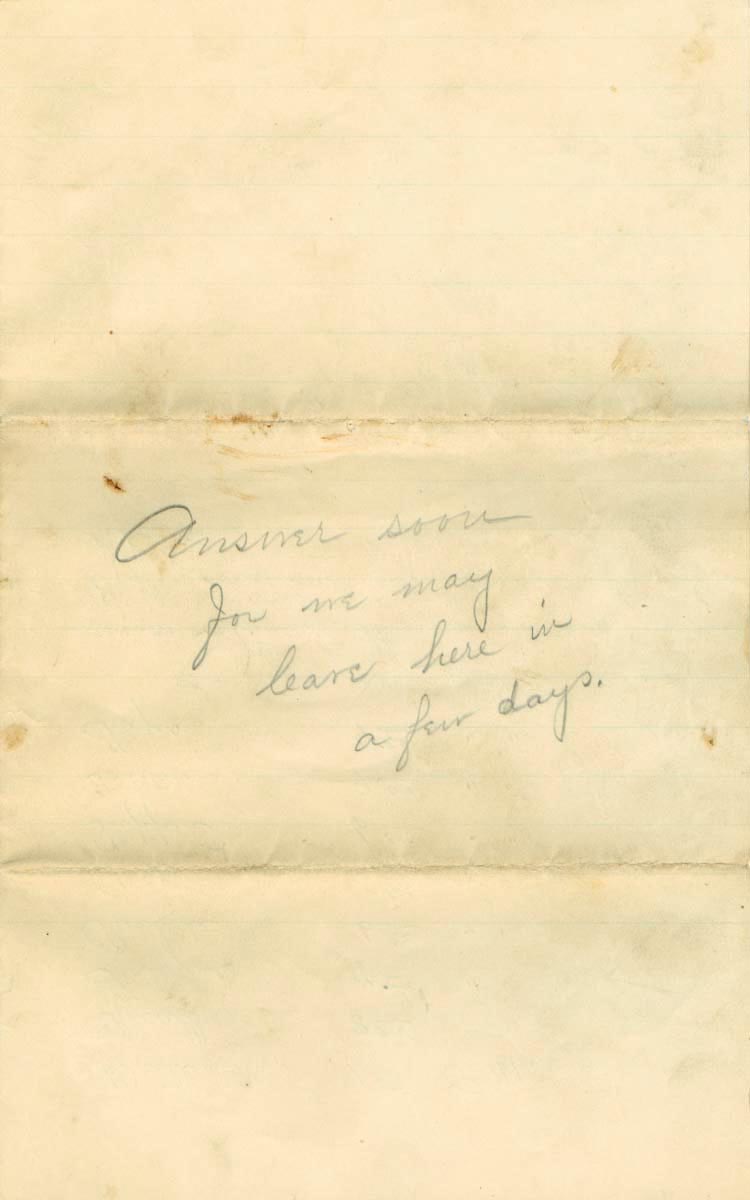 ---