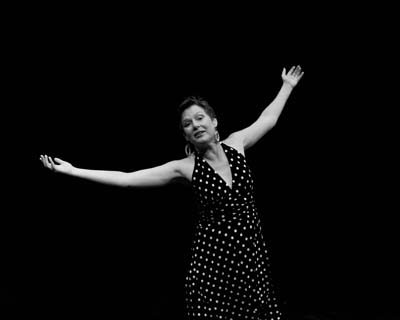 Kate Trammell, professor of Dance at James Madison University, holds graduate degrees in dance from Ohio State University and Temple University. She has performed and taught throughout the United States and in China, Denmark, England, Germany, Hungary, Italy, Poland and Portugal with thompson & trammell dance company, ZeroMoving Dance Company, and as an independent teacher/performer. She has been making and performing dances with Cynthia Thompson as a duet company since 1983, with extensive touring in the US and in Europe.
Trammell has a certification in Infant Developmental Movement Education through Bonnie Bainbridge Cohen and the School for Body-Mind Centering which informs her movement work with people of all ages, backgrounds, and abilities. She teaches developmental movement classes for babies and their care-givers through JMU's Occupational Therapy Clinical Educational Services. She is also on the anatomy faculty of CedarStone School of Massage. In recent travels to China, Trammell taught creative movement and dance in university dance departments, conservatories, and orphanages in Anhui, Guangdong, Liaoning, and Sichuan provinces.
She is on faculty at White Mountain Summer Dance Festival at Sarah Lawrence College and at the West Virginia Dance Festival. Ms. Trammell was the recipient of the JMU's College of Visual and Performing Arts 2011-2012 "Distinguished Teacher" award.
Upcoming projects include developing an integrated creative movement course for children with and without disabilities for JMU's Summer Arts Program. Also in summer of 2013 she will be learning internationally- known choreographer Claire Porter's "Namely, Muscles", an evening-length dance theatre work. This critically acclaimed comedic masterpiece portrays Dr. Nickie Nom, Forensic Orthopedic Autopsy Muscular Anatomical Surgical Specialist, for the county, as she gives a reading from her new book of poems. Her 30 plus poems enact 68 major muscles of the body "and then some."Trammell will be touring this concert in the 2013-14 season.