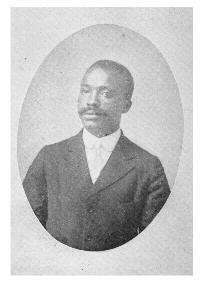 JAMES WILLIAM DREW
---
The old State of Virginia, in addition to manning her own religious and education institutions, has contributed many men of real worth to the leadership of adjacent, and even of distant states. Among the efficient young men sent out from the Old Dominion in recent years, must be mentioned Prof. James William Drew, Prof. of Mathematics at that well know institution, Storer College, at the historic old town of Harper's Ferry, W. Va.

Prof. Drew was born at Portsmouth, Va., on August 9, 1894, so it will be seen that he is still on the sunny side of thirty. his father, Moses Drew was a railroad man, but passed away while our subject was still a mere child. Moses Drew was the son of Moses and Julia Drew. Prof. Drew's mother, before her marriage, was Miss Mary Elizabeth Hurst, daughter of Henry and Victoria Hurst.

Prof. Drew was brought up, along with the other children, by his widowed mother. There was no money for schooling, so when he wanted an education, he had to work it out for himself. He did his grade work in the Norfolk County public schools, from which he passed to the Corey Memorial Institute for his high school and preparatory work. When ready for college he matriculated at Va. Union University, where he received some assistance and where he won his A. B. degree in 1918.

Fortunately he had had good religious training and this he regards the most potent factor in his life. Even before his graduation he began teaching, and during the school year 1917-18, taught at the University, and was a substitute at the Armstrong High School of Richmond. After school, 1918, he became Y. M. C. A. secretary for special training Unit at Hampton Institute. Later in the same year and early in 1919 he was Y. M. C. A. Secretary at Camp Alexander and Camp Lee, after which he served a short while as Post War Work Secretary for State of Virginia under State Y. M. C. A.

He spent the school year of 1919-20 as principal Graded schools, Elizabeth City, N. C. In 1920 he was called to his present position at Storer College.

Prof. Drew is a member of the Baptist Church with which he has been identified since boyhood.

On June 15, 1919, Prof. Drew was married to Miss Susan E. Brown, daughter of Geo. W. and Martha Brown. Mrs. Drew was educated at Hartshorn Memorial College and is herself an accomplished teacher.

Prof. Drew believes the best interests of the race are to be promoted by "Contest without arms and ammunition for the rights of a man and a citizen, by education and the development of a more cultured, hardworking, intelligent, God fearing majority."

Prof. Drew is an accomplished musician and the author of a number of selections which have met with favor. In 1914, he wrote the words and music of a hymnlet entitled, "Even Me." The following year he wrote "a Prayer," which was a mixed quartette number and which attracted special attention in Richmond, Norfolk and other Virginia cities. At that time he was with the Invincible Quartette and later organized in Richmond the Clef Concert Quartette, which for some time bore the reputation of being the best in the city. Prof. Drew wrote the words and music for most of their concerts.
---
History of the American Negro Index