West Virginia University
Agricultural Extension
Community Histories
---
"The obligation rests on us to maintain strong and virile rural communities. Among the hills of West Virginia are hundreds of communities containing from 25 to one hundred families where the spirit to meet this obligation exists."
---
These remarks, made by the director of the West Virginia University Agricultural Extension Division, marked an ongoing effort to focus the attention of outside agencies on rural communities. In October 1921 a country community score card was developed, which listed specific standards or goals under nine headings--history, government, business, farm, clubs, homes, schools, churches and health. As a result of these community score cards, approximately one hundred community histories were published by the Agricultural Extension Division in Morgantown in the 1920s and 30s. The West Virginia State Archives library currently holds fifty-eight of these histories, which are presented here. Persons who have copies of community histories not listed here are encouraged to donate a copy to the State Archives. For more information, contact Joe Geiger.
Photographs contained in the collections of the State Archives have been incorporated into the text of these histories. The Archives is interested in obtaining copies of photographs, film footage, and other materials documenting life in all West Virginia communities. Original materials can be donated to the West Virginia State Archives, or arrangements can be made to copy and return original documents. If you are willing to share your historical photographs with us, please contact Debra Basham.
---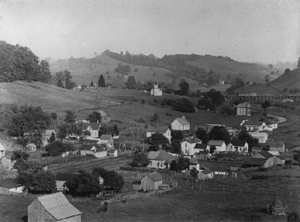 Community Histories Index