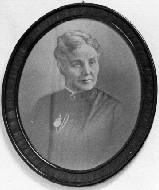 Ann Maria Reeves Jarvis
Compiled by the West Virginia State Archives
Ann Maria Reeves Jarvis' work with women's organizations inspired the creation of Mother's Day as a national holiday. She was born in Culpeper, Virginia, on September 30, 1832, the daughter of the Rev. Josiah W. and Nancy Kemper Reeves. The family moved to Barbour County in present-day West Virginia when the Rev. Reeves was transferred to a Methodist church in Philippi. In 1850, Ann married Granville E. Jarvis, the son of a Philippi Baptist minister. Two years later, Granville and Ann Jarvis moved to nearby Webster in Taylor County.

Jarvis organized a series of Mothers' Day Work Clubs in Webster, Grafton, Fetterman, Pruntytown, and Philippi, to improve health and sanitary conditions. Among other services, the clubs raised money for medicine, hired women to work for families in which the mothers suffered from tuberculosis, and inspected bottled milk and food. In 1860, local doctors supported the formation of clubs in other towns.

The Baltimore and Ohio Railroad made Taylor County a strategic site during the Civil War. Ann Jarvis urged the Mothers' Day Work Clubs to declare their neutrality and provide relief to both Union and Confederate soldiers. The clubs treated the wounded and regularly fed and clothed soldiers stationed in the area. Jarvis also managed to preserve an element of peace in a community being torn apart by political differences. During the war, she worked tirelessly despite the personal tragedy of losing four of her children to disease. In all, eight of her twelve children died before reaching adulthood.

Near the end of the war, the Jarvis family moved to the larger town of Grafton. Tensions increased as both Union and Confederate soldiers returned at war's end. In the summer of 1865, Ann Jarvis organized a Mothers' Friendship Day at the courthouse in Pruntytown to bring together soldiers and neighbors of all political beliefs. The event was a great success despite the fear of many that it would erupt in violence. Mothers' Friendship Day was an annual event for several years.

Ann Jarvis' life revolved around the church. Under Granville's leadership, the Andrews Methodist Church was built in Grafton and dedicated in 1873. Anna taught Sunday School at the church for the next twenty-five years. After Granville's death in 1902, Anna moved to Philadelphia to live with her son Claude and daughters Anna and Lillian. Ann Maria Reeves Jarvis died in Bala- Cynwyd, west of Philadelphia, on May 9, 1905. Her daughter Anna led a small tribute to her mother at Andrews Methodist Church on May 12, 1907, and dedicated her life to establishing a nationally recognized Mother's Day. The first official Mother's Day ceremonies were held at Andrews Methodist in Grafton and the Wanamaker Store Auditorium in Philadelphia on May 10, 1908. Six years later, President Woodrow Wilson signed a Congressional Resolution setting aside Mother's Day as a national holiday to be celebrated on the second Sunday in May. In 1952, the General Conference of the Methodist Church officially designated Andrews Methodist Church as a National Methodist Shrine.

Click here for more information on Ann Maria Reeves Jarvis.
---
Biographies of West Virginia Women